Shipwreck to Shipshape: Rebuilding a Maine Lobsterboat
Posted by US Harbors
When you work on the water every day like most Maine lobstermen do, it's almost inevitable: accidents happen. All the GPS systems and radar in the world don't help when you suffer a mechanical breakdown in pea-soup fog, and that's precisely what happened to a lobsterman working out of Vinalhaven in the summer of 2014. Though he and his crew made it into a liferaft and eventually were rescued, his South Shore 38 powerboat spent far too long being driven onto unforgiving Maine granite.
Enter Walpole boatbuilder Bruce Farrin, who had built a wooden boat for the lobsterman's father back in the 1970s. Farris assessed the damage and determined that he could rebuild the 13-year-old boat for a fraction of the cost of replacing it. In addition to a thorough interior cleaning, Farrin's team repaired the topsides where the boat had been holed. They rebuilt the keel from forefoot to skew, where much of the damage had been sustained. The rudder was removed and overhauled. They hydraulic system was completely rebuilt. The owner opted to upgrade from a Caterpillar C12 to a Caterpillar C18, giving the rebuilt workboat an impressive 800 horsepower. Most importantly for this working Maine fisherman, Farrin promised to the boat in like-new condition in time for the 2015 lobster season. As these photos show, his team delivered on their promise!
For Bruce Farrin, who had a number of other projects including a new yacht build underway at his boatshop when the accident occurred, restoring this Maine lobsterboat was an important piece of preserving the state's working waterfront. "We're talking about a man's livelihood," Farrin says. "It was the least I could do to get him up and working again."
Farrin's dedication was rewarded: He was hired to build a 43′ flybridge cruiser just as the lobsterboat repairs were being completed.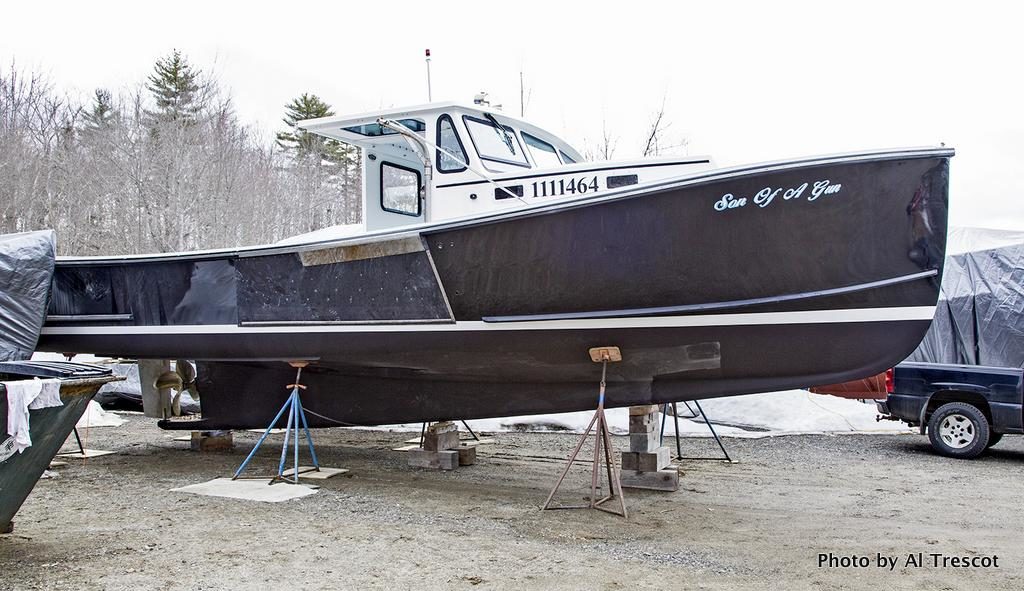 Photos of Shipwreck to Shipshape: Rebuilding a Maine Lobsterboat