Charleston Waterkeeper and Marine Boatbuilders Company partner for Clean Water
Posted by US Harbors
Last Updated
Founded in 2008, Charleston Waterkeeper is a Charleston, South Carolina-based organization whose mission is to protect, promote, and restore the quality of Charleston's waterways while creating a more engaged public through education, outreach, and celebration of the public's right to clean water — i.e. swimmable, drinkable, fishable, surfable, SUPable and playable. Focusing on water quality issues in the Charleston Harbor Watershed (the Ashley/Cooper River Basin), Charleston Waterkeeper works with the community to patrol and monitor Charleston's waterways. As a data-driven organization, the waterkeepers rely on strict empirical evidence to identify water quality issues and reach pragmatic solutions.
In 2013, Charleston Waterkeeper partnered with the South Carolina Department of Natural Resources to start Charleston Harbor's first Mobile Pumpout Boat Program with the goal of removing vessel sewage from area recreational vessels in the lower Charleston Harbor watershed, resulting in cleaner water for all. The organization's pumpout boat, the Number 2, will come to your slip or location at anchorage and pump out your onboard sanitary waste holding tank. The Mobile Pumpout Program provides boaters with a free, convenient, and legal way to dispose of sewage from sanitary waste tanks. For details on the Charleston Waterkeeper and the Mobile Pumpout Program, visit http://charlestonwaterkeeper.org/.
To perform these essential services to the boaters of South Carolina, the Charleston Waterkeeper uses a Marine Boatbuilders Company 19' Pumpout Boat. Marine Boatbuilders Company vessels are considered the workhorse of the industry, providing reliable, durable vessels that are designed from the ground up as working pumpout boats. Marine Boatbuilders Company offers specific advantages due to to its trademarked PUMP KLEEN® system. The vessels are designed for ease of use and long-term durability, with low maintenance a must. Integrity of the holding tank is a primary goal, even under abusive conditions, such as grounding and other impacts.
Marine Boatbuilders Company specializes in the design and manufacturing of custom-made Pump Kleen® Pumpout Boats, Work Boats, Patrol Boats and Floating Restrooms. All Marine Boatbuilders Company products can be found on www.pumpoutboats.com. The company is also a federal government contract holder (General Services Administration) and all its products can be found on the GSAdvantage website www.gsaadvantage.gov.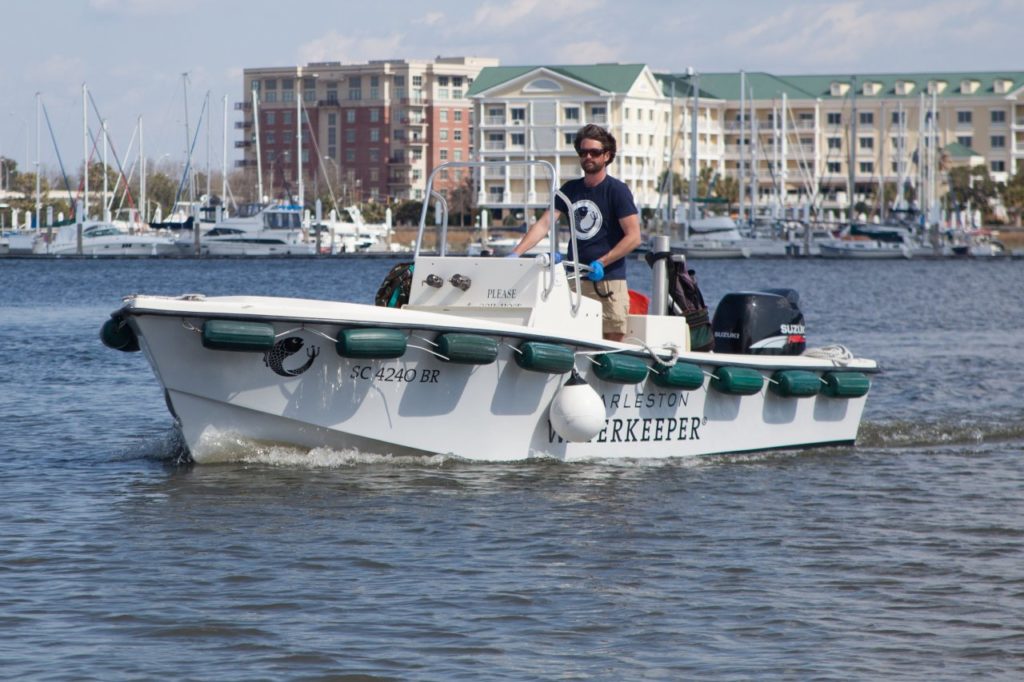 Photos of Charleston Waterkeeper and Marine Boatbuilders Company partner for Clean Water