Pike Place Market | A visit to Seattle's historic downtown treasure
Posted by Tyler Fields
You can look at any travel brochure… no trip to Seattle is complete without spending time at the historic Pike Place Market. Normally, I would shy away from the standard tourist destinations, but Pike Place is well worth the stop. Unfortunately for me, it took 29 years and moving across the country to realize the things I missed while growing up in the Pacific Northwest. In any case, I finally made it while visiting family back home.
During the first years of the twentieth century, Seattle was booming. The population was growing and the market for goods followed suit. Local farmers sold their produce and meat to wholesalers who then sold these products at a markup. As these relationship tend to evolve, the wholesaler's were underpaying their suppliers and overcharging their customers. Among a growing frustration by all but the well paid middle-men, an open market was formed in 1907 that allowed the area's farmers and ranchers to sell their products direct to the consumer; both lowering prices and increasing the producers profit.
Now, more than 100 years later, Pike Place remains one of the oldest markets in the country and serves both the local residents of Seattle and a thriving tourist industry of more than 10 million visitor annually. On the shore of Elliot Bay, the main arcade is home to locally grown produce, freshly caught seafood and arts and crafts of all kinds.
One of the most famous attractions of Pike Place is the fish market. Even if you haven't been there, you will surely recognize the "Fish Mongers," clad from head to toe in foul weather gear. Their customer service can best be described as theatric as they loudly call out each order before effortlessly tossing your salmon across the shop.
The market has everything. If you have something special in mind, you can probably find it among the endless booths and vendors of Pike Place. Need a leather purse, wallet or hat with the Space Needle stamped prominently? They have it.
Mixed among the vendors are a wide range of street performers known as, "Buskers." Again, I'm not usually much of a tourist, but even I found myself standing among the crowds listening to live music – very good live music – and enjoying the views of downtown Seattle.
Surrounding the market are restaurants, bakeries and shops. You can skip the line at the original Starbucks location across the street from the main entrance. Anywhere you go in the Northwest has great coffee and you're guaranteed to find shorter waiting times elsewhere.
Visit the Pike Place Market website for more information.
http://pikeplacemarket.org/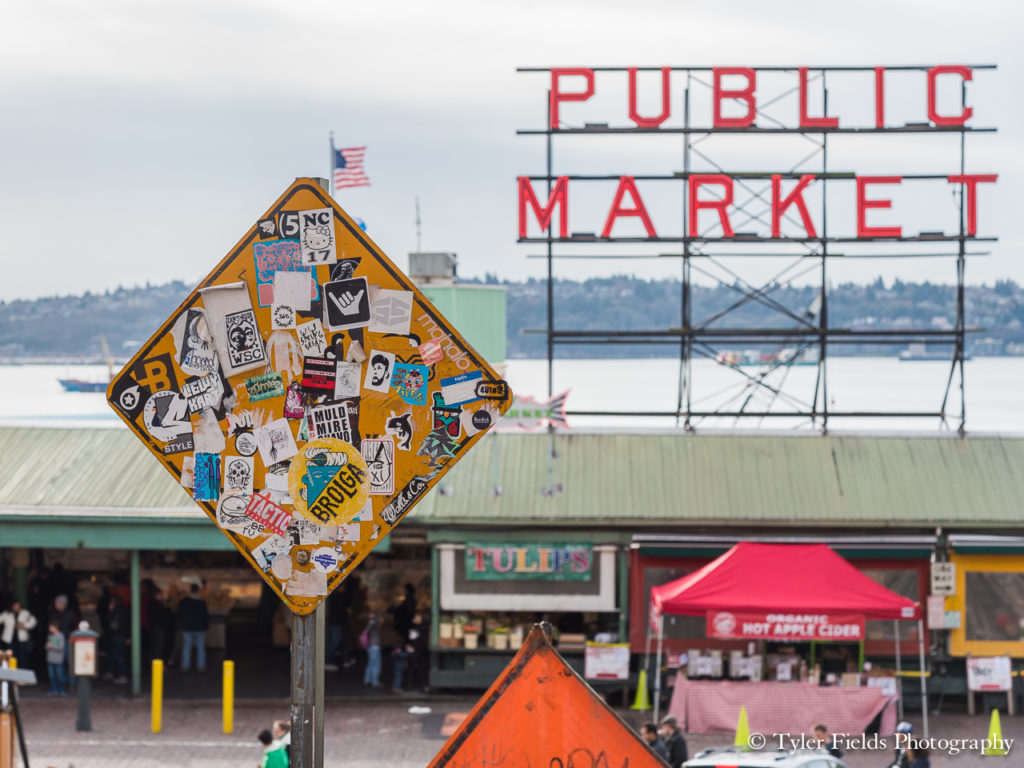 Photos of Pike Place Market | A visit to Seattle's historic downtown treasure