SOMETHING OLD, something new How to choose whether to restore an old boat or build from scratch
Posted by Boats Of The Year
Last Updated
By Laurie Schreiber
RESTORE AN OLD CLASSIC or commission a new
build? That's an interesting question for many
boaters. Each side has its own enthusiasts for their
own reasons.
Restoration is often about wooden boats, looks, "feel,"
preservation of heritage, and connection with a community.
New is also about looks, as well as the latest in materials,
construction technology, performance, and customized elements
that often can only be realized in a new design.
While one-off designs present the greatest options for
customization, a buyer ordering a standard model from a
builder also has many options from which to choose.
New methods and materials are geared to improving
every element of a boat—the latest in fingertip controls, for
example, or push-button salon windows, passerelles,
retractable sunroofs, and pop-up TVs. Then there are
advanced composites, using technology transferred from
the aerospace industry, computer-aided cutting technology
that makes the most out of materials with the least amount
of waste, and many more cutting-edge developments.
Phil Bennett, vice president of sales at the Hinckley Company,
loves to show people the assembly line at the Hinckley
plant in Trenton, Maine, where molds and hulls of different
models are lined up in various stages of construction.
"You see the wiring and hydraulics and machinery," he
says, "and it's like looking at the back of an oriental rug. The
front of an oriental rug looks pretty, but flip it over and you'll
see the knots have a beauty of their own."
On the restoration side, some builders say that sometimes
it costs more to rehab than start from scratch. And
restoring an old wooden boat often means preserving its
lines, but not the original wood, which may be rotten or
may have already been replaced over the years. Still, restorations
can enhance a classic look while adding the advantages
of modern technology.
Part of the appeal of undertaking a restoration is the
desire to join or preserve a yacht class. Take the Friendship
sloop. Gladiator, the second-oldest sloop in the fleet, was
built in 1902 by Alexander McLain on Clam Cove in Bremen,
Maine. Owner Bill Zuber said he and his wife Caroline stumbled
over the boat in a New Jersey boatyard, with nothing
to identify it except a deck carlin inscribed "86611 No.7."
After a bit of research, they discovered this was one of the
earliest Friendship sloops. The boat quickly became a member
of the family; their children and then grandchildren
learned to sail it. They also have learned to have a wry outlook
on Gladiator's refit, care, and maintenance.
"It's taken the biggest part of our fortune," Bill says. "This
is all the vacations we never took," Caroline jokes.
The owners behind a restoration can be pretty passionate
people. One of Henry Hinckley's personal boats, a
Sou'wester 30 he launched in 1964 and named Jaan after
his two daughters, turned up in Georgia. A Massachusetts
man, looking to switch from power to sail, found it through
a brokerage and brought it back to Maine for overall repairs
and modifications.
"I love Hinckleys, I always have," he said the day the boat
was launched, surrounded by what he called its "spiritual
home." He rhapsodized, "I love the lines, I love the style, I love
how ruggedly they're built."
For a Bunker & Ellis aficionado, the chance to scoop up
a 1950 lobsteryacht for a bargain basement price was too
much to resist. That happened in 1970 for Rod Lucas, a Connecticut
resident who summered in Southwest Harbor and
was familiar from childhood with the two boatbuilders,
whose shop was just down the road. Visiting the shop, he
marveled over the innate skill and efficiency of the builders
as they worked silently together, understanding each
other's moves.
Memories like that—the old-timers plying their craft,
childhoods filled with fun during picnic cruises—are
inevitably bound up in a restoration. And a group of talented
believers, as passionate about the history of boats as the
boats themselves, are keeping the skills alive.
The case for REFIT
A number of yards along the coast have been busy in
recent years restoring or refitting fiberglass boats, as the
longevity of fiberglass has created a sizeable inventory of
unused boats.
Tom Allen, the owner of Kittery Point Yacht Yard Corp. in
southern Maine, has done a number of these projects. "In
times past, the financial investment of a refit was hard to
justify when you could just buy or finance a new one. With
the increasing cost of manufacturing and technology, this
is no longer the case," he says. "The durability of fiberglass
boats has forced the industry to innovate each year with
new products, features, and styling to attract buyers. I'm
not challenging the value of what you get in a new boat
purchase from any reputable builder—we build boats, too.
But these features add quite a lot to the investment. Today,
you can find many well-built older boats with proven
designs that can provide a solid foundation for a refit of
your own influence."
If the refit is done right, the customer will end up with a
great boat customized to meet his or her needs for considerably
less than buying a new boat.
The expected lifespan of a fiberglass hull—varying with
construction, materials, care, and overall workmanship—
could be 75 to 100 years.
"Most of us justify owning a boat for less than 100 hours
of enjoyment per year. Unless we are obsessed with sailing
as fast as the wind or driving a boat 70 miles per hour, it is
finding a boat that fits our lifestyle and meets our aesthetic
pleasure that matters most," says Allen. "You just have to
look around and confirm the core components of what you
are buying are solid and reputable. If you do this, the investment
in the refit will be justified."
Boaters might be concerned that a used boat might not
fulfill their ideas for the design of their dreams. But just the
opposite is true. The right used boat provides a dependable
platform for design modifications above the hull—changes
to the superstructure, layout, systems, power, and accommodations.
Like a house, anything can be redone on top of
a good foundation.
"If done right, a better monetary return on investment
can be achieved with a refit versus a new boat purchase;
and with a lot of creativity, collaboration, and satisfaction
in the process, " he says.
If the idea of a refit appeals to you, Allen suggested the
following steps:
■ Determine what you want from a boat, how
you'll use it, and what type of water and
conditions you'll be in.
■ Research designs that fit that type of boat.
■ Understand the compromises each design
might represent.
■ Evaluate new boats and the investment required.
■ Evaluate the secondary market and the
cost differential.
■ Determine the reputation of the design and
original builder and if the boat still has a following.
■ Visit forums or talk to people who own that model.
■ Find a professional to evaluate a used
boat's condition.
■ Find a yard that has performed refits and
restorations; understand its capabilities in
fiberglass, gelcoat, fabrication, carpentry,
mechanical and electrical, and surface restoration.
■ Develop a range of anticipated investment
before buying the boat.
A refit allows you to have a classic boat with updated
technology and finishes.
The case for BUYING NEW
"It comes down to technology," said Bentley Collins, vice
president of marketing and sales at Sabre Yachts and Back
Cove Yachts. "The engines are better, quieter, and more fuel-efficient.
And in a motoryacht, it's the engine and drive-train
that make the difference between buying new versus
buying something that has thousands of hours on it. Plus,
in the technology world, you've got pods and joysticks and
all sorts of wonderful things that make buying a new boat
a whole new experience."
During the recession, Collins noted, boatbuilders that
produced new models using new technology were likeliest
to emerge successfully.
"I compare it with going into a car showroom and finding
a 1998 Honda Accord sitting in the showroom. Would
anybody buy it? The answer is, 'No. Why would I do that?
I'm going to go somewhere where new technology is available.'
People enjoy buying new stuff."
Another attraction, he said, is all the new construction
materials. "Carbon, Kevlar, new foams—today, the sandwich
materials are much better. There are a ton of great
new products out there that have changed the way boats
are made."
Simple runabouts today are put together in a way that
was seen only in high-end race boats just a decade ago, he
said. "Technology sells. Technology is useful," Collins said.
"New is good and fun because it's not waiting for the other
shoe to drop. Really, would anyone buy an original iPhone
today?" ■
Excerpted from Boats of the Year 2016. Click here to read more stories from the latest edition.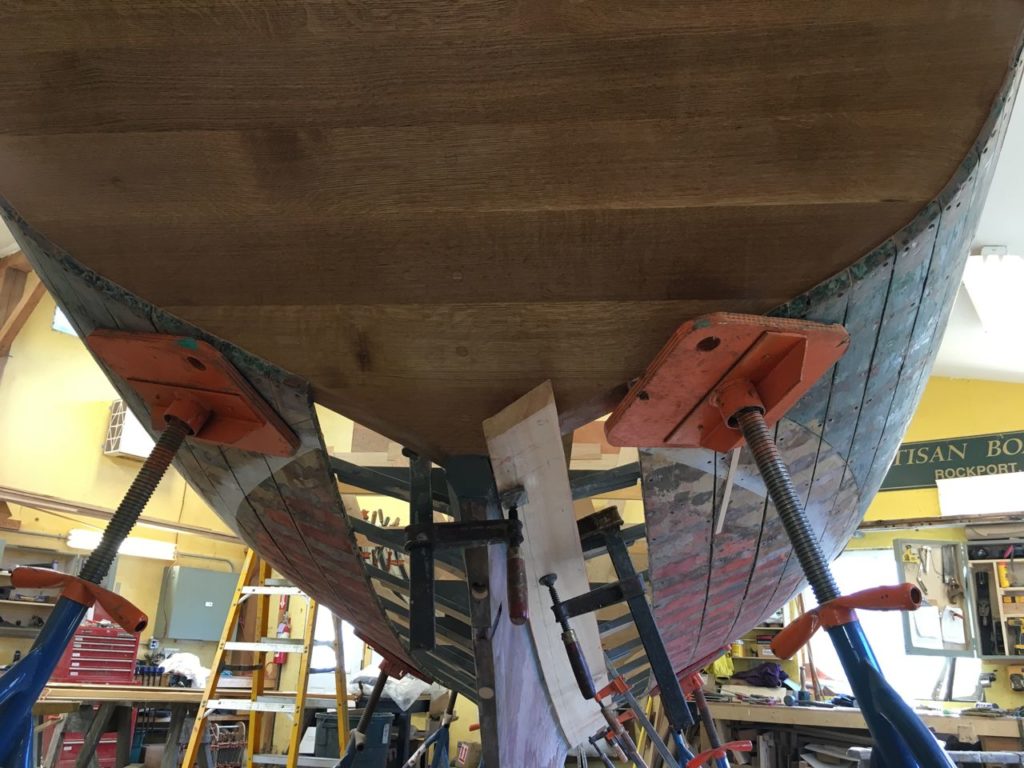 Photos of SOMETHING OLD, something new How to choose whether to restore an old boat or build from scratch