ON SUNDAY, NOV. 15, 2015, at
9:18 a.m., Joe Harris set out to
break the single-handed, non-stop,
around-the-world record of 137
days aboard a 40-foot boat.
On Gryphon Solo 2, an Akilaria
RC2 Class 40, Harris crossed the start
line off Castle Hill in Newport, Rhode Island. Though a repair
stop at Cape Town was necessary, the remaining route would traverse
the Southern Ocean, Cape Horn, and back to Newport.
Maine Yacht Center was honored to complete a 12-month
refit and upgrade project to prepare GS2 for this voyage.
The refit included keel removal, inspection and recasting;
removal, inspection and service of twin rudders, rudder
bearings and steering system; race bottom job and mast
paint; modifications to deck hardware; and upgrade to B&G
sailing instrumentation and autopilots.
We built and fit additional hand and foot rails; installed
water makers; solar panels and transom-hung, dual-hydro
generator; batteries, alternators, and
energy-monitoring system; additional
fuel and water tanks; replaced standing
rigging—lateral rod rigging, fore/aft textile
rigging, new PBO anti-torsion furling
cable for headstay; replaced running rigging,
new lashings; installed two gyro
compasses; computer system, network, back-up computer;
and installed and set up multiple satellite communication
systems; computer-based navigation system with world
charts and integrated sailing performance polar data and
weather routing.
MAINE YACHT CENTER
100 Kensington St.
Portland, ME 04103
207-842-9000
[email protected]
maineyacht.com
Excerpted from Boats of the Year 2016. Click here to read more stories from the latest edition.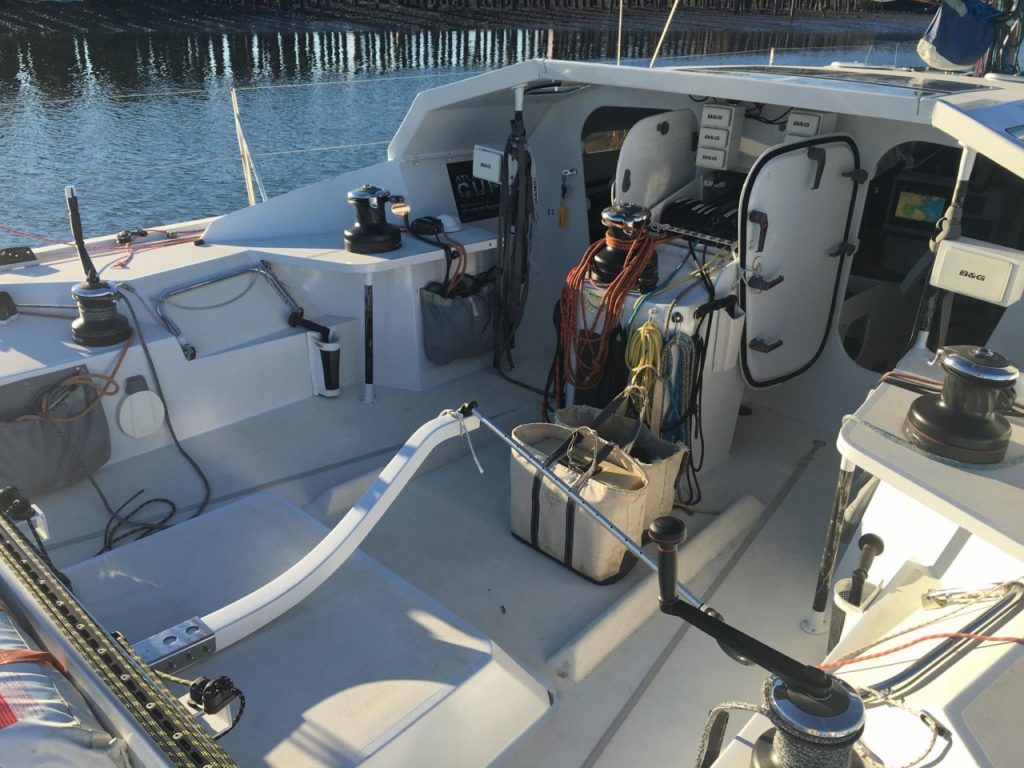 Photos of Year-Long Refit Targets Singlehanded Global Voyage