Life along the Oregon Coast: Yaquina Bay and the Newport Bayfront
Posted by Tyler Fields
We all have that "One Particular Harbor" that will always feel like home – I admit it, I'm a Parrothead and am listening to Jimmy Buffett play as I write this. No matter how old we get or far we travel, there is one place that will remain special. For me, it's Newport, Oregon.
The rough coastline of the Pacific Northwest is fairly sparse compared to the largely developed shore of New England. Safe harbors are few and far between on an ocean that can be very unforgiving to the unskilled and ill-prepared. Historically, the natural harbor of Yaquina Bay served as an ideal stopping point for ships and cargo making the trip down the West coast. If traveling from Seattle to San Fransisco, there are but a hand full of options for intended or unintended stops. Think sailing south from Bar Harbor, Maine, without more than two or three ports all the way to Virginia. It's easy to see why the name "Graveyard of the Pacific" caught on.
Soon after I took my first steps as a child, I was walking the waterfront with my dad and exploring every boat tied to the docks. As Oregon's largest commercial fishing fleet, Newport produces some of the Northwest's best salmon, tuna, halibut and crab.
Author's Note: lobster is delicious, but Dungeness crab cooked over a campfire is better any day.
The historic waterfront includes the usual souvenir shops and tourist attractions/traps. However, the port still holds the grit and feel of a working waterfront with the nearly constant bustling operation of the fishing fleet tucked in between whale watching charters and gift shops. The historic bayfront has it all. You can find a shark bobble head and screen printed shirt of Yaquina Head Lighthouse only doors away from commercial fishing suppliers.
Newport is also home to many leading marine scientists and researchers. Oregon State University's – Go Beavs! – Hatfield Marine Science Center continues as a leading marine laboratory. In 2011, the National Oceanic and Atmospheric Administration (NOAA) relocated their West coast base of operations and four large research ships from Seattle to Newport; joining Oregon State's three research vessels already along the waterfront.
If the scuttlebutt is true, Newport might be getting a little more national attention this coming fall. Capitalizing on the incredible popularity of their Alaskan based show "Deadliest Catch," the Discovery Channel is in production of a spinoff series focused on the Newport crab fleet tentatively named, Dungeness Cove.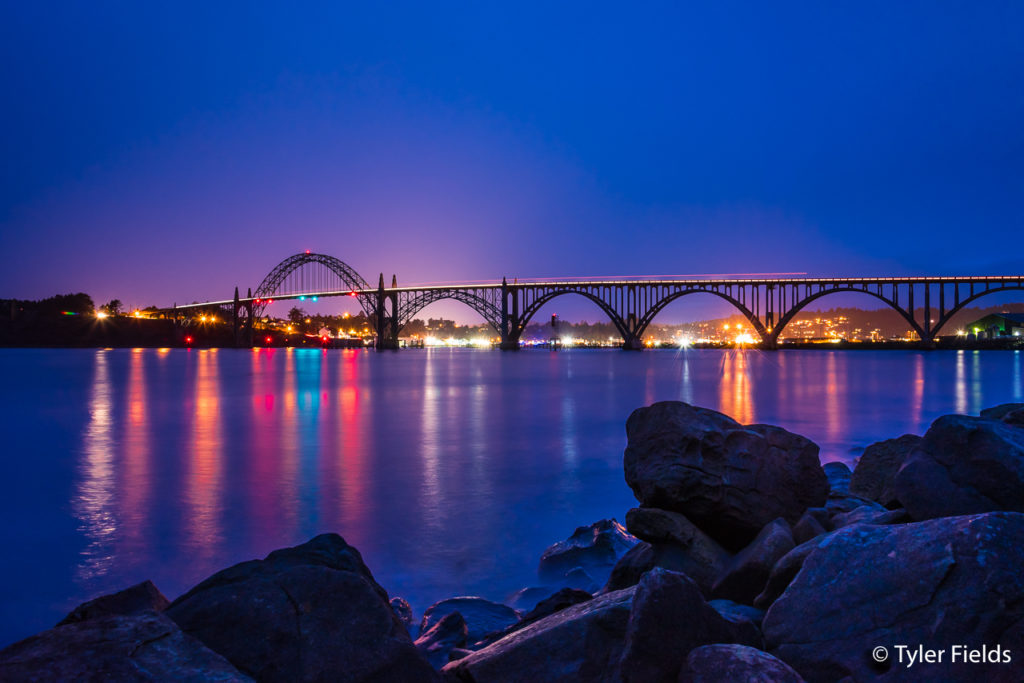 Photos of Life along the Oregon Coast: Yaquina Bay and the Newport Bayfront