The summer folk have gone home, their boats hauled. Snowbirds and cruisers – winter on their heels, are fleeing Southward.
We have several overnight getaways within a couple hour sail from our moored boat, a few steps from home on the coast of Maine. An hour and a half after slipping our mooring, we're sailing into Pulpit Harbor (a local favorite). Sailing off the wind with just the genoa and mizzen flying, it's easy jibing our way past the Osprey nest perched on the iconic granite pulpit.
There's relief inside from the growing North Westerlies on Penobscot Bay. The big harbor – except for a few vacant boats – is empty. Even the fishermen (nobodies fool when it comes to weather), are nowhere to be seen on this blustery day.
For more protection, we duck into the narrow mouth of Ministers Cove. The wind eases it's grip on the sails and our yawls speed drops as we sail through another stone gateway. A stiff wind roars over the treetops high overhead, but it's calm and quiet inside the cove.
To slow the boat down to a crawl, we roll the genoa onto the furler. The white sail disappears and the half mile deep cove bathed in fall light and color, opens up ahead.
Our mizzen behind jibes with a clatter as the wind on it keeps our rudder, barely steering. Engineless, it takes ten minutes or so to slowly coast through. An app on my iphone reads: Boat Speed: .7kt, .6kt, .5kt, as we approach an anchor icon I've placed sometime ago on the little screen.
Laying the anchor gently on the mud bottom, we hope we've slipped into the cove without too much notice. We watch wildlife; if we're quiet, we'll see more of it.
It was a perfect fall afternoon, then evening, with a warm fire below. While we lost count of soaring Raptors – including several Bald Eagles – we didn't see or hear another soul in the cove.
Tying in a second reef the following morning, I took it as a compliment when a lone eagle descended below the tree tops and coasted by to take a closer look at us. Curiosity satisfied, he effortlessly rose above the tree tops and disappeared with the wind. We'd soon follow.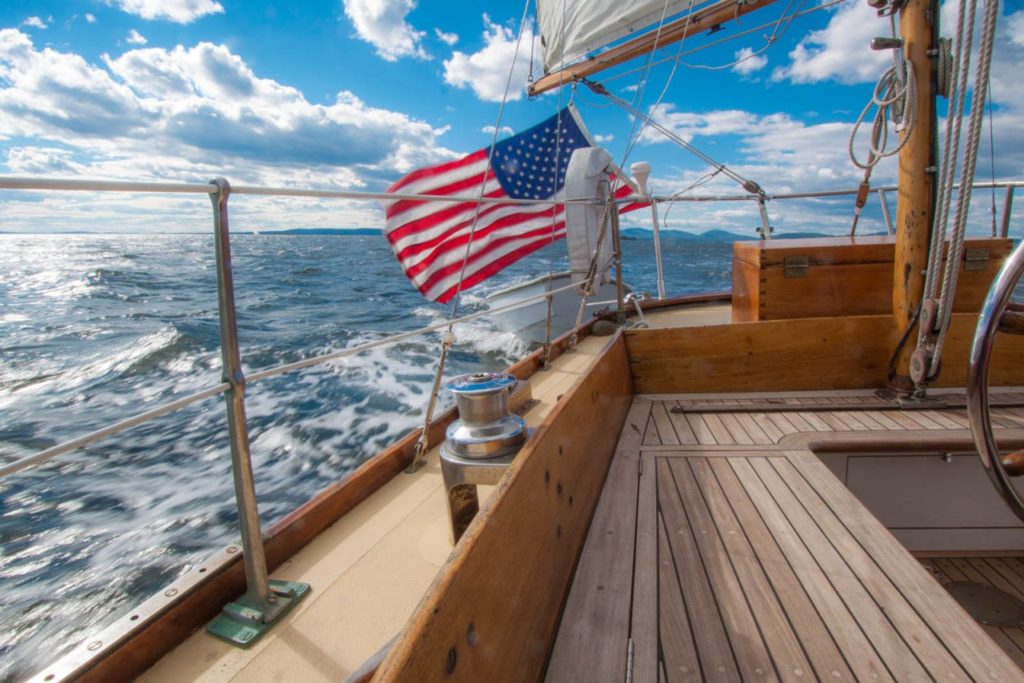 Photos of Fall Sailing on the coast of New England is for the locals.