Ancient working schooners, active fleets of classic racers – some a century old, coastal New England is a museum under sail.
Joining this floating archive; 'Classic Plastic', the first molded fiberglass boats. A few of these pioneers that ushered in the new material – fiberglass, have put in 60 years of hard use with no signs of retiring.
The John Alden Design Company of Boston Massachusetts – in business since 1909 – designed their first fiberglass sailboat in 1958. Alden Co.'s 949th design would become the Alden Challenger.
ECHO, Alden design #949R, makes her the 17th Challenger built (Alden used letters instead of numerals to indicate build order). Owned by the same family for 57 years, ECHO is a familiar sight off North Haven Island in Penobscot Bay.
Like all 52 Challengers, ECHO's fiberglass hull and deck were molded and assembled at the well known Halmatic Yard (Portsmouth England), in 1959.
Fiberglass hull production (using molds to produce several hulls), proved to be a quick process compared to the time involved in traditional wood hull and deck construction.
Alden was reluctant (wisely so) to give up 'wood' entirely. "Finishing" an Alden Challenger meant the wooden construction of; the entire house, the cockpit, and the complete joinery of the interior.
This 'stick built' phase of the boats construction was far more labor and time intensive than molding the fiberglass hull and deck.
To keep up with the demand of their popular Challengers, Alden contracted several 'finishers' (a total of 13 yards in Europe and the US).
The Alden Company had previously contracted with LeComte Yacht Builders (Netherlands), to construct Alden's 33′ Malabar sloops and 42′ Nordfarer Yawls, in traditional wooden construction.
That successful relationship lead to LeComte contracting the finishing of 11 of the Alden Challengers, including ECHO.
ECHO's hull and deck were shipped to the LeComte yard in 1959, where she was finished for a 1960 launch.
Along with the exact same Halmatic hull and deck, each finisher received a thick roll of Alden building plans. These hand drawn blue prints were detailed and specific (and are still available today).
In reality, due to the styles of the 13 different yards and the individual nature of hand craftsmanship, there are no two Alden Challengers, alike.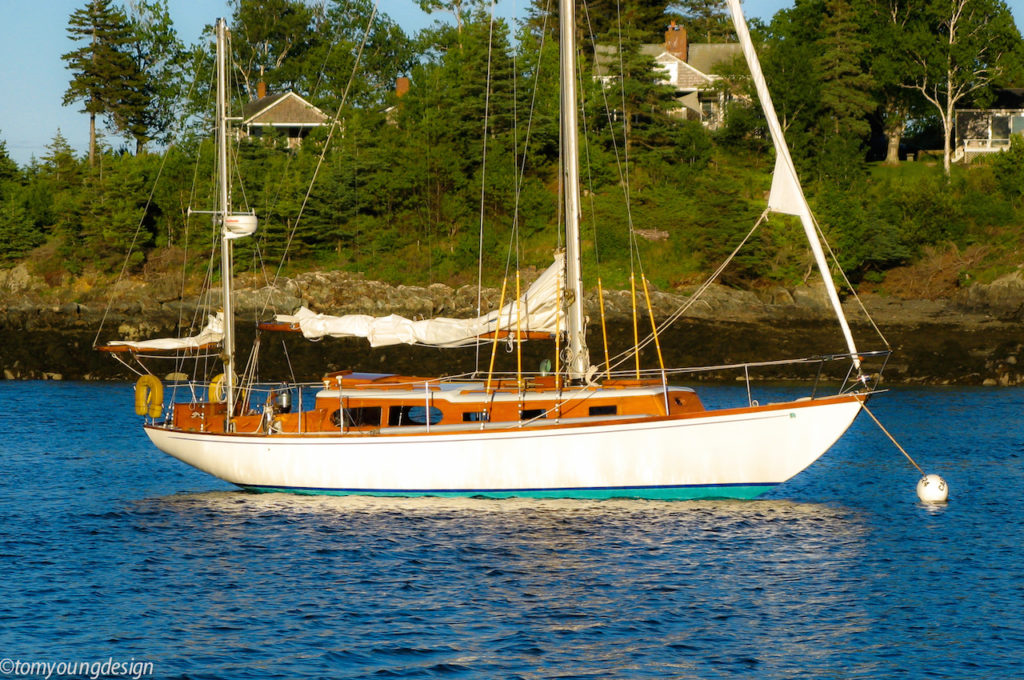 Photos of The coast of New England is a floating museum.