Art and Commerce at the Cape Cod Maritime Museum
Posted by US Harbors
Last Updated
The Cape Cod Maritime Museum will host a $2-million art exhibition by famed artist John Stobart which will run through the end of 2017.  Simultaneously, the Museum will provide maritime themed educational programs to inspire at-risk children and teens, enabling entry level employment at local boatyards and marinas. 
Christopher Galazzi, executive director of the Museum, explains how these two programs work in tandem to offer a holistic experience that combines artistic expression with hands-on experience.  "We are excited to balance the maritime history and future of our region, through the combination of art and real-world job opportunities." said Galazzi.
Beyond the opportunity to earn a certificate that is a stepping stone to a career path, the internship program is a way to capture the imaginations of students at risk of dropping out of school.  And the choice of Stobart's art collection is no coincidence, since his lifetime focus and intent serve as a role model for the students the program is aiming to reach. 
Born in 1929 in Leicester, England, Stobart struggled academically but he displayed a keen flair for drawing and enrolled in the Derby College of Art, when he was 17. That choice changed his life, and gave him the meaning and incentive to forge an extraordinary life and career documenting maritime themes of art and commerce.
Galazzi expects the works of Stobart will be a constant inspiration to the young adults enrolled in the boat-building program. "They can view the scope of life along our harbors and envision themselves as part of that history, contributing to it much as a great artist with his talent does."
When Stobart heard what the Museum had planned to help provide vocational training to Cape Cod's youth, he felt compelled to offer his support to help raise the visibility of the program and reach a broader audience.  "The Museum is deeply honored by the support of Mr. Stobart and we look forward to bringing his incredible art to thousands of visitors who may not otherwise have had the chance to view his work."  In addition, Stobart will be scheduling lectures and other presentations through 2017, providing people with the ability to learn more about his artwork and history directly from the artist.
To view some of Stobart's art visit http://www.kensingtonstobartgallery.com/john-stobart.html
For more information on the exhibition and educational programs visit http://www.capecodmaritimemuseum.org/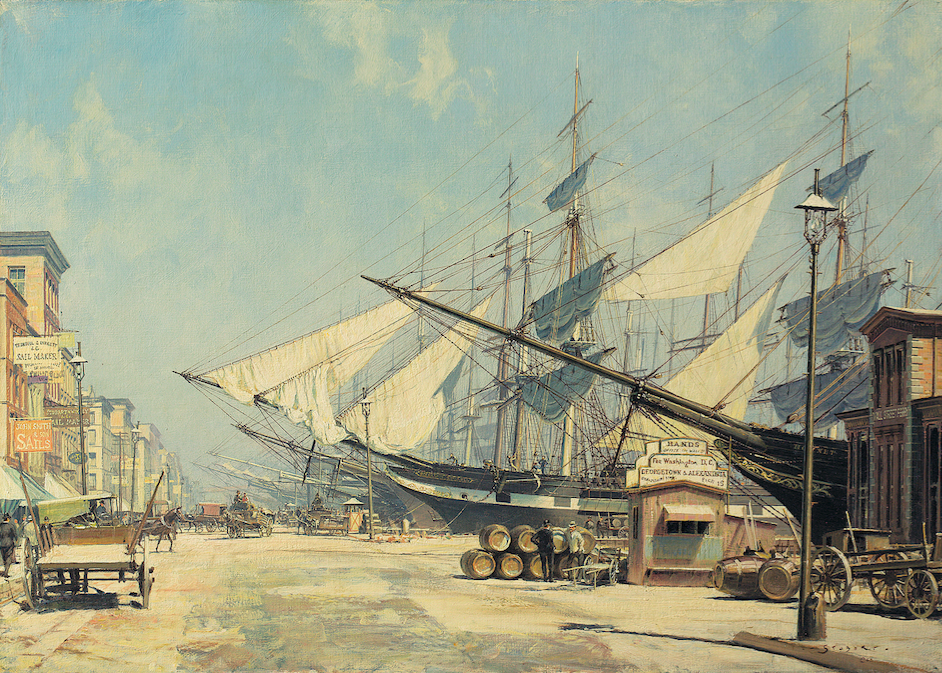 Photos of Art and Commerce at the Cape Cod Maritime Museum