New Jersey Maritime Museum's A Cat 'Ghost' Featured at Mystic Seaport Wooden Boat Show
Posted by Gretchen Coyle
Last Updated
The New Jersey Maritime Museum's A Cat Ghost, along with five other Barnegat Bay boats ranging in size from 12' to the 28' Ghost, were recent New Jersey ambassadors at Mystic Seaport's Wooden Boat Show in Mystic, CT.
How does a 28' sailboat with no motor get north to Mystic, CT? The answer is simple: carefully and slowly. Ghost was pulled out at DeRouville's Boat Yard on the Toms River, de-rigged, put on a special trailer, and pulled by truck through lots of traffic to Mystic. There she was taken off the trailer, re-rigged, and towed a mile or so to the Mystic Seaport. The Barnegat Bay/Little Egg Harbor Bay boats were together on two adjoining docks as people entered the show. Each boat had a few experts aboard, more than anxious to talk about the boats.
As for Ghost, she was the first one to be seen. Brochures about the New Jersey Maritime Museum, located on Dock Rd. in Beach Haven, NJ were in a basket, handed out to each visitor. The most common question was: 'How did a sailboat with no motor get to Mystic?' (Answer above). Once aboard, after removing their shoes and walking across carefully placed mats, visitors had lots to see, touch, and question. Jim Vogel (Exec. Dir. Of the NJ Maritime Museum) was given credit for the varnish and paint job). Ghost was in pristine condition.
An extremely large collage showed exactly what Ghost does for the museum: she sails all over with talks about history, maritime history, the environment, and a love of boating, fishing, sailing, and racing. People also marveled at how many life vest clad kiddies could fit on the boat. Ghost has participated in the Wounded Warrior sails over the years and taken many people out on the bay for fun sailing. She is made available to a number of sailing groups and yacht clubs. On board Ghost was the original owner, William Fortenbaugh of Bay Head, who gave her to the New Jersey Maritime Museum. He was in his glory, talking about every inch of construction. He even mentioned how, in his enthusiasm to sail her before she was actually finished, took a crew on Ghost out for a sail and turned over in cold spring water. This delightful gentleman was able to make fun of himself, his crew, and endure the laughs when they all were rescued wet and embarrassed.
Visitors found it hard to believe that the original A Cats were used to carry supplies across from the NJ coastal mainland to the barrier islands. Think how many planks, kegs of nails, windows, glass, and building accessories were placed on the wide beamed Catboats and sailed the four miles across to sandy islands in all kinds of weather. All without the small cabins we have today, so building supplies were laid horizontally on the deck. "Didn't the varnish get scratched?" one kid quipped. Ghost is a replica of the old A Cats; she was made by Paul Smith at David Beaton Boat Yard in Mantoloking in 1993. They were once strictly work boats, no varnish or nice touches like we have today.
When the movement of construction supplies slowed down after the railroads came to the Jersey Shore and somewhat suitable roads were built, the A Cats were used for fishing and racing. Beach Haven became known far and wide as "The Fishing Capital of the World." "Doesn't look like our family fishing boat," another youngster observed. There was a great urge to reply that the A Cats no doubt caught more than the average fishing boat does today. This was due to the fact that there were many more fish in the bays and ocean circa 1900 than there are today.
For more information on fishing and Beach Haven in general, read the new book Beach Haven which has just been published. It is available on Amazon, Barnes and Noble, the NJ Maritime Museum, and a number of local stores.
"How do these big sailboats maneuver?" a small-boat sailor wanted to know. Without much enticement, Ghost, Silent Maid, White Cap, along with the three small Barnegat Bay boats (and a miniature tugboat aptly named Little Toot that tooted almost incessantly) took to sailing around a narrow Mystic Harbor made even smaller by other boat boats being sailed or rowed. The oversized sails made for quite a show two afternoons as they tacked, ducked each other, and in general showed thousands of visitors how sailing is done behind the barrier islands of South Jersey.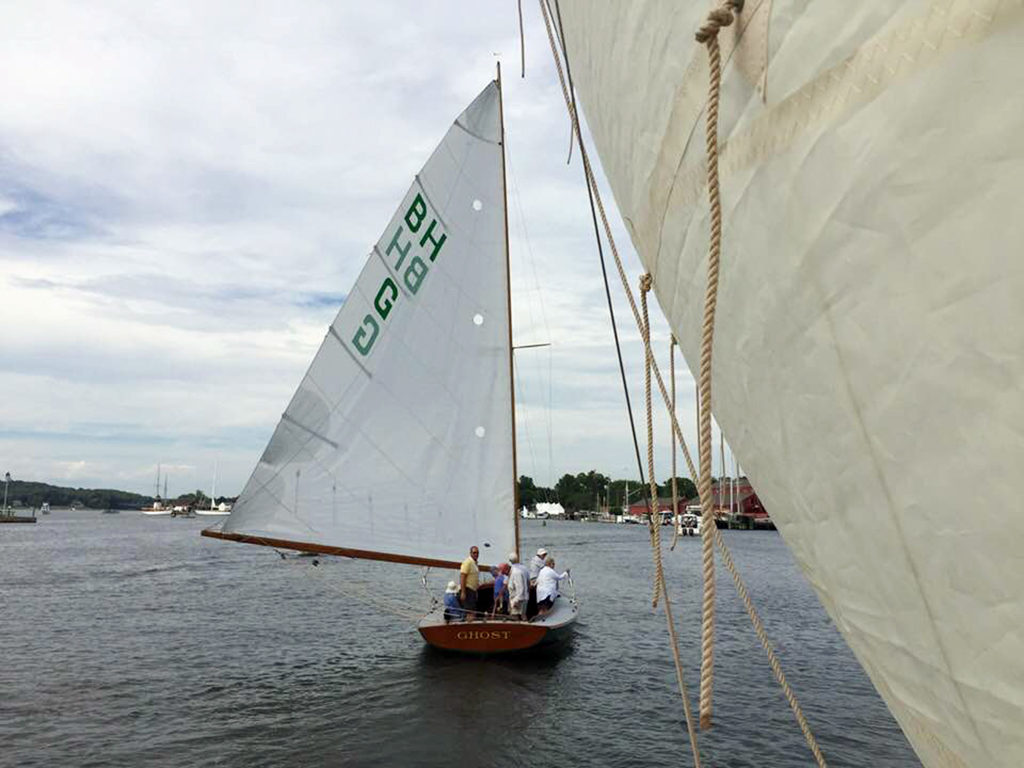 Photos of New Jersey Maritime Museum's A Cat 'Ghost' Featured at Mystic Seaport Wooden Boat Show