Founded in 1929, Mystic Seaport in Mystic, CT is the nation's leading maritime museum. There are sixty buildings and a vast number of in water displays. When the New Jersey Maritime Museum's A Cat Ghost was featured at Mystic's Wooden Boat Show in June 2018, along with two other Barnegat Bay sailboats and a few small boats, the crews and families had plenty of time to explore their own interests.
While the restored boats are priceless, to an author of maritime historian the most fascinating building sits outside of the Mystic Museum across Greenmanville Rd. It is the former Rossi Mill Building, which once made velvet for fashionable ladies of the 1800s, and now houses over five hundred boats of all shapes and sizes. Lined up in the old brick mill building as is, none have been restored. But each has a story, tagged with a paragraph or two on them.
This building is only open a few days a year to the public. Our New Jersey contingent was given a private, guided tour of the Rossi Mill Building simply referred to as "The Warehouse." This diverse collection is the largest in the US. Our guide started to take the group through the vast textile mill, showing us where to find identification tags.
The first boat to capture my heart and mind was a small wooden Cuban fishing fleet boat named Analuisa. She was launched in 1959; the first 20' fishing boat of the Mariel fishing fleet to have a motor. She fled Cuba in August 1994 with nineteen people from two families aboard. Amazingly, all aboard were picked up by a Carnival Cruise Line boat near Key West. The Analuisa was donated by the US Coast Guard to the Mystic Seaport. With three research trips to Cuba under our belt, (along with co-author Deb Whitcraft), and having our most popular book Inferno at Sea being honored at the 2015 Havana International Book Fair (we were the only American authors and Inferno was the only American book), Analuisa touched my heart and I wanted to know more about the unidentified occupants.
The Electric Launch Company of Bayonne, NJ was undoubtedly well represented in the Rossi Mill assortment. The World's Columbian Exposition of 1893 in Chicago launched the Elco success with fifty-five 36' long electric launches. Soon the company was a leader in electric powered pleasure boats and gasoline (termed "explosive engines"). Around 1910 the public had convinced Elco that motor boats were the wave of the future.
During World War I Elco built 580 submarine chasers for the British, in addition to 448 sub chasers and 300 various types for our Navy. A separate Naval Division was opened during World War II where 400 Elco PT boats were constructed in Bayonne. (The most famous being John F. Kennedy's PT – 109.
One Elco in the Rossi Mill Warehouse stood out as a fast, sleek, torpedo type boat. Panhard I was designed and built in 1904. She is equipped with a Panhard fifteen horsepower motor which operated at one thousand revolutions, and was owned by the American Branch of the Panhard and Levassor Automobile Company of Paris.
Panhard I is lightly constructed, made of double planked mahogany. She is 31' long, 4' 6" wide, and drew only 6" of water. The varnish still shines on her hull which is similar to a French torpedo boat made to carry just one person. While the whole purpose is speed, Panhard I could scoot along at thirty knots. Naval architect Charles Mower wrote in Newer Power Boats of 1904:
"The Electric Launch Company of Bayonne has turned out many fast launches … Panhard I's chief peculiarity being the absence of any distinct sheer line due to the oval sections which make the planking and deck continuous, the bent frames being continuous, and taking the place of the usual deck beam construction. "The motor is placed well forward and is covered by a hood with a dummy stack."
The Electric Launch Company was formed in 1892 and closed in 1949. In 1987 the company was resurrected and remains in business today. Elco produces hand crafted replicas and makes motors for sailboats and powerboats as replacements for diesel engines. This prestigious New Jersey boat building company has had a spectacular career, having made boats of all types and sizes in addition to its war contracts.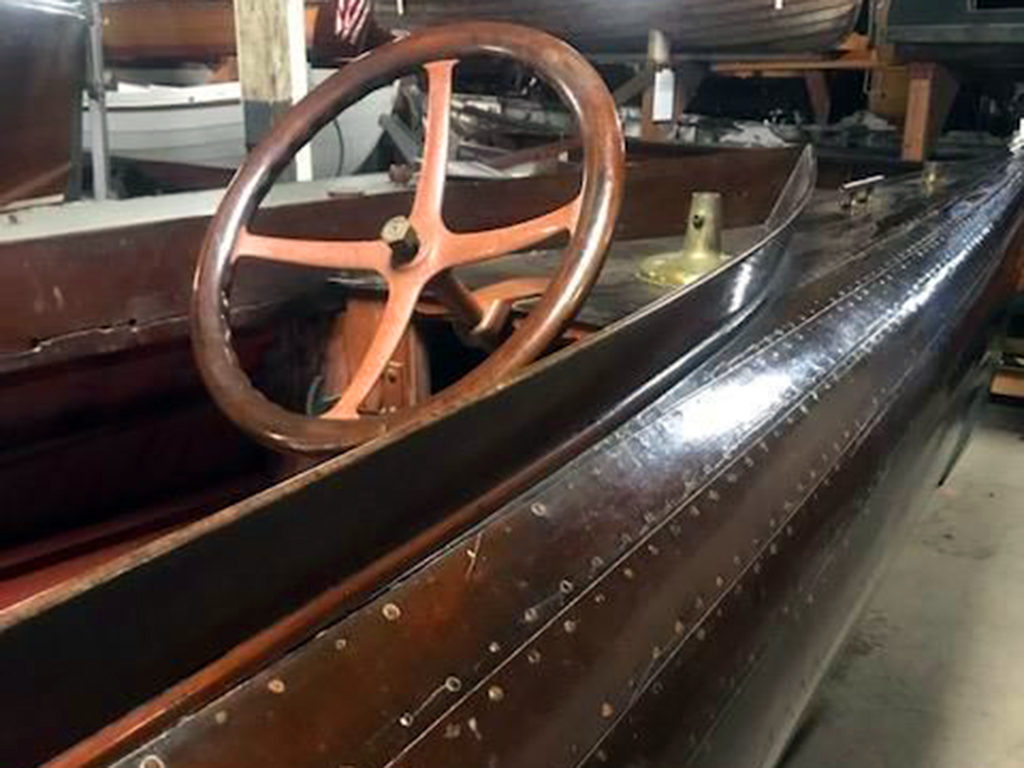 Photos of Mystic Seaport's Warehouse