The A.J. Meerwald Came To Beach Haven
Posted by Gretchen Coyle
Last Updated
For the first time since Hurricane Sandy filled up Little Egg Inlet, New Jersey's tall oyster schooner from Bivalve, NJ, maneuvered the newly dredged inlet from the Atlantic Ocean into the ICW leading to Beach Haven. Credit goes to our favorite Tow Boat US driver, Rick Ellenburg, our guiding light in local waters. Buoys were still missing in spots, so Rick's knowledge was invaluable.
Captain Johann Steinke and his crew had sailed all night to catch the tide at the inlet. My husband and I followed Rick out about three miles off shore, watching as the crew lowered the sails, turned on their motor, and headed toward Little Egg Inlet.
An hour and a half later the schooner tied up at a private dock across from a beautiful sport fisherman, the head boat Miss Beach Haven, and the laughable Black Pearl, a pirate ship that attracts kids from three to their great grandparents. We, along with the New Jersey Maritime Museum across the street, quickly adopted the whole crew, providing a dinner, housing, laundry, trips to the library and pharmacy, bikes, and putting the younger crew members in touch with Beach Haven's night life. This is Captain Steinke's first season on the A.J. Meerwald. He and his wife Meghan moved east from California to take the helm starting with some repairs last winter. He has assembled an amazing crew of all ages, backgrounds, educations, and interests. A few storms led to sailing cancellations (there were usually three sails a day), so we spent hours talking to the crew who were from all over the US. Their devotion to and respect for Captain Steinke is admirable.
The A.J. Meerwald was built by the Meerwald family in 1929, deep in the Great Depression. Debts were more than profits at first until the oyster industry recovered a bit. Thousands of oysters per day went by train to the restaurants of Philadelphia and New York, a staple on every menu. Harvesting slowed down during World War II; later the oyster industry was hit by two diseases, almost decimating the Delaware Bay oysters.
Sheer determination kept this wooden ship sailing for many years. Meghan Wren found her lying deserted in the reeds in 1989, and decided this schooner should be saved as New Jersey's tall ship and a reminder of the prosperous oyster business which existed before the Great Depression of 1928.
The A. J. Meerwald now sails all over New Jersey and surrounding ports during the warm months, taking hundreds of people sailing on a real oyster schooner. Her home base is the Bayshore Center at Bivalve, NJ. It is the schooner's original port on the Maurice River, where hundreds of different sized oyster schooners once harvested oysters in Delaware Bay. Bivalve is a combination of old oyster docks, a very informative museum, the Cracker Café, and special programs.
The A.J. Meerwald was sold out on every sail and visited by many people on LBI. Beach Haven opened its arms to the crew. A more congenial Captain Johan Steinke and his crew could not be found. Hopefully the A. J. Meerwald will return to Beach Haven next summer as she did for so many years before Hurricane Sandy.
https://bayshorecenter.org/a-j-meerwald/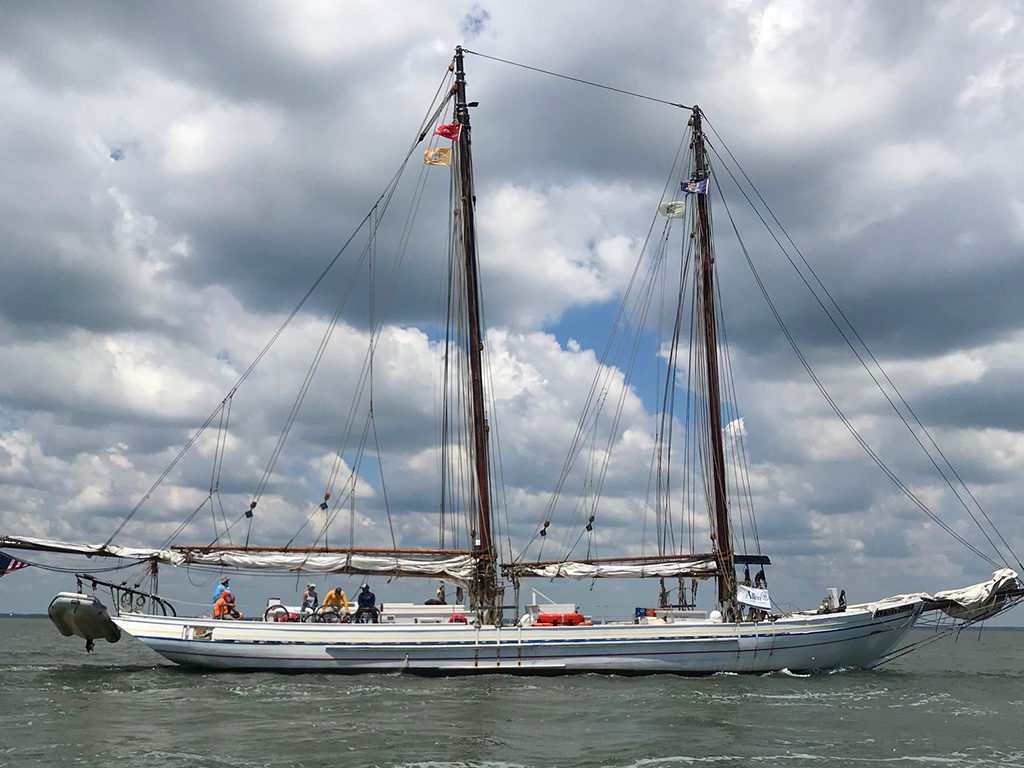 Photos of The A.J. Meerwald Came To Beach Haven