The DNA of the SoT: Design Elements That Keep a Boat from Being a True Spirit-of-Tradition
Posted
Last Updated
THE DNA OF THE SoT: Design Elements Keep a Boat from Being a True Spirit-of-Tradition
For our final "Spirit-of-Tradition" post we share a few boats that did not make the cut. All beautiful vessels in their own right but a touch too modern to be considered proper SoT boats.
Botin 55: Botin Partners — To Be Launched Spring 2019.
Hull: Strong, dead-straight plumb bow and flat sheer set her lines, as they flow into a modern U-shaped hull. Her square, flat transom is wide and uninspiring, with a slight reverse rake, that produces a modern, powerful hull shape. Similar to boats in the Open 40 class, her powerful "haunches" and a chine-like turn of the bilge, come straight from modern racing yachts.
Rig: A carbon, sloop, with a modern "droopy" boom.
Architecture: Ambiguous and minimal. A low profile trunk is inspired from rectangular forms seen on boats of the early 19th century and is backed by a roomy cockpit for steering and sail handling. These are modern interpretations on classic themes. The reach from the modern hull to the traditional deck seems a stretch.
SoT DNA Factor? The few classic cosmetics do not overcome a hull shape that is plainly derivative of 21st century race boats: No.
Toroa: Botin Partners — Launched 2017.
Hull: Bodacious and powerful, she is a testament to modern hull designs with beamy flat run and lifting keel, as seen in U.S. west-coast sleds. A strong bow is offset by a clumsy sheer that attempts to establish the only lane into a classic lineage.
Rig: Huge, powerful square-headed mainsail of all-carbon construction that sits on yet more all carbon rigging. This is a ultra-modern push-button bonanza that feature absolute over-the-top performance. A wonderful example of technology and engineering.
Architecture: Sleek and stylish. Traditional joinery cued from classic heritage. A paring of an all-out planing hull with vintage-styled deck leaves room for lots of dispute.
SoT DNA Factor? Modern hull could seek classical cues, but Toroa's lines ignore too many. A slight concave sheer doesn't dictate a classic shape. No.
Rapture (Concept), Stephens Waring Yacht Design — Launched 2010.
Hull: This boat is an organic blending of modern chined sailboat hulls and small classic powerboats, like the gold cup runabouts found in upstate New York.
Rig: Distinctively modern, yet sparingly classic. No backstay and square-headed modern mainsail offer ample sail for huge modern performance.
Architecture: A forward cuddy and spare cockpit pulls forms from early 20th-century American daysailers, but conceals highly modern push-button functions.
SoT DNA Factor? Unconventional use of mid-century shaping overwhelms the strong cohesive architecture.
She's a stretch too far: No.
Alerion Express: Carl Schumacher — Launched 1990
Hull/rig: Straightforward lightweight hull by a premier west-coast sled designer. Well-balanced ends with moderate overhangs. Inspired by NG Herreshoff's Alerion—but distantly so.
Straight raking stem, graceful short counter stern. Fractional sloop with Hoyt-boom jib.
Architecture: Simple classic massing—cuddy and low coamings. Clean concave sheer.
SoT DNA Factor? A classic concept executed in elegant 1990's style. Pretty, great-sailing. But is she SoT? Nope.
Read the original version of this article on stephenswaring.com.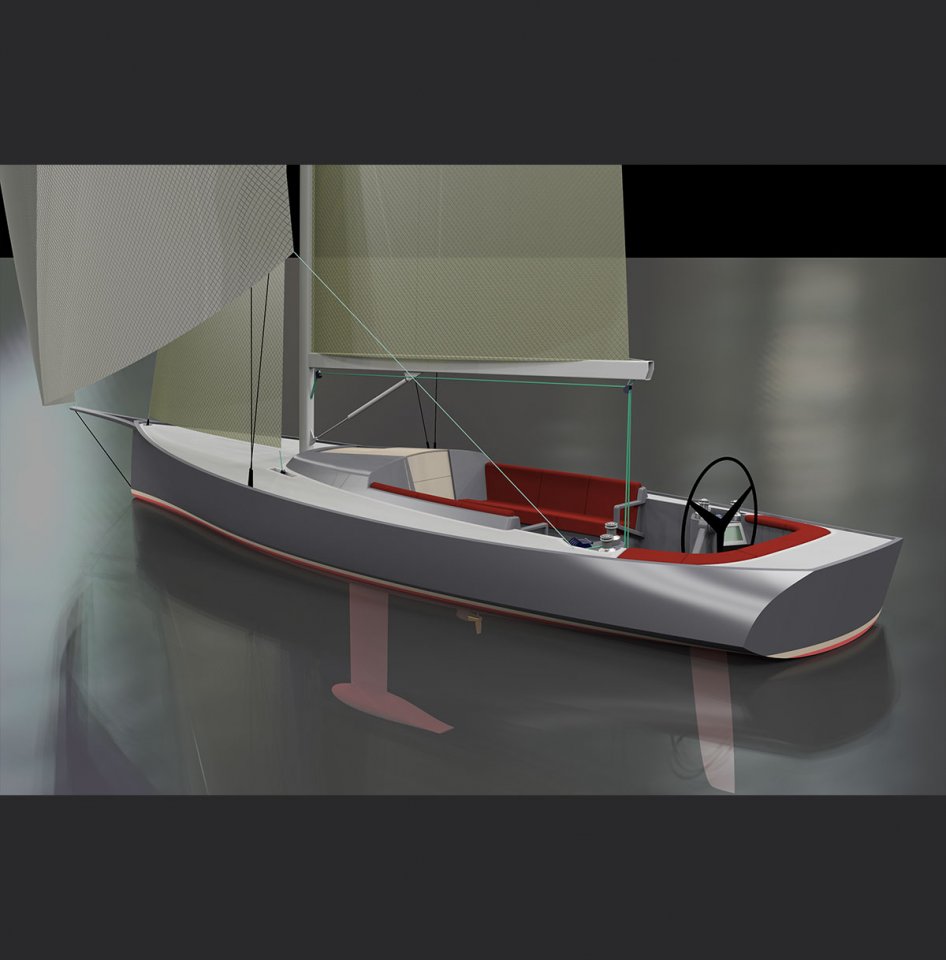 Photos of The DNA of the SoT: Design Elements That Keep a Boat from Being a True Spirit-of-Tradition