The DNA of the SoT: Successful Spirit-of-Tradition Designs
Posted
Last Updated
THE DNA OF THE SoT: Successful Spirit-of-Tradition Design
Yesterday we shared the 8 Rules of Spirit-of-Tradition Design. Below are some examples of successful SoT architecture in practice.
Christoffel's Lighthouse: Dykstra Naval Architects — Launched 2003.
Hull: Hefty and beamy, the hull is a sea-worthy configuration that is enhanced by a naturally shaped plumb bow and broad transom. The substantial bulwark detail and bowsprit speak to classic 'pilot-cutter' designs of the 19th and early 20th century.
Rig: Prominent and recognizable bowsprit and cutter rigged headsails are very classic. The carbon spars, Nitronic rod rigging are easily managed by the crew. She's a good robust setup for world cruising with modern technology.
Architecture: Relatively rectangular massings of deck house and hatches are reminiscent of earlier yachts and work boats. Overall color and usage of materials conservatively balance a strongly traditional design.
SoT DNA Factor? Solidly portrays a consistent lineage. Absolutely, yes.
Isobel: Stephens Waring Yacht Design — Launched 2011.
Hull: Sleek and narrow, her ultra-light displacement allows for fast responsive sailing and striking leaps in upwind work in light air. Strong character, stylized by a strong plumb bow and proportioned with an organically shaped elliptical transom. She's a modern interpretation of a classic working-craft shape — like a pilot-cutter, or an overgrown Kingston Lobsterboat, for those of you familiar with H. I. Chapelle's crucial collection American Small Sailing Craft. Subtle curvature in stem, shapely flare and tumble-home speak to traditional forms.
Rig: Square-topped main, backstay-less carbon mast and boom. Carbon cantilever bowsprit that is integral to the hull, is only for light-air and downwind sails.
Architecture: Modern and spare. The colors and finishes speak to sleek modern trends. The above deck features heavily updated riffs of pilot-house configurations of work vessels of the 19th and 20th centuries. The success of these style features gets seriously mixed reviews.
SoT DNA Factor? Hull shows consistent threads from a single traditional source, but her style is strikingly edgy. This boat is positioned very close to the line — but the hull shape says yes.
Rebecca, Frers Naval Architects — Launched 1999.
Hull: Strong traditional lines sweep gracefully to etch a memory of the old and established. Balanced midsection and delicate transom.
Rig: Almost a Maxi-Ketch, this is a strong traditionally inspired sail plan that features carbon spars and all-modern rigging and sail handling.
Architecture: Very classic and restrained. The use of natural wood and glass of her superstructures deliver timeless appearance and modern deck hardware and layout allow high-performance sailing. Hard to argue with this open and shut case of good work, done well.
SoT DNA Factor: A striking modern interpretation of classic themes, despite an off-message bow profile: Yes.
Anna: Sparkman & Stephens — Launched 2007.
Hull: Delicate and balanced, she springs from a long tradition of classic hull shapes of the CCA and earlier designs from Sparkman & Stephens.
Rig: The carbon construction in this sloop carries no surprises. Very conservative.
Architecture: Vintage minimal. So she can be beholden to the square and hard edges that ignore ergonomic comforts of boats from the 1920' and 1930's. The vintage style to both hull and superstructures work in unison to create an old-age feel. Good looks sometimes sacrifice comfort and practicality.
SoT DNA Factor? No question, yes.
WallyNano: Hoek Design — launched 2009.
Hull: Strong, plumb bow and flowing lines that end in a graceful transom.
Rig: Modern, carbon construction that feature modern sails and rigging. Performance and quality are a pure priority.
Architecture: Deck and trunk detail work nicely with minimum details. The classic looking hull dovetails with the clean above-deck layout.
SoT DNA Factor ? Cleverly weaves austere modern design threads into a hull inspired by century-old shapes: Yes.
Arabesque: Fontaine Design Group — 2012
Hull: Her shapely curves and wealth of beam provides a heavy, robust sailing vessel. Major key design attributes are her elliptical transom and spoon bow.
Rig: Carbon. Set for short-handed, push-button sailing.
Architecture: There are lineage markers from the masters, Alden, Rhodes, and Hood. But the style is mid-century modern classic of the CCA period. Her elliptical cabin trunk and comfortable cockpit mirror the traditional heritage.
SoT DNA Factor? Opulent elliptical shapes tie strongly to classical themes: Yes.
Wild Horses: Joel White — Launched 1997.
Hull and rig: Long-ended and powerful, she claims almost direct lineage to a Herreshoff's classic New York 50s. Hollow spoon bow and delicate counter. Carbon Sloop rig. Sailed with lots of crew.
Architecture: This is a truly modern sailing platform, with a cockpit and trim pit inspired by configurations on 12-meter boats. The 1920's style and color of her deck and superstructures combine into a timeless and inspiring creation.
SoT DNA Factor: She ties strongly to hundred-year-old design antecedents, even at the expense of performance. Yes.
Tendress: Robert Stephens — Launched 2001
Hull and rig: Draws heavily on Herreshoff's Buzzards Bay 25. Spoon bow, broad transom, flared topsides, slack bilges and strong deadrise. She gains stability through lightweight construction and heavily-ballasted fin.
Simple carbon fractional sloop. Forestay inside stemhead. Generous sail area for light-air performance. All lines run to the cockpit.
Architecture: Classic American knockabout. Self-bailing cockpit disguised by careful management of seat height, and open areas outboard of seats.
SoT DNA Factor? Pulls directly from an American master: Yes.
Hood 32: C. W. Hood — Launched 2010
Hull and rig: Extremely fine and low, like an exaggerated Universal Rule R-boat, just downsized. Sleek, fairly flat sheer. Long, long ends.
Rig:Refined low-area sloop, like a Skerry cruiser or square-meter sloop. Self-tacking jib and belowdeck furling.
Architecture: Modern influences on the classic elliptical cockpit. Clean, simple toerails and coamings. Clever arrangement of under-deck lines makes singlehanding a breeze.
SoT DNA Factor? An obvious yes
Race Horse: Stephens Waring Yacht Design — Launched 2010
Hull and rig: A modern interpretation of the 19th-century sandbagger. Broad, beamy, all the way back to the stern. Subtly curved tumblehome stem, as in traditional catboats. Tee-bulb keel. Square-top main, fixed bowsprit used only for offwind sails — a little jarring visually.
Architecture: Classic varnished molding on edges of deck and cockpit. Elliptical cockpit ties to 19th century.
SoT DNA Factor? Consistent links in hull details and stylistic cues to a single historical reference: Definitely, yes.
Goshawk: Brooklin Boat Yard (Stephens/Waring) — Launched 2005
Hull/rig: Very fine and narrow, lightweight. 1920's-inspired long overhangs, narrow counter, elliptical transom. Strong sheer, low freeboard. Fractional carbon sloop.
Architecture: 1960's-vintage superstructure strikes a relatively awkward disconnect with hull — almost as if two different eras represented.
SoT DNA Factor? Hull features strongly tied to early-20th-century yachts. Superstructure not a cohesive integration with hull shape, but with classic antecedents of its own. Ultimately, a slim yes.
Dreadnought: Jim Taylor Yacht Design– Launched 2013
Hull/rig: Long bow and stern overhangs suggest classic connections. Look deeper, and the sections and lines reveal a more modern shape.
Note the ample freeboard, U-shaped sections — especially in counter and flattish sheer. Carbon fractional sloop rig, extended boom to reach aft traveler.
Architecture: Modern sloped cabin sides and rounded cockpit coaming leave confused synergy. Hull and superstructure work somewhat oddly well together, as neither appear solidly classic.
SoT DNA Factor? Classic cues are diluted; a 1980's good sailboat design wrapped in a classical veil. But the veil is consistent. Marginal yes.
Morris M-36: Sparkman & Stephens — Launched 2004
Hull/rig: short waterline, long overhangs. Many cues from S&S designs of the 1940's—think miniature Bolero. Relatively high freeboard, flattish but pretty sheer. Hollow buttocks in counter help extend the stern, at the cost of performance. Fractional sloop with boomless self-tacking jib.
Architecture: Consistently draws from mid-century S&S antecedents, but taller with shapely deckhouse and nicely cambered edges. Graceful flush deck. Modern rounded toe-rails.
SoT DNA Factor?: Consistency of the theme says: Yes.
Pleione: Jim Taylor 8-meter, 2004
Hull: Hull constrained by International Rule; narrow, deep. Many classic elements maintained that play against ultimate speed in 8-meter formula—knuckled spoon bow, narrow raked transom. Low freeboard.
Rig: classic meter-boat proportions in a fractional sloop—lower-aspect-ratio, big round spinnaker.
Architecture: Small, sleek house with strongly raked sides, minimal cockpit and coamings. Minimal toerails, clean decks.
SoT DNA Factor? Building to International rule is not an automatic pass—but Pleione nods strongly to older meter-boats in hull features. More modern deck furniture is simple and striking. Yes.
Read the original version of this article on stephenswaring.com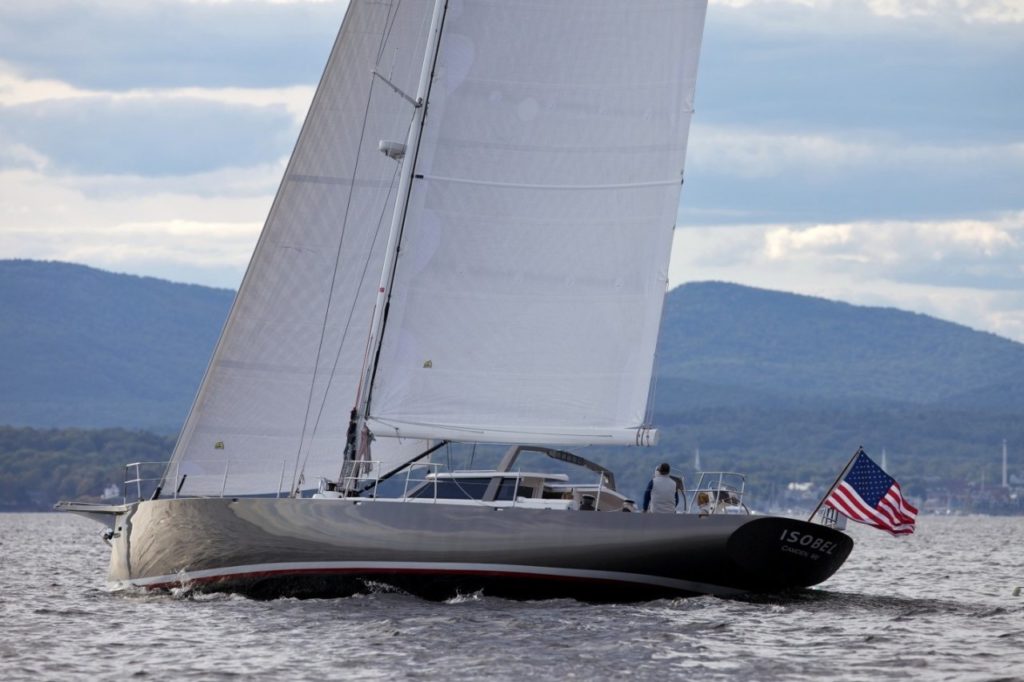 Photos of The DNA of the SoT: Successful Spirit-of-Tradition Designs