SPONSORED CONTENT
The 5 Best Home Weather Stations For Boating & Fishing
Posted
Last Updated
We've all been there…you wake up early for a fun day on the water, only to realize the weatherman got it all wrong.
Instead of sunny skies and calm winds, it's blowing 20 mph with scattered rain. Bummer!
Well, no one ever said predicting the weather was an easy job. But, with an at-home weather station, you can get an accurate reading of the weather conditions in your local area instead of relying on the closest news station or airport (which could be miles away).
I'm an avid boater, and the weather can change at the drop of a dime here on the coast of Florida. Not only is it safer to plan your boating or fishing days during calm weather windows, but it's also more enjoyable.
In this article, I'm going to cover 5 of the best at-home weather stations and explain the benefits of these fun and easy-to-set-up gadgets.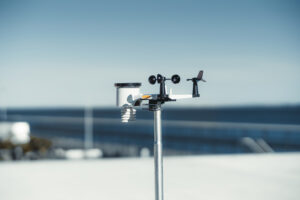 As an Amazon Associate, I earn from qualifying purchases. USharbors.com is a participant in the Amazon Services LLC Associates Program, an affiliate advertising program designed to provide a means for sites to earn advertising fees by advertising and linking to Amazon.com. 
Best Beginner Model (Easy Install)
If you're new to at-home weather stations and want something easy to set up to test the waters, consider The Newentor Weather Station.
It's equipped with a large 7.5″ LCD screen and offers a comprehensive display of essential information. Everything from indoor and outdoor temperature, humidity, customizable alerts, time/date, alarm clock with snooze function, weather forecast for the next 8-24 hours, moon phase, and barometric pressure.
And the best part is that it takes just a few minutes to install and set up (no pole required).
Pros
The 7.5″ LCD screen is large and displays comprehensive information, making it easy to read and a great conversation starter.

The weather forecast station calculates the weather forecast for the next 12-24 hours.

The screen can be set to always-on or power-saving mode when the adapter is plugged in and the brightness is adjustable.
Cons
The product does not have a time zone for all areas, so the time may need to be corrected for some users.

Some users have reported issues with the internal house temperature locking at a specific temperature and requiring a reset.
Installation Difficulty: Very Easy
With support for up to 3 remote sensors, the Newentor Weather Station allows you to monitor the temperature and humidity of multiple locations. Simply place the sensors outdoors in locations you want to monitor. 
One of the standout features of the Newentor Weather Station is its ability to calculate weather forecasts 12-24 hours in advance.
Not only does the Newentor Weather Station serve as a wireless indoor and outdoor thermometer, but it also doubles as an atomic clock. The clock automatically sets itself to the correct time based on different time zones and includes dual alarms for added convenience.
The Newentor Weather Station also offers two power modes and a brightness-adjustable backlight. You can choose between an always-on display or power-saving mode when using the included 5.0V power adapter.
With its user-friendly features, accurate readings, and versatility, the Newentor Weather Station is an excellent choice for beginners seeking a reliable and comprehensive weather monitoring solution that's basically plug and play.
Best Overall Weather System
The Ambient Weather WS-2902 is one of the most popular weather stations on the market and is a highly recommended choice for weather hobbyists looking for a reliable and feature-rich device. This unit comes with an outdoor unit that does everything from collecting rain water to measuring wind speed and much more. 
PROS
The brilliant, easy-to-read LCD color display allows you to easily monitor your home and backyard weather conditions.

The wireless all-in-one integrated sensor array measures wind speed/direction, temperature, humidity, rainfall, UV, and solar radiation, providing comprehensive and accurate weather data.

The station supports both imperial and metric units of measure with calibration available, making it convenient for users from different regions.
CONS
The pole mount and 3 x AAA batteries are not included, which may require additional purchases.

The enhanced WiFi connectivity option may only work well in areas with good WiFi signals, affecting data transmission.

The price of the product is relatively high compared to similar products in the market.
Installation Difficulty: Moderate
One of the standout features of the WS-2902 is its ability to measure various weather patterns. It includes a rain gauge that measures the amount of rainfall, hourly and 24-hour rainfalls, and weekly, monthly and rain event totals. The station also comes equipped with a wind vane and anemometer for measuring wind direction and speed.
Additionally, it provides temperature readings, including heat index and wind chill, which are particularly useful for boaters and anglers. Another notable feature is the measurement of UV index and solar radiation, which can be valuable for monitoring sun exposure, especially during the warmer months.
Setting up the WS-2902 weather station is straightforward, but it does require a pole or elevated mounting position. However, once installed, the station offers reliable performance and can be easily connected to your WiFi network for data transmission.
Overall, the WS-2902 weather station receives positive reviews from users, with many praising its accuracy, ease of setup, and wide range of features. The WS-2902 is the best overall weather system, that will provide advanced level weather monitoring, connectivity, and analytics, but still perfectly adept for home and hobby use.
Best Premium Weather System
The Ambient Weather WS-2000 stands out as the premium model on our list, offering a wide range of rich and advanced features for comprehensive weather monitoring. Its high-definition, full-color TFT LCD display provides clear visibility day or night, with the option of light and dark backgrounds for optimal readability.
The console of the WS-2000 receives wireless data from the outdoor sensor array, including wind speed, direction, total rainfall, temperature, humidity, UV intensity, solar radiation, and optional barometric pressure from the indoor sensor (sold separately). This unit pretty much does it all!
PROS
The high-contrast TFT color display makes reading and understanding the weather data easy.

The wireless all-in-one integrated sensor array measures wind speed/direction, temperature, humidity, rainfall, UV, and solar radiation, with the ability to add additional sensors.

The station supports both imperial and metric units of measure with calibration available.
CONS
The console power is provided by a 5V DC adapter (included), but the sensor array requires 3 x AAA batteries (not included).

The station can be expensive for some people. 
Installation Difficulty: Moderate/Advanced 
The dynamic color tablet display combines measured and calculated data, presenting information such as 'Feels Like' Temperature, Dew Point, 10 Minute Wind Speed and Direction, Sunrise, Sunset, Moon Phase, Forecast, and more. Additionally, the display offers NIST internet time server synchronization, high and low alarm conditions with audible alerts, and the ability to calibrate major parameters.
The Osprey Sensor Array, which connects wirelessly to the console, is a key component of the WS-2000 system. It provides accurate measurements of various weather patterns and boasts a solar panel for primary power with optional battery backup (batteries not included). The sensor array can be easily mounted on poles with a diameter between 1.25 and 2″, ensuring flexible installation options.
With built-in WiFi capabilities, the WS-2000 enables easy connection and encrypted data transmission. The display tablet allows users to enter WiFi settings directly and supports exporting archived historical data to an optional SD card for further analysis in programs like Excel. The system also supports additional sensors, including thermo-hygrometers, air quality sensors, lightning detectors, leak detectors, and soil meters (sold separately), enhancing its versatility. 
The Ambient Weather WS-2000 is the premium choice for those seeking an advanced weather monitoring system. Its comprehensive features, wireless connectivity, intuitive display, and compatibility with optional sensors make it an exceptional tool for monitoring and understanding local weather conditions in both indoor and outdoor environments.
If you are a weather guru…this is the system for you!
Best Budget Model System
The AcuRite Iris (5-in-1) Weather Station is a reliable and user-friendly device that provides accurate outdoor weather information. One of its standout features is its simple installation process, allowing users to quickly set it up and start monitoring the weather.
It can be easily mounted on a porch, railing, or even on an 8ft pole in an open field. The solar-powered water, temperature, and wind gauge ensures continuous operation without frequent battery changes.
PROS
The full-color display is easily read and displays various weather conditions, including wind speed and direction, temperature, humidity, barometric pressure, rainfall, etc.

The solar-powered panels make it easy to install and use without worrying about replacing batteries.

Connecting to WiFi and sharing weather information on Weather Underground is a convenient feature for those looking to monitor local weather conditions.
CONS
Smaller display unit when compared to other weather stations in this price range.

Some users have reported issues with the rain gauge getting clogged when mounted near areas with falling leaves, etc.
Installation Difficulty: Easy
The indoor monitoring system of the AcuRite Irish Weather Station is plug-and-play, making it effortless to set up. It offers a wide range of options for customization, allowing users to choose their preferred display settings and access historical weather data on a rolling screen. Users can track and analyze weather patterns over time, making it especially useful for those living in areas with unpredictable weather conditions.
The AcuRite Iris (5-in-1) Weather Station offers good value for those seeking basic outdoor weather information. Its ease of installation, user-friendly interface, and accurate measurements make it a practical choice for both weather enthusiasts and professionals. Whether you're interested in tracking daily weather changes or need to stay informed about local weather conditions, this AcuRite Iris is a great budget option that packs a lot of features at an affordable price point.
Best Smart Home System
The Tempest Weather System stands out as an advanced and reliable choice for accurate local forecasts who want to integrate with their smart home system.  By utilizing the weather data, you can optimize your smart sprinkler controller, adjust heating and cooling systems, and receive instant alerts for rain, lightning, wind, and more.
Imagine automatically turning your sprinklers off because you already got plenty of rain. Yeah, pretty cool!
The Tempest is compatible with popular platforms like Google Assistant, Rachio, IFTTT, Siri, Alexa, and Homey, allowing you to turn your smart home into a weather-savvy and efficient environment.
PROS
The solar-powered wireless sensor transmits data to the hub up to 1000+ ft away, providing instant online access via the AI-powered app.

The system requires nearly zero maintenance and uses advanced machine learning to continuously fine-tune its accuracy for a better local forecast over time.

The dashboard is easy to use and provides information on temperature, humidity, wind speed and direction, rainfall, lightning strikes, and more.
CONS
Technical knowledge required when setting up and integrating with smart home systems.

The price point may be higher than some other weather stations on the market.
Installation Difficulty: Easy/Moderate
Its patented Nearcast Technology combines curated weather data sets, machine learning, and state-of-the-art modeling to continually enhance its forecasting accuracy. This revolutionary weather system requires no maintenance due to its design, which boasts no moving parts and operates using solar power. 
The Tempest Weather System enables you to measure various outdoor parameters, including temperature, humidity, wind speed and direction (average & gusts), lightning activity (up to 25 miles away), rainfall (onset, intensity, duration, accumulation), wind chill, wet bulb temperature, DeltaT, air density, UV index, brightness, and solar radiation.
This wealth of data empowers you to make informed decisions and stay on top of changing weather conditions.
With its advanced features, ease of use, and compatibility with smart home devices, the Tempest Weather System is a reliable choice for weather enthusiasts and homeowners seeking accurate and real-time weather information who love technical compatibility and integration. 
What To Know About At-Home Weather Stations
Accuracy Matters
Choose a weather station known for accurate readings. Look for models with high-quality sensors and proper calibration. Accurate data ensures reliable weather predictions and helps when planning outdoor activities like boating and fishing! The more advanced the weather station, the more weather analytics you'll have access to.
Stay Connected
Opt for a weather station with wireless connectivity options. This allows you to receive real-time updates on your mobile device or computer. Check if it supports WiFi, Bluetooth, or cellular networks. Look for a dedicated mobile app or software for convenient access to your weather data, and keep in mind if power is required on your outside unit. 
Easy Installation
Consider the ease of installation. Some weather stations require a fiberglass or metal pole, which typically is not included. Decide if you want a standalone unit or one that can be mounted. Look for plug-and-play setups without complex wiring. Each unit will have detailed installation instructions, including best placement practices, running wires, leveling, and more.
Understand the Data
Choose a weather station with user-friendly data interpretation. It should provide basic weather measurements and offer advanced analytics, historical trends, and customizable alerts optionally. Avoid stations with complicated jargon if you're not a weather expert. Some units come with customizable dashboards to display data most important to you. 
Expandability
Check if the weather station allows you to add more sensors or modules in the future. This is useful to monitor additional parameters like UV index or soil moisture. Consider integration with other smart home devices or platforms to enhance functionality and share data with online weather communities. Some units allow you to become part of the weather community, sharing your data with others around the world!
Conclusion
Home weather stations are invaluable tools if you like to spend time outdoors, and nowadays, there is a model for every type of consumer. If you are new to weather monitoring, start with something simple like the Newentor Weather Station.
If you want more detailed weather data and analytics, consider an all-around model like the Ambient Weather WS-2902.
The sky is the limit, literally! Thanks for reading.