Daysailing Harmony: The New e33
Posted by US Harbors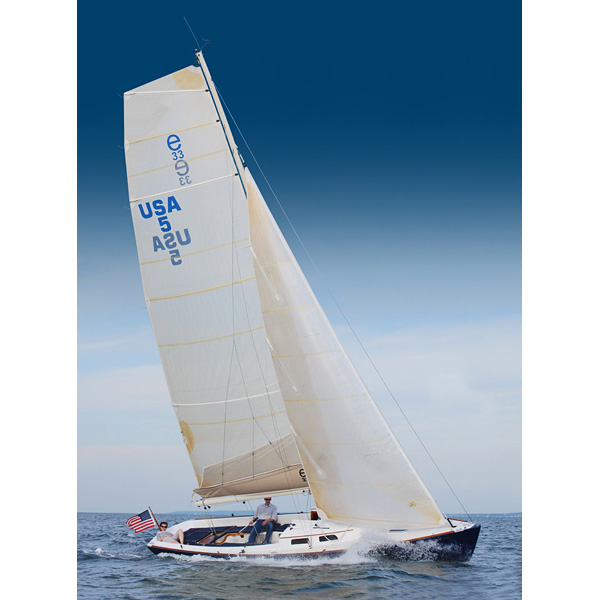 Seniority has its privileges, which is perhaps why our own John K. Hanson, Jr., and not a USHarbors.com editor, was invited out for a day of sailing aboard a brand-new e33 squared a little while ago. We didn't let him escape without jotting down a few thoughts about his afternoon afloat, though, and we're pleased to share them here, in John's own words.
If you want a closer look at the e33 you'll do well to book it down to Annapolis this weekend, where the e33 will be tied up and on display on Dock H. (Make sure to also look for the crew from Lyman-Morse, who are building the boats — they'll be circulating throughout the show and would love to meet e33 fans.)
Here's John's account:
"A couple of days after Hurricane Irene brushed by the coast of Maine, my wife, Polly, and I got the chance to sail on a new e33 with a couple of friends. The first things I noticed were not the boat, but how well the crew, a mister, and a missus worked together. These folks knew each other and they knew boats and it showed as they handled their new boat.
"The e33 is long and lean and beautifully finished in a simple, understated way. The beauty is in the execution of the glasswork and the fit of the woodwork — the hallmarks of a Lyman-Morse-built boat.
"Getting off the mooring was a snap — sails up, sheets in, six knots. The designers of the boat come from a sailboat racing background and the sails and the sail-handling rig have all been proven on the racecourse. They, too, are simple, efficient, and tweakable but the boat is so easily driven that if you prefer to just center the traveler and drive without worrying about the utmost performance, the e33 still goes like a sled.
"Many people think of a high performance boat and rig as faster speed, but in many ways this combination is about controlling forces. The square top sail, powerful as it is, also opens up in a puff, spilling wind and reducing heeling. All of the other lines can reduce force as well as increase it. These racecourse-inspired controls make for a more forgiving boat.
"We sailed upwind in a fading afternoon breeze, only turning to head home when we realized we'd been out too long and dinner engagements were looming. As our boat speed crept down to 4 knots we started the engine for our homeward leg. The engine was quiet — which is exactly what an engine in a daysailer should be.
"As we very quickly put the boat away — it took more time to put the cockpit cushions down below than to furl the sails — I noticed the still-unused asymmetrical spinnaker in its bag.
"How I'd like to get my hands on that with this boat and a good breeze."