Biennial Catboat Rendezvous Yields Fun, Champions
Posted by Gretchen Coyle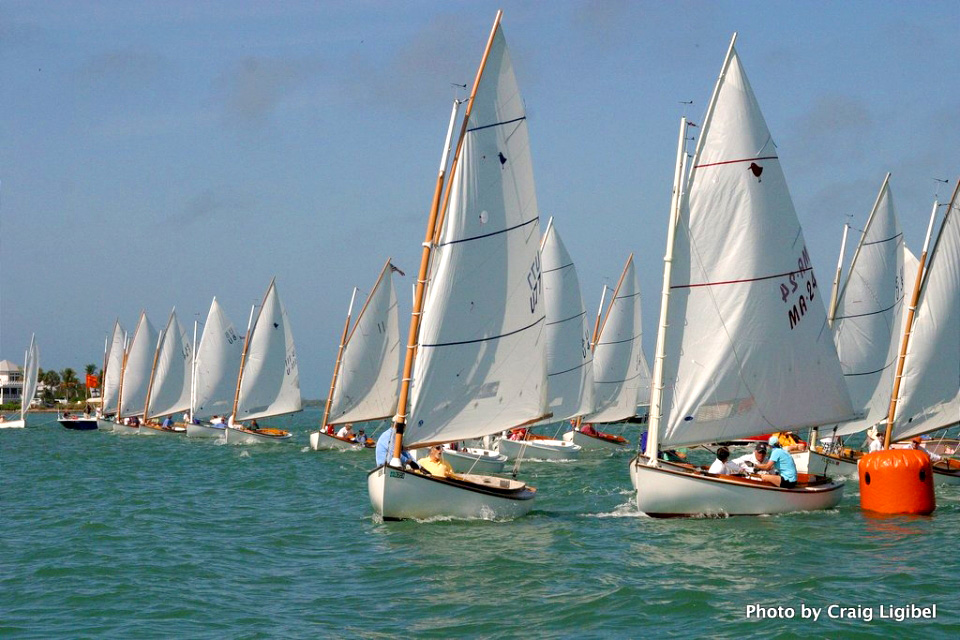 North vs. South. East vs. Midwest and West. Florida Chamber of Commerce weather with plenty of wind adding to the excitement. Excellent racing, good friendships, lots of food and drink. Even the Useppa Olympics!
Everyone was a winner at the biennial Useppa Island Rendezvous, hosted this winter by the Useppa Yacht Club on eighty-acre Useppa Island, FL, near the mouth of Charlotte Harbor. The Useppa Yacht Club has no members, no dues, and no regulations. It is a spirit of Catboat sailing that has grown among the residents. Twenty-two 15' Marshall Sandpipers bob contentedly on moorings around the island. Sailors are out in their boats most every day. What was once a rare sight is now commonplace as sailing takes first place among island pastimes.
People come to the Useppa Island Rendezvous for five days or a week. Most combine mid-winter vacations with good sailing. PRO Bob Stevens never disappoints anyone with his skill at getting perfect starting lines, announcing a mandatory reef when the wind is over 15, and getting in as many races as time and physical stamina permit.
Taking place the last weekend in February, a Useppa Sunset Cocktail Party kicked off the fun. Thursday morning there was a mandatory skippers' meeting, followed by a ten minute warm-up and stretching by trainer Karen Bruggerman. Three races took place, then lunch on the beach, and more races.
Friday was another day of perfect sailing. Karen loosened everyone up again. A heavier wind saw all Sandpipers reefed, then allowed to de-reef later in the day when the wind calmed a bit. Friday night there was a pig roast at the Tarpon Bar. Lunch on the beach became a daily favorite.
Saturday the Useppa Sailor Beach Olympics took place. The brainchild of former Kansas City advertising executive Craig Ligibel, they included events like a pump and bucket race, a rum/coke spoon three-legged race, and a tug of war. Gretchen and Henry Vare of Beach Haven, NJ, won the knot tying while Kristin and Geoff Marshall of South Dartmouth, MA, won the nautical directions blindfold race. The tug of war was the main attraction, with Team New Jersey winning over the Southerners in the men's race while Team Useppa ladies won. All this was decided after the long line broke and another was jury-rigged.
Gutter Boat Racing, organized by Kurt and Kathleen Stocker of Colorado, took place in the afternoon followed by a presentation on the psychology of racing by Dr. Jessica Mohler who is head of Sports Psychology Services at the U.S. Naval Academy.
Paul Gelenitis of Metedeconk, NJ was the overall winner of the Sandpiper World Championships with his wife, Terri, as crew. Bill Welch (who wrote the Catboat book on how to rig your boat and make it go) of Useppa Island was second with wife Sherry. Gary Alderman of Snead Island, FL, with Charlie Ball of Sarasota, FL, crewing, was third. Mike Spark of Barnegat Light, NJ finished fourth with Richard Gane of London as his crew.
The big Catboat races were on by Jim Shenko from Ft. Myers Beach in his 19' Alerion. Mark Milam and his family from Lafayette, LA placed second in their Alerion 19' followed by John Silver of Cape Coral in his 18' Marshall Sanderling.
After all the excitement of racing and Useppa Olympics, what did people want to do? Go sailing, of course! So an impromptu race was held around the island. The next Useppa Island Rendezvous will be held the last weekend in February 2014. A welcoming and enthusiastic sailing group on Useppa Island, FL awaits you. Mark your calendars!