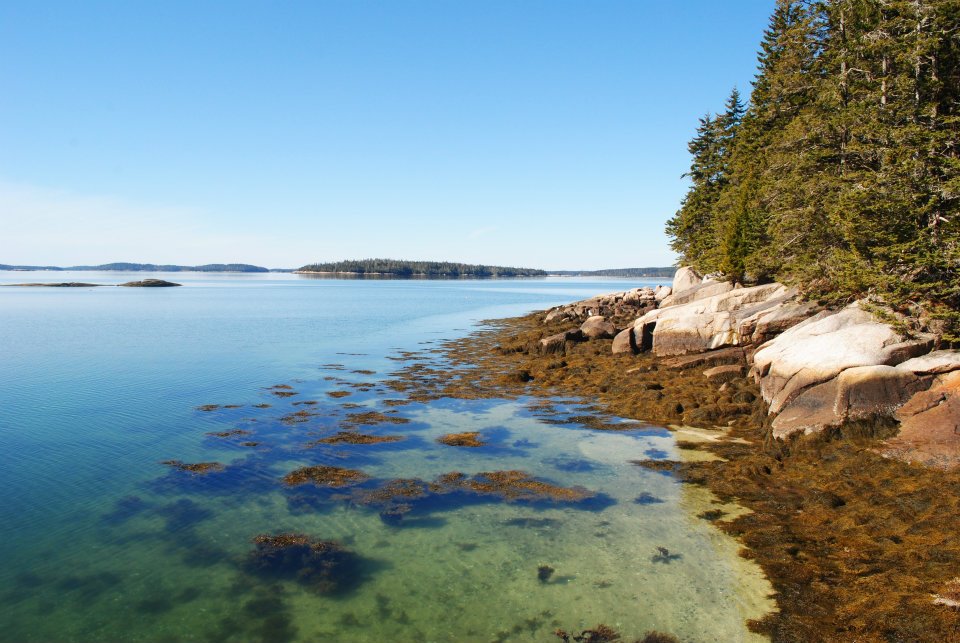 Deer Isle, a geographically fractured island that marks the eastern boundary of Penobscot Bay, splits into numerous pieces of land, each protected by a seemingly endless amount of harbors, coves, inlets, and islands. Surrounded on all four sides by separate bodies of water, the island is truly a paradise for boaters, hikers, and day-trippers alike.
On the far eastern end of the island, where the Eggemoggin Reach leads to Jericho Bay, the village of Sunshine sits hard on the shores of Stinson Neck. There is a small inlet in Sunshine called Western Cove, where Isle Au Haut and Merchants Row seem only a stone's throw a way on a clear day. I like to visit this place whenever I find myself on the island.
The cove, a relatively small opening of water, is surrounded by giant balsam firs and lovely old farmhouses, which are set high on the surrounding hills and barely peek through the trees. The water at Western Cove is crystal-clear at low tide, making one feel as if they are tucked away in some remote spot in the Caribbean, not on the rocky shores of Downeast Maine.
There are a few lobster boats that call the cove home, but it is far from a bustling port. There are two main docks that protrude out from the shore, and each one is usually filled with lobster traps, pieces of scrap wood, and colorful collections of buoys. Many of the boards on the docks are rotting, and the ladders that lead down to the water are covered with strands of seaweed and saltwater induced stains.
There is an old, decaying lobster boat named "General Lee," that sits in a small clearing at the northern end of the cove. Halfway into the woods and in dire need of a paint job, the boat seems like it has been there forever! Yet, there is no apparent need to move it, no reason to haul it out and get it refit. The boat, just like Western Cove and Deer Isle in general, just seems to fit into the place perfectly.
There is no rush out here — just the trees, the water, the sky, and that slight early spring breeze that ripples across the water and reminds of you of warmer days ahead.