America's Cup Announces Newport Marine Traffic Plan
Posted by US Harbors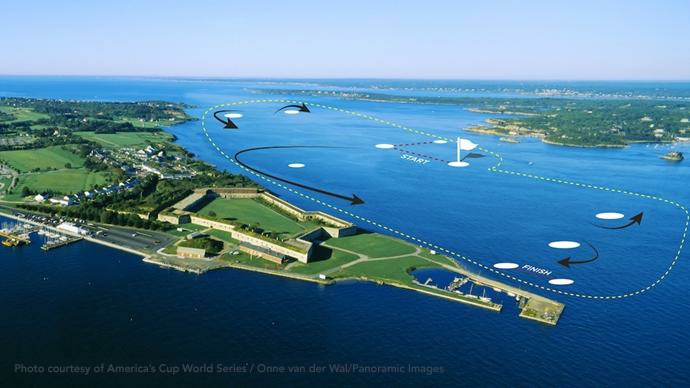 Organizers of the America's Cup World Series Event in Newport have announced the marine traffic plans and restricted areas that will be in place while the teams are racing June 23-July 1. While recreational vessels will be allowed to enter and exit Narragansett Bay via a small waterway corridor on the west side of the East Passage, adjacent to Conanicut Island, the East Passage will be closed to commercial traffic from about 1 p.m. to 5:30 p.m. on race days. Vessels needing special consideration to enter or transit through the race's safety zone may contact the on-scene U.S. Coast Guard patrol commander on VHF Channel 16.
Ironically, this is one yacht regatta that might best be viewed from land, not sea. Although there will be certain areas from which spectator boats can watch the action, the large numbers of race and support vessels may make an on-the-water spot less than ideal. Instead, organizers are suggesting that spectators watch the action from Fort Adams, which is undergoing significant improvements in preparation for hosting both the teams and the tens of thousands of people who are coming to Newport to watch the races.
Team training and practice racing is scheduled for the America's Cup World Series teams from June 23 through June 27. Fleet and match racing will commence on June 28 at 2 p.m. and will end on July 1 at 4:30 p.m. At the close of the event in Newport, the first world champion in the America's Cup World Series will be crowned.
Click here to download the official marine information bulletin for the America's Cup World Series Newport Event.