Scene on the Coast: Boating Season 2012 Begins
Posted by Josh Moore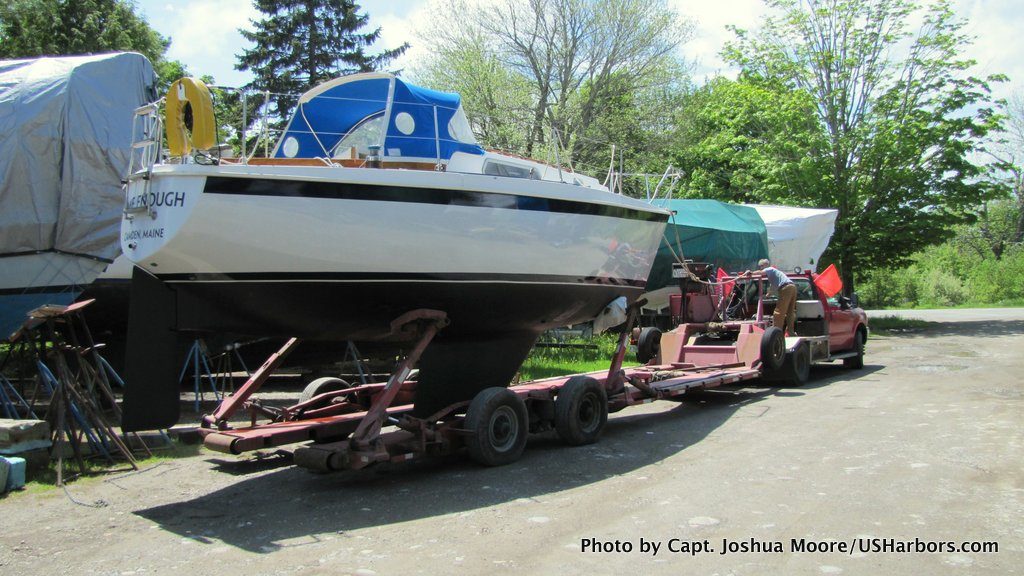 If you're like me, spring is not your favorite season. Never mind the April showers, for me May is the toughest month because it's when I seem to spend every weekend (and more than a few weekday evenings) in the boatyard, working on my "venerable" circa 1974 Pearson 28 sloop. Projects I'd intended to do after hauling in the fall but forgot suddenly reappear. Trips to Hamilton Marine become practically a daily affair. The To-Do list seems to grow every time I look at it.
But everything comes to an end, and for me this year that end was a launch date of May 24. That's when the Atomic Four (let's find out if I know how to rebuild a carburetor) would be tested in the ocean at last, the new head plumbing would get its first real try (God, let's hope I did that one incorrectly), and the highly dubious-looking stuffing box would prove once and for all if it was up to another summer on Penobscot Bay.
Ed Hurlburt, my oh-so forgiving boat hauler, was punctual as usual and within a matter of moments, items two and three checked out fine and I was floating at the public docks in Rockport Harbor. (The stuffing box, on the other hand, seemed to be far exceeding the few drops per minute rule.) Rockport Marine's crew made quick work of stepping my aluminum mast, and soon I was rigging for the trip to Camden.
To me, the magic of boating is how quickly everything improves when you leave the dock or the mooring. Never mind that I had to motor-sail under just a mainsail (stuck jib furler, apparently). The trip to Camden was one of those journeys when all the varnishing, all the greasy fingers from hours spent huddled over the Atomic Four, all the long evenings spent in the boatyard disappear into your wake. It's just you, the bay, and your boat.
And it's all suddenly very, very worth it.
Here's to a great boating season 2012! How about sharing your launch story, or maybe your plans for the summer ahead?