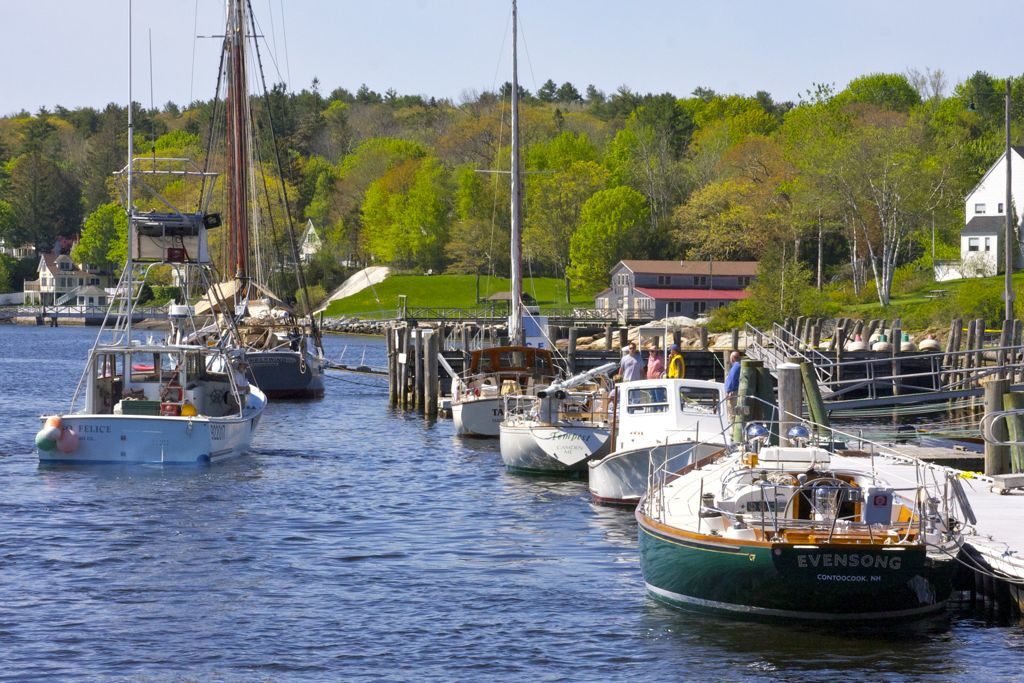 Springtime in my harbor is bittersweet. It's exciting to see our small coastal village come to life after a long quiet winter. On the other hand, as each new spring arrives, our comfortable sleepy harbor seems a little busier.
It's plain to see Rockport Harbor becomes a bit more "discovered" each spring. But I'm not going to complain. There's plenty to go around. Besides, nobody owns Rockport Harbor — we all own it!
Rockport is a working harbor, and boat launching takes priority especially in the springtime. Abby Leonard, our harbormaster, has overseen some new floats installed in the Goose River. A handy spot, as the launching ramp is a well-used tool and moves a lot of boats into the water these days. These new floats will make launching even easier. Designed with a circle, the launching ramp is a straight-in, straight-out drive for even large hydraulic trailers to launch and retrieve boats (up to nearly one hundred feet long).
Abby's also been busy overseeing the installation of a new Edson holding tank pumpout on one of the public docks. What a nice addition that is for any harbor!
Motorboats are easy to launch I noticed while most sailboats needed their mast and rigging stepped after sliding into the water. Docks were almost full on this mid-May day as sailboats waited their turn to step their masts at Rockport Marine across the narrow harbor. The RM riggers were a blur on the floats. It's one thing to rig your own boat each year, quite another to rig many, many boats one right after another, and do it right.
Everyone seemed happy with their boat launching tasks in the warm sun.
Spring feels like a fresh coat of paint on everything, from the new brilliant green growth along the shoreline, to old, newly launched wooden dinghies, shiny with fresh spring paint. Even worn mooring buoys look new in a drying coat of bright red paint.
It was a painting day down in the harbor as an art class brushed their own brilliant colors on canvases. I rarely see an unhappy person painting.
A nice warm spring day, I wanted to sit and enjoy it. But all the activity reminded me — I had a coat of paint to put down as well.