Enjoying Life at a Slower Pace on Useppa Island
Posted by Gretchen Coyle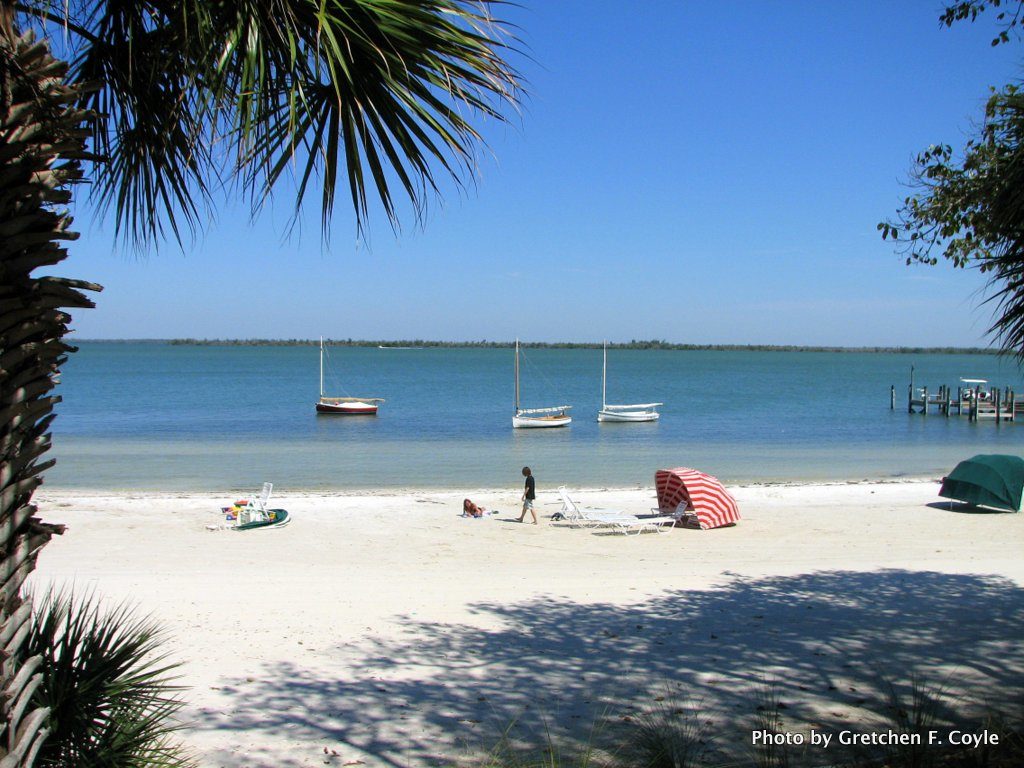 Is it a harbor? A private island? A marina? What the heck does the name "Useppa" mean, and where is it located? For me and my husband, Useppa Island, Florida, is our home for six months of the year — and it has been for almost thirty-five years.
The island is private, but the definition of that sort of depends on who you know, your membership status, whose guest you might be, and what boating organizations you might be a part of that might have privileges. Confusing? You bet. The Useppa Inn and Dock Company runs the island; they will provide you with the latest information, so the best thing is to get in touch with them directly by clicking here. For those curious about docking at Useppa Island, call the Useppa Marina office at 239-283-1061.
Some things are certain, though: Useppa Island is a bridge-less and car-less island, located south of Boca Grande, on the west coast of Florida and north of Sanibel. Check your chart — the island is between ICW markers 64 and 65. For homeowners, it is the best of everything: peace, quiet, great sailing waters, and a most tranquil atmosphere. Of course, if you like a lot of night life and malls, Useppa is to be avoided.
Outsiders seem to view Useppa Island as either "Gilligan's Island" or Palm Beach. Useppa is unique, with a history going back over 10,000 years. It was once home to the Calusa Indians, and the spot from which Barron Collier directed much of the development of Southwest Florida around the beginning of the last century. There is beautiful tropical foliage, much replaced after Hurricane Charley decimated the island in 2004. About seventy private homes are designed in the old Florida style. The number of homeowners and employees on this 80-acre island is small enough that we all know each other. There is genuine caring and sharing not felt in large communities.
Our mainland base is Four Winds Marina (239-283-0250), located at the northern end of Pine Island. Sometimes the logistics of living on a real island get to people who don't understand our life. "Let me get this straight – you get canvas bags, take your golf cart to your boat, drive your boat twenty minutes to Four Winds, drive another twenty minutes or more to a nearby store, fill canvas bags, and do the whole thing in reverse?" Well yes, but just the ride through the mangroves and across Pine Island Sound to Useppa can lower anyone's blood pressure.
Our home is a 1912 Collier Cottage, built by Barron Collier as bedrooms and baths while visitors ate meals in a large inn on the north end of the island. Over the years we have restored and added to the structure while keeping the mullioned windows and look of the old home. Our 15' Marshall Sandpiper sailboat floats on its mooring off the beach along with a number of others. Our sailing community has grown: we race weekly and sail for fun most every day. Pine Island Sound and Charlotte Harbor are perfect sailing waters. Barrier Island Cayo Costa offers a state park and unique shelling opportunities for almost twelve miles along the Gulf.
We have every amenity available in Florida from good Internet service to TV and phone service. People "travel" the island on foot, bike, or golf cart. Useppa has a few rentals for those who want to experience out island living. A pool, croquet, 1912 Collier Inn, and Tarpon Bar are available for all. While most of the year is relatively quiet, holidays bring in families with youngsters of all ages. Our Christmas Holiday consists of family, Christmas Eve at Cabbage Key, and a big Christmas Dinner we began over three decades ago for friends.
The name Useppa supposedly comes from the pirate Gasparilla who somehow mispronounced the name of the female hostage Josepha he was holding on the island. While maybe not quite the truth, it is enough to entice anyone to see what life is like on a real island due west of Ft. Myers, Cape Coral, and Pine Island.
If you are cruising Southwest Florida, check into the possibility of stopping at the Useppa Marina (dock space, but no gas or ship's store) for a night or two. A call to the office will answer your questions. Walk the Pink Path, gaze up into a 100-year-old Banyan tree, enjoy a meal at the historic Collier Inn (once Barron Collier's private home), and take in the ambience of life at a slower pace.