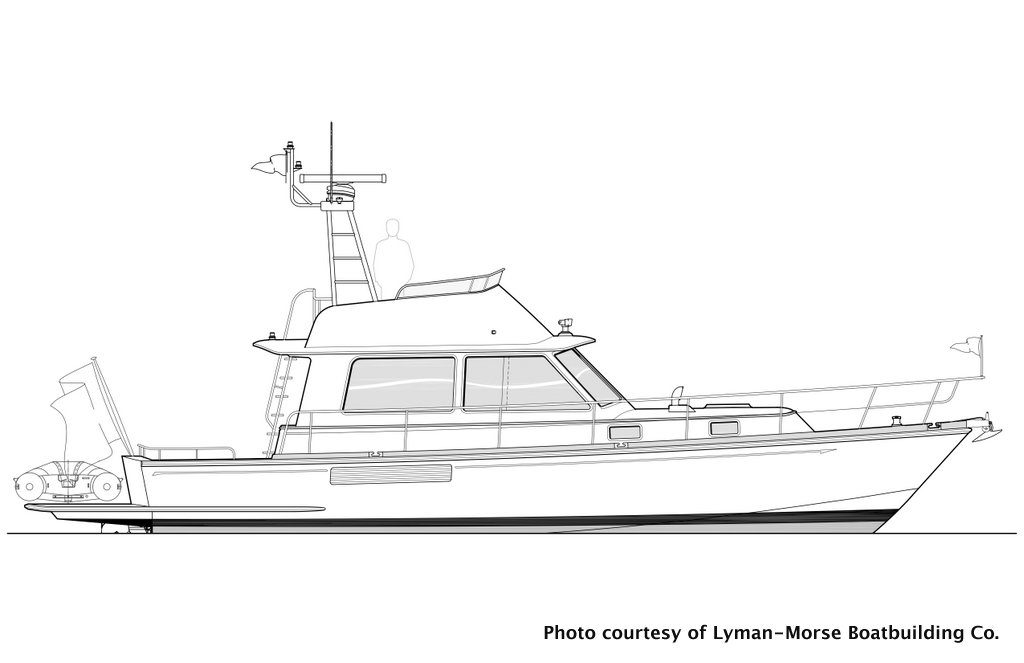 Team Lyman-Morse is pleased to be teaming up again with one of our most successful design partners – C.Raymont Hunt – to build what will be an able, fast, 42-foot Flybridge jet boat. The owners are looking forward to extended cruising up and down the Maine coast and islands in comfort and safety. With attention to being self-sufficient and quiet, this new design will carry the most modern and efficient equipment available.
To fulfill the design requirements, all weights must be kept at a minimum without sacrificing strength or comfort. The hull and deck will be built using the SCRIMP infusion method. Vinylester resin will be used throughout with the core being Corecell. But first, as with all Lyman-Morse builds, a mockup was created for layout, helm consoles, anchor-handling gear, and interior accommodations.
Layout and Design
The hull will be a full-deadrise deep-V with integral chine and lift strips. The hull shell will be infused in the existing Hunt P38 female mould. Custom sheer dam, transom insert, and jet intake mounting insert pads will be added to give the boat its 42 feet. Foam coring will be thermoformed where necessary to conform with hull curvature. A custom deck and flybridge mold will be built.
The steering system is Hamilton Jet-Blue Arrow (two stations), mouse controlled. The general twin Cat Engines (C9 ACERT @ 2500 rpm) installation will be made with a combination of simplicity and the limitation of noise transmission through structure-borne sound. The stringer system will be specially built with high-density material for sound absorption and Metalastik type of mounts for further sound reduction.
The owners will enter the living quarters through a custom-designed and -built paneled French door. The interior will be built of Mahogany. The interior is to be rich varnished mahogany paneling woodwork throughout with the highest standard of cabinetry. All efforts will be to keep the interior light without sacrificing the carpentry. A built-in settee will be on port and starboard with cabinets on aft end. The saloon table, to be at a fixed height, will also serve as cockpit table (flush sockets in sole).
A generator will provide energy for air conditioning and heating.