Sailing Read Brothers Win RI Business Award
Posted by US Harbors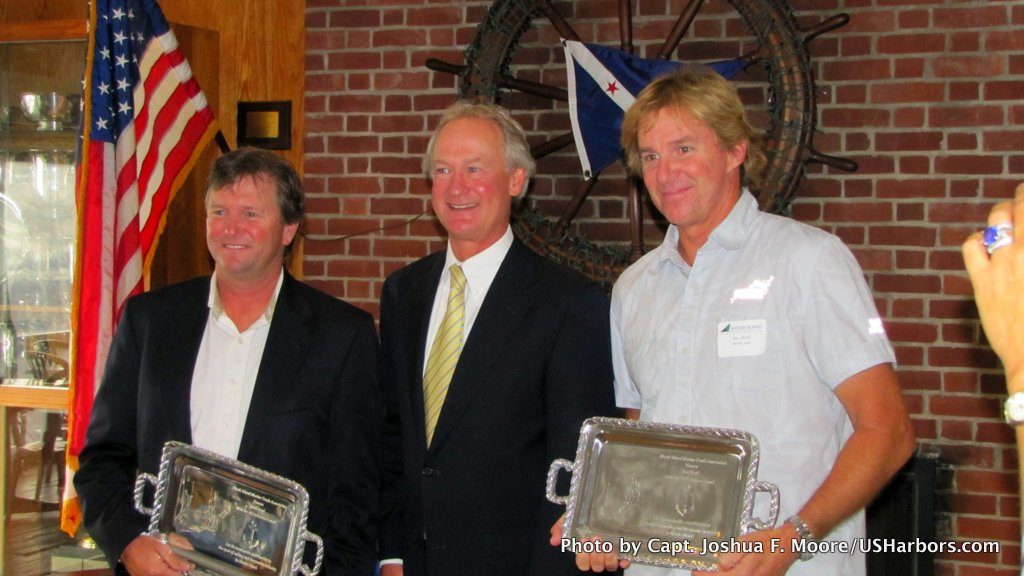 Brad and Ken Read, brothers from Newport who have become two of the state's most famous sailors, were honored September 15 for their work in promoting Rhode Island as a destination in which boaters can both play and get marine work done. The Rhode Island Marine Trades Association presented its first-ever Anchor Award to the Read Brothers during a meeting at the Newport Yacht Club.
Rhode Island Governor Lincoln Chafee used the award to put forward a challenge that was echoed by virtually everyone in attendance: improving on the showing by the American sailing team at this year's Olympics, where the United States failed to win a single medal for the first time since 1936. "Maybe we can galvanize all that energy to turning that record around," Chafee said. "Let's make Newport the epicenter to kicking butt [in the Olympic Games] in Rio in 2016."
Senator Sheldon Whitehouse thanked Brad and Ken Read for the work that they've done in promoting Narragansett Bay as a destination for visiting boaters as well as anyone who needs to have some work done on their boats. "There is an ecosystem of talent and training in Narragansett Bay, and we need to promote the marine industry not only as a proud tradition but also a really important part of our economic future," he said.
The Read brothers, meanwhile, seized upon the opportunity to talk about the surprises and highlights of the past few years of their sailing and professional lives. Brad Read, the executive director of Sail Newport who led the group that attracted and hosted the America's Cup World Series this summer, said he wasn't sure how the crowds would respond to the racing off Fort Adams. "It was shocking to me that 14,000 people a day would pay to watch a sailboat race," he said, adding that the event proved Newport was once again worthy of the world sailing spotlight. His brother, Ken, said that Rhode Island's marine industry itself was key to winning the sponsorship of Puma for the Volvo Ocean Race, an expenditure that was the largest marketing expense ever made by the sporting goods manufacturer. "I got that sponsorship because I promoted Rhode Island as an advantage," Read said.
Both Reads, plus many of the business leaders attending the morning award ceremony, recognized that attracting younger people in to the sport of sailing is vital to the marine industry's future. "We need to plant the seed, to get more kids into sailing," Ken Read said. "We need more kids to understand that it's an option to be a professional sailor."