High School Sailing Season Ends with Photo Finish
Posted by CW Hood Yachts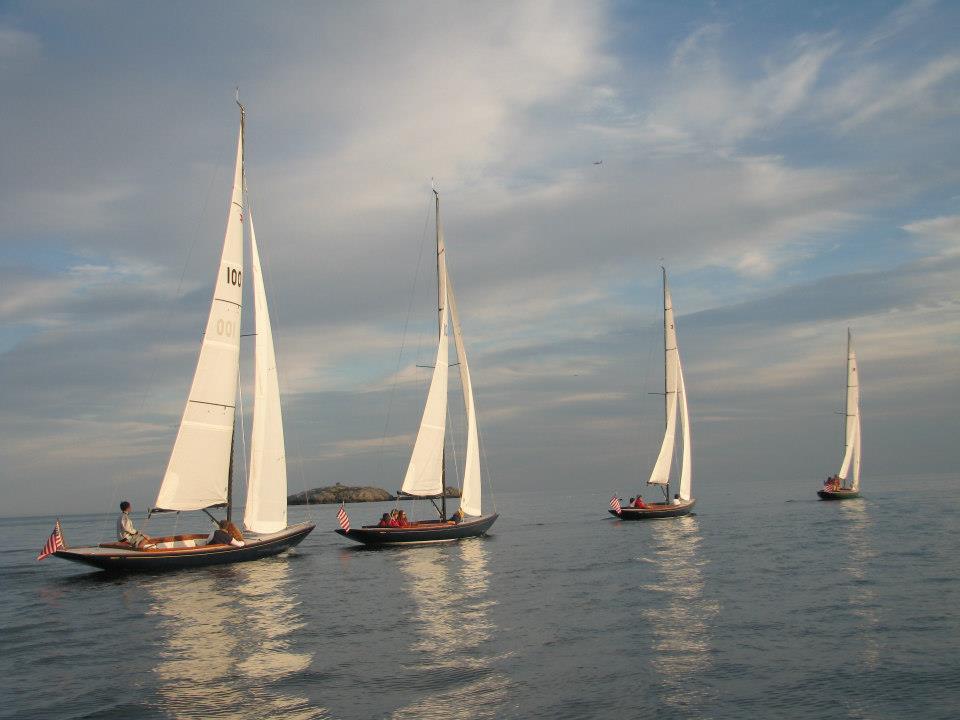 The Marblehead High School Sailing Team received a rare post-season opportunity to practice race aboard four "new" CW Hood 32 Daysailers. The sailing team seemed right at home aboard these beautiful vessels, designed by Chris Hood and built in Marblehead by C.W. Hood Yachts, off Marblehead harbor earlier this month. Although the wind was very light to non-existent, through the instructions of MHS sailing coach Nick Burke and members of Hood's development team including Hood, Scott Webber, and Spencer Lee of Hamilton and Joe Parker of Marblehead, the students received some valuable insights on how to sail a larger boat than what they were used to sailing all season.
Normally sailing 420 class dinghies, the students were expecting that the larger C.W. Hood 32s would be hard to sail and were amazed that a larger boat could be so quick and so easy to maneuver.
"The boat moved through the water quickly and was so easy to maneuver", noted MHS Senior Sara Krypel. "Overall it was extremely relaxing compared to a 420. This was my first time on a boat larger than a 420 and it is very different. Even with little or no wind, these boats were light and fast enough to get a real different experience. I hope we can do it again!"
Burke, who has spent many years coaching and developing the town's well-respected high school sailing team, was very happy to see the team sail on a C.W. Hood 32. "The boat looks like a traditional design but it has high-tech construction and efficient foils, meaning they are ultra-light, ultra-fast, and ultra-strong", Burke said. "With a self-tacking jib, they are just easy and fun to sail. It is always great to broaden the kids' horizon and it is all about getting out on a different type of boat and learning it."
"The 32' is a very easy boat to sail while offering modern day responsiveness that is unequal to anything on the water today", stated Hood. Weighing only 2700 pounds and designed with a modified fin keel and spade rudder, the design is very modern from the waterline down, creating a very quick and sensitive sailing experience. The Daysailer's unique design features a large, open cockpit with comfortable bench seating. Skippers will find everything within easy reach while still providing plenty of room for a team of crewmembers racing around the buoys.
"It is our hope to encourage youth sailing anyway we can", noted Hood. "The fact that the owners were kind enough to loan us their boats so the sailing team could get out on the water was a terrific experience for the team. It's not often that people get the opportunity to sail something different and learn from it. We hope to do this again in the spring and possibly offer the experience to other youth sailing teams in the region."
Chris Hood, whose uncle is famed Marblehead sailmaker and America's Cup winner Ted Hood, has brought boat building and design back to Marblehead and is maintaining an important legacy. The Hood legacy continues on the water, too, as his daughter Carly Hood is also a key member of the MHS sailing team.
"The beauty of these boats is that they have the classic lines of an exquisite sailing boat but they are also built for racing," Hood said. "We loved the chance to have the kids out on these boats — four boats together at once — and the fact that they are Marblehead-designed, Marblehead-built and sailed by a Marblehead sailing team made it a rewarding afternoon."