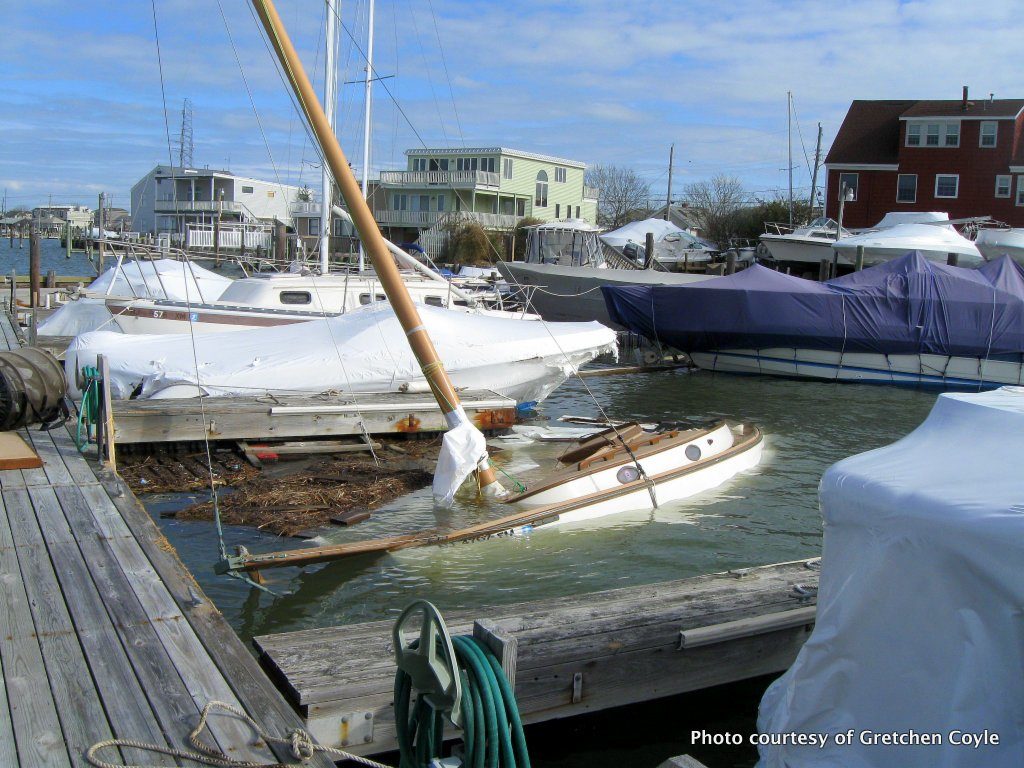 In our household my husband perceives a list of priorities: our cats, my trusty old Land Rover, and then him. I, on the other hand, am sure his priorities are our sailboat, our power boat, and then me. In times of a natural disaster, little things like the above bring out smiles when they are most needed.
Tom Foster's 22' Marshall Cat "Tom Cat" with its bowsprit sank in its slip in Spray Beach, Long Beach Island, where many houses are total losses or have been washed away altogether. Whether this boat can be brought up intact, or whether it is a total loss, is small in the wake of Sandy's disaster. Yet people's boats are like family members, loved and cherished.
Yes, Tom Foster is worried about his boat. Luckily, his house is OK except for a few inches of water in his garage. Amazing, since he and his wife are located in the Holgate area, where so many homes have been lost.
Like most disasters, Hurricane/Superstorm Sandy has brought out the best and worst in people. We've seen it all on TV. Around Ocean County, many people are reaching out to those in need. A friend is headed to Florida for the winter, her house now filled with friends who were displaced in the Tuckerton Beach area. There is a scramble for housing, relocation of shore businesses open year-round, and thoughts as to what the economic future may bring. Homeowners are dealing with insurance adjustors, a number of them realizing they were underinsured with both flood and homeowners insurance.
The old adage "A storm is coming, pull your boat out" did not necessarily hold true for Sandy. Depending on the location, boats in the water seemed to fare better than those in boat yards where they were knocked around like bowling pins. A friend's 12' Boston Whaler, pulled for the winter and carefully tied down, went off to visit large trawlers and sport fishing boats in a marina more than a block away. (It was found intact and brought home.) Our heavy Mako with twin engines was tied to the trailer behind our Long Beach Island business. It, too, took off, ending on another part of the property.
Proponents of floating docks got a real reality check. In some cases, boats floated up and over the pilings holding the floating docks. They ended up blocking waterways or gone forever. Ever see a Travelift on a major road? Yes, marina owners were helping the rescue effort by removing boats blocking traffic.
Boats blocking waterways were another story. This happened in Tuckerton Creek in Tuckerton. Marina owners had to clear the creek before boats in the water, and those that ended up elsewhere, could be sorted out.
My old car "drowned" in 4' of water. The rest of us, including cats and boats, are fine. Long Beach Island and the devastated mainland communities around it, will rise again — just not right away. Jersey Shore folk are hard working, resilient, and determined.