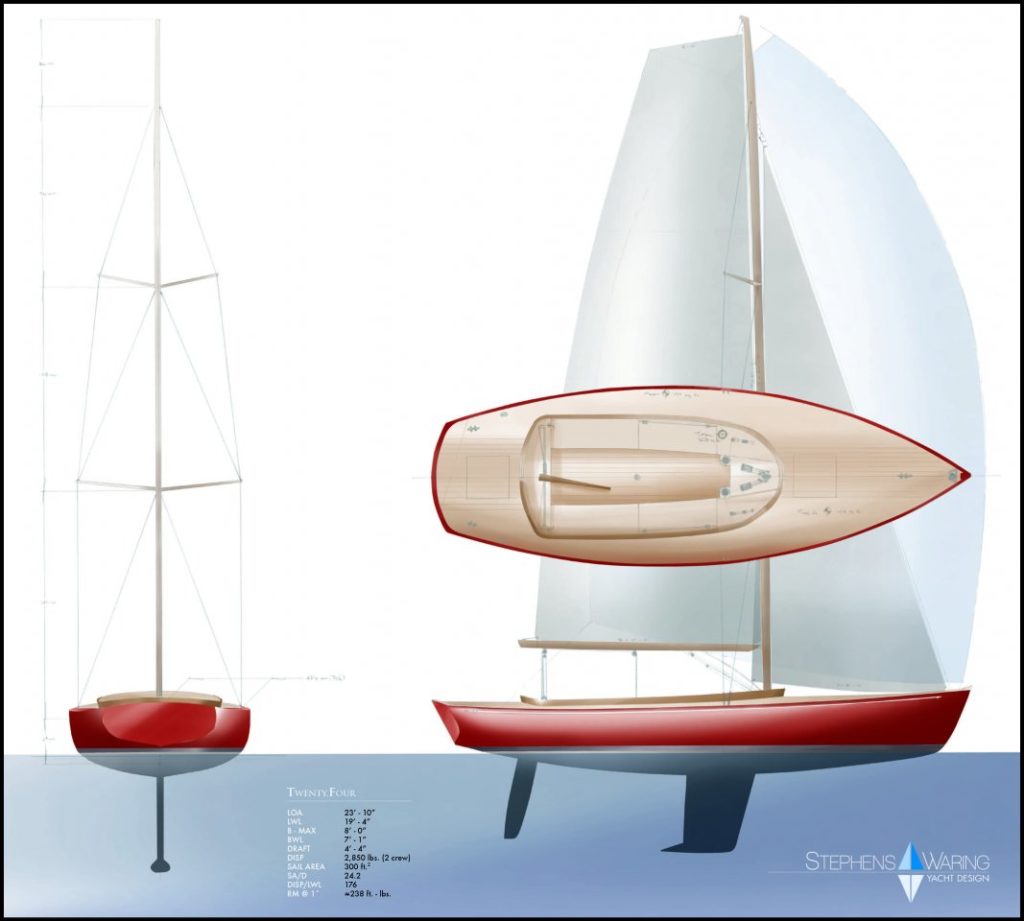 Stephens Waring Yacht Design, of Belfast, Maine, has teamed up with a school three thousand miles away to introduce a new daysailer. The sporty sloop is the smallest boat in Stephens Waring Yacht Design's Signature series of traditionally-inspired modern sailboats, and will be built in series by the students and staff of the Northwest School of Wooden Boatbuilding in Port Hadlock, Washington, and hull #1 will taste the waters of Puget Sound in the summer of 2013. The school plans to call the new boat the Whisper 24.
The school plans to build one boat per year as part of their instructional program in modern wooden boatbuilding. The Whisper 24 has been designed for modern cold-molded wood construction. Bob Stephens and Paul Waring of Stephens Waring Yacht Design are masters in the field, having refined the techniques of joining thin layers of wood with epoxy glue over the past three decades, both in the design studio and in the shop.
"Wood is a wonderful medium for building tough, lightweight, and durable boats," says Stephens. "When combined with epoxy resin and judicious use of modern fibers, it's lighter than fiberglass construction, offers similar low maintenance, and brings a solidity and beauty all its own to the boat."
The Northwest School also offers programs in traditional plank-on-frame wooden boatbuilding.
The Whisper 24's classic profile belies her light displacement and modern foils below the waterline—she'll deliver spirited sailing with her bulbed fin keel and spade rudder. An easily handled sloop rig features a powerful square-top mainsail, with aft-swept shrouds eliminating the need for a backstay. Stephens and Waring have employed similar rigs on several recent boats, including a 68' ocean cruising sloop, and have found that the square-top sail offers more driving force, less heeling force, and a "self-depowering" feel that instills confidence in the crew.
"All that sail area in the upper corner acts just like a lever, so when a puff hits, the sail twists, the leach opens, and she just accelerates!" comments Paul Waring. "It's a great feeling, and you can worry much less about sailing on puffy days." In the notoriously light airs of Puget Sound, the additional sail area will be put to good use.
At 4'3" draft and 2850 lb, the Whisper 24 is easily trailered by a mid-size SUV, opening up a wide cruising ground to the trailer-sailor.
For more information, please visit www.stephenswaring.com or www.nwboatschool.org.