Old, Meet New: Rowing in New Bedford with an iPhone
Posted by US Harbors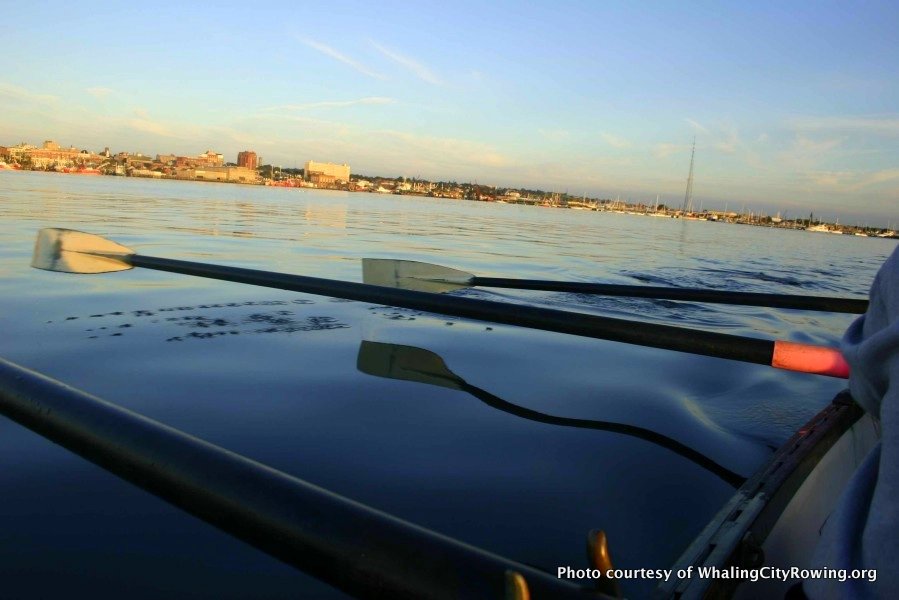 I am new to the hobby of rowing, and to USHarbors. I have been learning a lot since joining Whaling City Rowing this fall. I have enjoyed the exercise, the company, and the exploration of coastal geography. One of my fellow rowers just purchased an app for his iPhone that (after taking the precaution of buying a water-proof cover) he was able to use to track our progress this morning.
As we expected from the detailed forecast on USHarbors, we had a light snow this morning, and lower tempertures than we experienced on our Thursday-night row around New Bedford Harbor. We had considerably less wind, so the overall experience was less demanding. Still, we stayed close to the dock, and stayed out of the main shipping channel.
The MotionX GPS software answered questions I have had in mind since beginning this hobby. We covered almost three miles, with a top speed of 3.9 miles per hour; I had had no idea what either number might be. It will be interesting to compare with more favorable conditions, when we go a bit farther and do a few drills at somewhat higher speed.
Click here to see the detailed stats for our trip.
The min/max altitude relfect the fact that my friend's iPhone was in his pocket, inches above the waterline. When he steers (which involves standing), he might gain a foot or two!
All of this is a perfect fusion of old and new, outdoor and indoor. The beauty of whaleboating has been getting outside in varied weather and connecting to the historic legacy of my adopted home region. But to describe it, we are taking modern geotechnology outside with us. What we blithely describe as an "app" is really the fusion of several incredible technologies, all of which fits in a pocket because of the miniaturization predicted by Moore's Law. The technologies include cellular telephony and the internet, along with geographic information systems, satellite image processing, and global positioning systems. These last three are geotechnologies, which are partly responsible for the growing career opportunities for geographers.
Two of the last three technologies mentioned also require rockets and satellites moving at blistering speeds, all to record our hand-powered progress around a small harbor island!