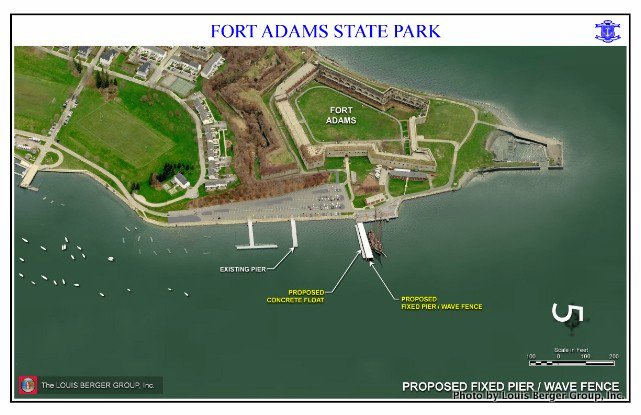 The non-profit organization Oliver Hazard Perry Rhode Island (OHPRI), which is building Rhode Island's Official Sailing Education Vessel SSV Oliver Hazard Perry, exceeded its 2012 year-end fund raising goals thanks to the generosity of individuals and corporate supporters who helped match two challenge grants issued last September by an anonymous benefactor. In other good news from the state of Rhode Island, the 196' three-masted, square-rigged tall ship has been given a permanent home on the north side of a new 240-foot-long fixed pier that has been designed as part of scheduled improvements to Fort Adams State Park in Newport.
"We are grateful for the overwhelming support we have had on the fund-raising front, having raised a total of $6.5 million so far, with just over $1.1 million of that generated by the year-end matching grant challenge," says OHPRI President Bart Dunbar, emphasizing that nevertheless there are additional fund-raising goals to be met. "We also are fortunate to have had the state helping us move this project forward since its inception." Dunbar mentioned in particular Governor Lincoln Chaffee's legislation in 2012 that gave the SSV Oliver Hazard Perry its official state status; the ship's endorsement by Rhode Island's Commissioner of Elementary and Secondary Education, Deborah Gist; and now the action by the Department of Environmental Management, overseen by its Director Janet Coit, to integrate the ship's berth into the plans at Fort Adams.
"Having the Perry at Fort Adams will enhance the educational mission of the ship, highlight its status as a symbol of the state, and provide better access for visitors to the ship," says Dunbar.
The SSV Oliver Hazard Perry, which is currently under construction at Senesco Marine in North Kingstown, RI, has a steel hull over which a 13-story rig will tower. The hull was purchased by OHPRI in 2008 from a group in Amherstburg, Ontario, that had planned to build a dock-side attraction. The hull arrived in Newport a few months later, after being towed 892 miles from its former home.
Named after the Rhode Island native and American naval war hero who helped defeat the British in the Battle of Lake Erie, the SSV Oliver Hazard Perry will not sit idly at the dock; instead she will offer year-round experience based core-learning opportunities, sailing from New England to as far south as the Carolinas (or alternatively the Great Lakes and Canada) during the summer and from Florida to the Bahamas (or the Caribbean) in the winter.
The SSV Oliver Hazard Perry is the first oceangoing full-rigged ship to be built in the U.S. in over 100 years. She will be a U.S. documented sailing school vessel, inspected and certified by the US Coast Guard and will have a capacity for up to 36 students on overnight trips and up to 85 for day trips, with 13 professional crew aboard and handicap-accessible berths available. The scheduling options range from day sails to overnight, week-long and three-week voyages to full semesters at sea.