Hunt Yachts Introduces New Harrier 25 Sport
Posted by Hunt Yachts
Hunt Yachts is proud to announce the introduction of the new Hunt Harrier 25 Sport — the ultimate off-road vehicle. Sharing the same hull and solid engineering as the highly regarded, Hunt Harrier series, the new 25 Sport is pure, unadulterated, Hunt.
Designed for maximum enjoyment and entertaining on the water and minimum maintenance, the Hunt 25 Sport is engineered to be both easy to own and put away at the end of the day, and as always with Hunt, great to run and ride offshore. Its roughwater-bred hull promises to deliver boaters fresh and relaxed to destinations out of reach of its competitors. "We strategically designed the Hunt Harrier 25 Sport to provide an exceptional quality, no frills value, delivering what all boaters need for a day on the water, and nothing they don't" said Peter VanLancker, Hunt's President.
Its cuddy cabin includes a berth and head for the overnighter on the go. As practical as it is sporty and elegant, the 25 Sport takes on any assignment. It's the perfect tender, sportfishing, chase, ski and wakeboarding boat, or gunkholer boat, day cruiser, and dive support platform and has a 3'x7' sunpad to relax on. In the open ocean, it will leave the average 35-footer in its wake, in comfort and safety, opening up cruising horizons while increasing the boating season.
The 25 Sport is designed to look futuristic yet retro-classic. Comfortable contoured wraparound cockpit seating blends stylishly with a 1960s Porsche 911-inspired windshield and upholstered dash where a stereo and Garmin chartplotter are standard. A cockpit entertainment system includes an entertainment console with sink, refrigerator/freezer and trash can.
Built to last with modest care, the Hunt 25 Sport will also run just as well a generation from now as it does today. All-composite construction and intelligent engineering create a high-integrity hull and deck structure of great strength at moderate weight. Dependable and durable Volvo sterndrive power from 320 to 430 horsepower is available.
Hunt Yachts' old-time Yankee ingenuity puts common sense, frugality, sportiness, and comfort on familiar and equal terms. Safety-driven without compromise, value-driven but by no means Spartan, a family will appreciate the sensibly civilized comforts their 25 Sport will provide on a day or weekend on the water. Value is a concept that applies as well at the end of boat ownership as at the beginning. Timeless styling and the fastidious attention to detail are just two reasons a Hunt holds its value, and a Hunt owner can count on the brand's strength and high regard now firmly established in the marketplace.
The Hunt 25 Sport: the ultimate classy, supremely seakindly wash-and-wear boat. Perfect for the sensibly experienced boater — who doesn't mind showing off a little.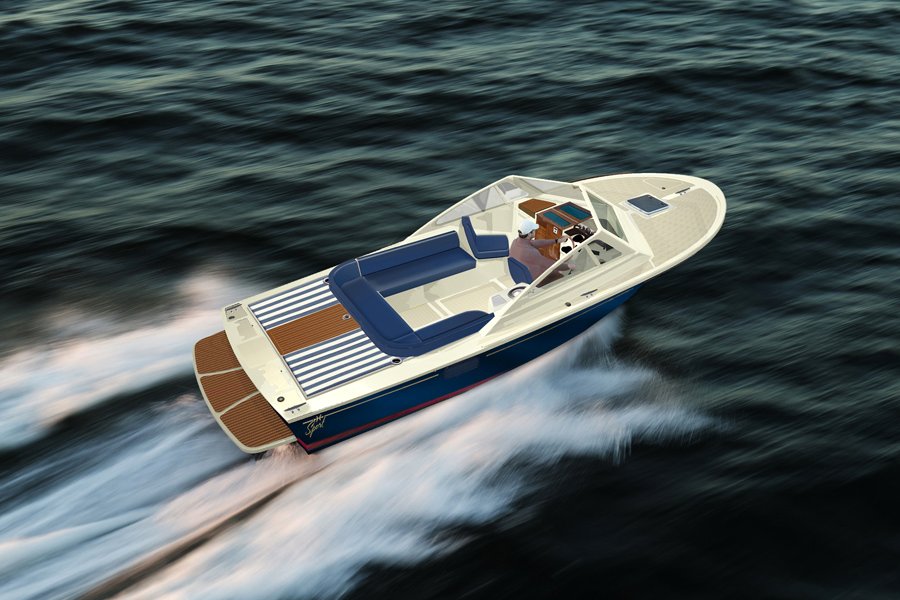 Photos of Hunt Yachts Introduces New Harrier 25 Sport