The new version of the e33, built by Lyman-Morse Boatbuilding Co. in Thomaston, Maine, made quite an impression on those following in her wake at the 2014 Figawi Race. The e33LM, a revolutionary hybrid wood/glass hull, was loaded off the truck at Hyannis Marine in Hyannis, Massachusetts. Her crew — Robbie Doyle, Drew Lyman, the owner Nick Lazares and his son, Nick — jumped on, tuned the rigging, did a couple of tacks and sets, and then headed to the start line. "Even though the boat is designed and built primarily for day sailing, it was great for Flash to win its inaugural race, beating more than 100 boats in a very demanding race," says Doyle. "Great shakedown to ensure smooth, enjoyable sailing in the future."
Here's a brief Q&A with the new yacht's crew, providing more details on the new e33LM:
Q: How did you get a brand new boat and model ready to sail a 25 mile race in 25 knots of wind with so little prep time?
A: Key is that the boat is extremely simple. It has just three sails – a square top main, self-tacking jib, and an asymmetrical spinnaker. Also, this is e33 hull #27 so it's a known entity that has had been a continuous evolution since inception.
Q: You mentioned that the e33 is constantly evolving. What's new and different with this boat?
A: This hull structure is certainly the biggest leap forward yet. Nick Lazares was looking for an easy boat to sail with family and friends. He has a larger boat but finds with his busy life style it takes too long to get sailing and then to put things away at the end of the day. He wanted a boat he could easily handle himself so he could invite non-sailors along and they would be comfortable. He and his son came for a test sail on a traditional e33 and were sold on the concept. But he had some special requests:
•A shoal draft for sailing around Cape Cod.
 The e33LM has an optional shoal draft keel configuration that reduces the depth from 5'9" to 4'9".

•Could handling be made even easier with a self-tacking jib? This is also an option for the e33LM. We were concerned that it might hurt performance, however, as explained in the discussion [below] on hull construction, because the boat came out lighter and roach was added to the jib, no detection can be seen in sailing performance as indicated in her Figawi Race victory where she excelled upwind as well.
•The owner wanted the feel of wooden boat below deck. This was all doable but I cautioned him that adding the wood he wanted could add a good amount of weight and with the shoal draft keel already a bit heavier we could be limiting the boat's very special all around sailing performance.
Lyman-Morse Boatbuilding stepped in, led by Cabot Lyman who had a concept to build a strong hull that was a wood-glass hybrid. Lyman-Morse's boat building team led by Lance Buchanan teamed up with Tyler Doyle of Doyle CFD to use the latest in Finite Element Analysis (FEA) to analyze the strengths of various wood and glass combinations. After a number of combinations were examined, Western Red Cedar for the hull interior and 5/32" of Eglass for the hull exterior were selected. The fiberglass IGU interior was replaced with various woods that were all cut on Lyman Morse's new C&C router for easy replication.
The result is a hull that is 16% lighter than the glass-foam-glass laminate as well as a boat that requires no additional wood trim for looks. This photo was taken below on the e33LM just after the finish of the Figawi Race with the cushions in the forepeak still wet from the spinnaker take down!
Q: What other features separate this daysailer from the others?
A: A square-top main. Grand prix racers love this configuration because it is the most efficient mainsail geometry there is. It is popular among catamaran sailors, too, as it is not only efficient but depowers automatically because the top naturally twists open with wind gusts. I had an e33 for more than four years and despite having sailed it in up to 35 knots of wind, we never reefed. In fact, in this race the one boat that was in front of us at the leeward mark lost its lead while they struggled to get a reef in. It was blowing 22 to 25 knots at that time with 5 to 6 foot seas and with a crew of 4 we were very comfortable sailing to windward. There was a 50-footer not far behind us going pretty well but when we tacked with our self-tacking jib we left them behind as they struggled to sheet in their large genoa.
Q: Why don't all boats have square top mains?
A: The primary reason is that most cruising boats have permanent backstays that interfere with a large roach. Racing boats have running backstays that are released and taken up on every tack and jibe. The e33 does not need a back stay as the shrouds and spreaders are swept back sufficiently to support the headstay without a back stay. Catamarans are set up with this configuration as well.
Q: What's next for the boat?
A: Primarily the e33LM Flash will be used for its intended purpose – comfortable daysailing where Nick and his friends can enjoy the high fidelity sound system, hot and cold running water and large wide open cockpit designed for relaxing.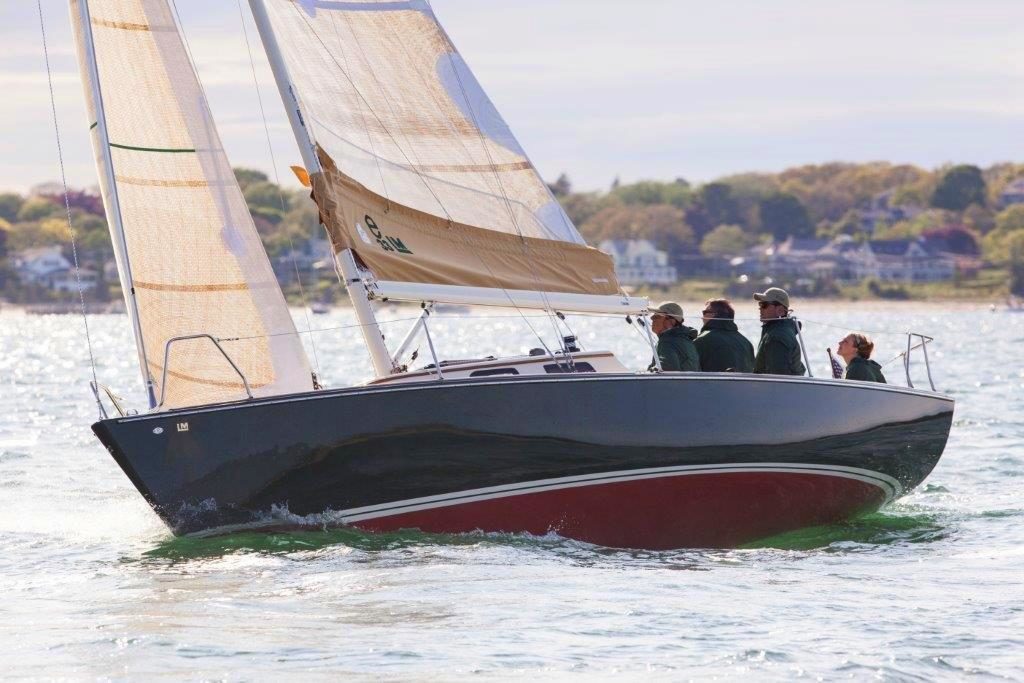 Photos of Brand-New Lyman-Morse Yacht Wins 2014 Figawi Race