Chasing the Sunset Over Monhegan Island
Posted by Alex Plummer
Last Updated
I took a sunset cruise out to Monhegan the other night and was once again reminded how lucky I am to live in coastal Maine.
My girlfriend and I left Port Clyde around 6 p.m. and arrived on the island about 7 p.m. My good friend, a local fishermen, ran us out just as the sun was beginning to start it's late afternoon descent. It was a beautiful night with not a cloud in the sky. The boat hummed as we shot across Muscongus Bay, which was filled with all kinds of birds. We saw puffins out toward Eastern Egg Rock and watched as countless seagulls soared, swooped, and glided over the blue water.
The island was quiet but the venerable Island Inn was not. A bustling crowd was enjoying dinner while a few lucky souls reclined on the front deck and watched the sun dip over Manana Island. We walked up toward the lighthouse, smelling the flowers and admiring the simple but sturdy structures that cluster around the center of town.
Swim Beach was deserted for now. Still too early to test the bracing waters of the North Atlantic! I ran into an old friend and chatted for a few minutes but knew that I had to get back to the mainland at some point. We left the harbor just as the sun was ready to call it a night. Racing back across the bay was such a pleasure! As Marshall Point came into view, the sun showed its last rays before setting over Shipper Island and giving way to another beautiful night on the coast of Maine.
Happy cruising to all, and too all a good night.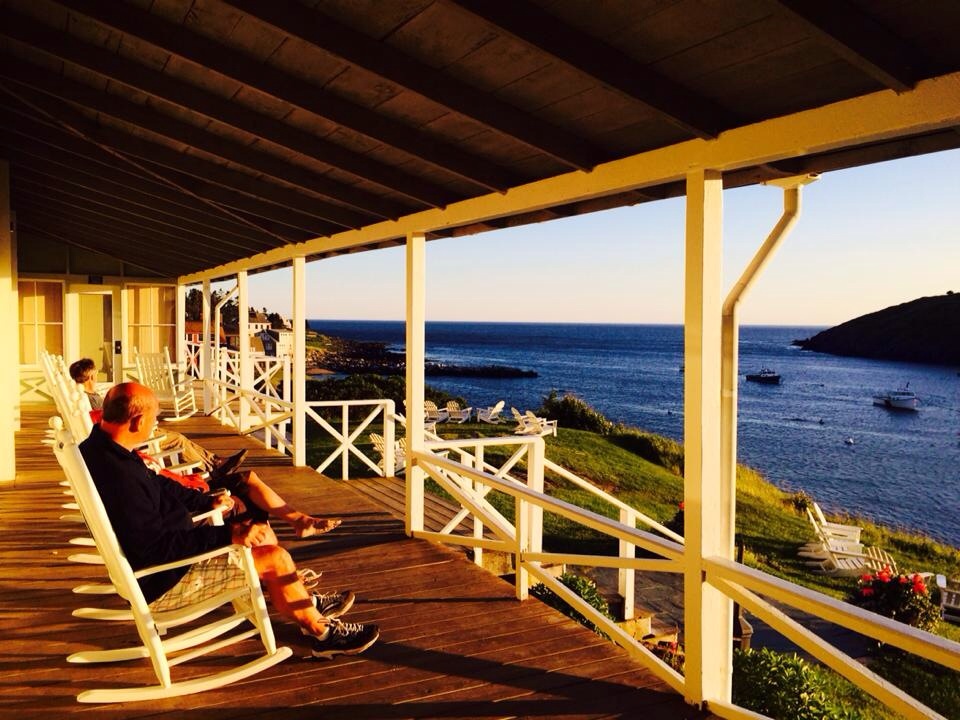 Photos of Chasing the Sunset Over Monhegan Island