Newport's Pre-Race Volvo Show In High Gear
Posted by US Harbors
Though the official race stopover in Newport won't happen until May 2015, the summer of 2014 is seeing plenty of Volvo Ocean Race action in the City by the Sea. Nearly all of the teams have chosen to use Newport as a destination for their transatlantic test sails before the race start in October, and there are reports that we could see two of the new VOR65 yachts sailing together on Narragansett Bay before the summer is over.
Team Alvimedica, the Newport-based American entry, is preparing to head back "across the pond" for the second leg of its transatlantic training run, but before it does the team is holding a naming ceremony on June 28 at Newport Shipyard to officially christen the brand-new yacht. Former U.S. Surgeon General Regina M. Benjamin, MD, will name the racing vessel at a public ceremony at 3 p.m. at the Newport Shipyard docks.
"We are honored that Dr. Benjamin, who recently held one of the highest ranking healthcare positions in the United States, will name Team Alvimedica's racing boat for our entry in the Volvo Ocean Race around the world," said Alvimedica CEO, Dr. Cem Bozkurt. "For Alvimedica, the link to health and science is important in this global sporting competition." Alvimedica, a fast-growing challenger in the global field of interventional cardiology, will work with skipper Charlie Enright, a Bristol native, and the race crew to measure relevant cardiovascular changes throughout the 38,000-mile sailing competition.
Meanwhile, Abu Dhabi Ocean Racing, a VOR team based in the Middle East, is heading west across the Atlantic on a training run of its own. It is due to arrive in Newport in early July — approximately the same time that Team Alvimedica will be making its final preparations for departure. Will the two yachts be trading tacks off Fort Adams? Stranger things have happened on Narragansett Bay, so stay tuned!
The USHarbors crew stopped by and grabbed a few shots of Team Alvimedica in the days leading up to the naming ceremony, but to really appreciate these remarkable sailing machines you should stop by Newport Shipyard on June 28 and check one out for yourself.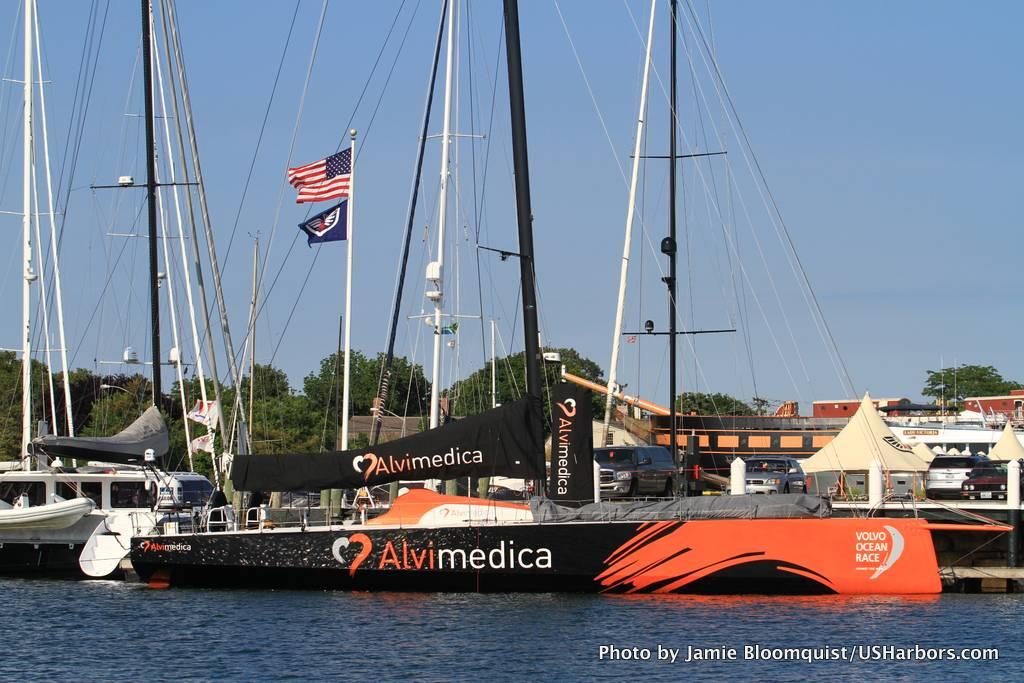 Photos of Newport's Pre-Race Volvo Show In High Gear