The latest yacht on the drawing board at Stephens Waring Yacht Design in Belfast is a powerful, fast, and instantly classic sailing vessel for an experienced owner.
This 78' world-cruiser embraces the best of classic design and modern-day innovation — a true American original reminiscent of the work of great American designers of early 20th century: Phil Rhodes, Olin Stephens, John Alden, with modern thinking in naval architecture and engineering. Her strong sheer, spoon bow, and sturdy counter stern feature a balance of grace and strength for sensible seakeeping.
She's the second boat we've designed with this client — he first came to us for the 59' ketch Marjorie. Launched in 2007, Marjorie has successfully taken her owner cruising on both sides of North America. Like Marjorie, this new boat has serious offshore cruising squarely in her sights, and her hull and architecture evoke the golden days of American yachting before World War II. Leaner and meaner in proportion, this boat draws a closer bead on performance.
Stephens Waring Yacht Design relies on decades of experience in the Spirit of Tradition genre to deliver top racing performance without compromising offshore cruise-ability. This new yacht sets the bar to create a new standard for long-distance passage-making in speed, safety, and comfort.
We've designed her with a deep fixed bulb-keel for simplicity, stiffness, and exceptional windward ability, coupled to a powerful carbon spade rudder that delivers fingertip steering and razor-sharp maneuverability. The top section of the fin is a composite tank structure containing generous black- and gray-water tankage. Draft is kept to a moderate ten feet to allow access to harbors worldwide.
Her clean fractional sloop sail-plan eliminates hassles of overlapping jibs, carrying a 105% blade jib sheeted well inboard in front of swept shrouds and spreaders, permitting tighter sailing angles and much faster tacking than a genoa. Off the breeze and in the light stuff, a big drifter is carried on a soft-luff furler set forward of the forestay. With much of her sail area in the easily-handled mainsail, she'll balance well even with her jib furled.
Highlighting the best traditions of yachting, this flush deck sloop could be inspired by icons like Bolero and Ticonderoga. The classic cabin trunk is just tall enough to accommodate opening ports while enhanced by artful butterfly skylights for light and ventilation so essential to comfort below. On the foredeck, a traditional "booby" hatch elevates the forward companionway, provides airiness in the forepeak, and gives a foothold when working the foredeck.
A raised deck saloon provides the link between on-deck and below; this doghouse provides a sheltered space to be out of the weather but not out of the loop. One long comfortable settee to stretch out while on a night watch is matched by an oversize chart table, and all the modern electronics to put command at your fingertips. When anchored, this second saloon enjoys 360° views of the harbor during a coffee break or cocktail hour.
The yacht's construction will be of modern wood composite technology — a cold-molded wood hull with an additional layer of Kevlar-aramid for ultimate resistance to impact. Timeless joinery details harken to an era, and beautiful bronze deck hardware of modern design provides frictionless operation with solid old-school longevity. In concert, every aspect of this design is intended to deliver sparkling performance and serious seaworthiness for generations.
LOA: 78' 6" (23.9M)
LWL: 66' 1" (20.1M)
Beam: 18' 0" (5.49M)
Draft: 10' 0" (3.0M)
Displacement: 48 long tons (107,000 lb)
Sail area: 3163 square feet (294 square meters)
Power: Volvo Penta D4-300 hp (225kW)
Generator: Northern Lights 20kW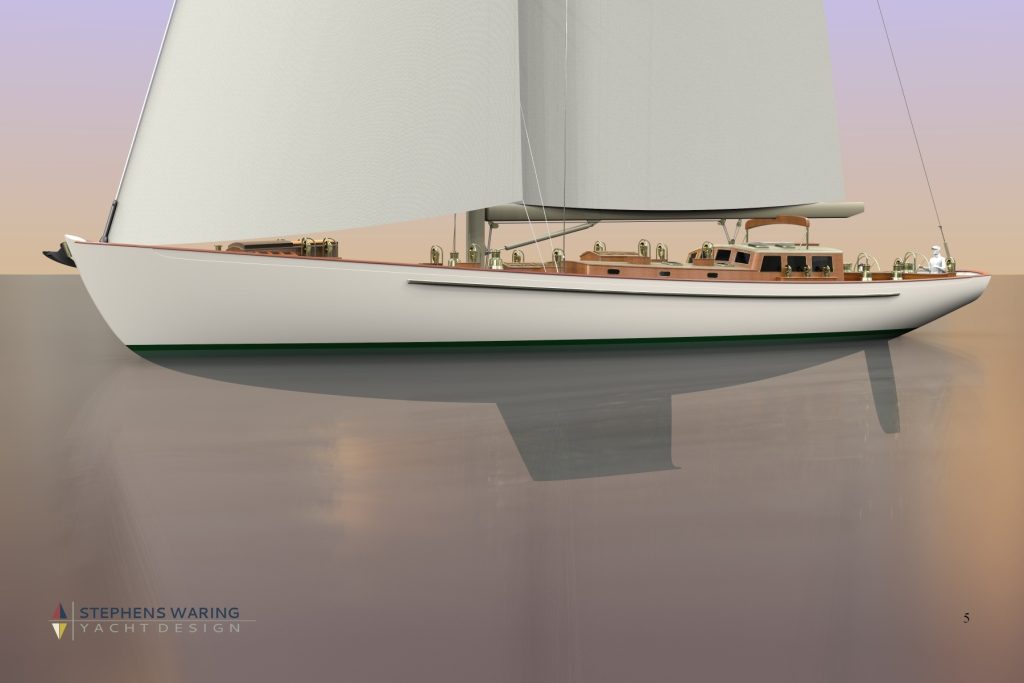 Photos of A Powerful New Classic Yacht Takes Form in Belfast