RI Boatbuilder Launches Hunt Challenge Event Series
Posted by Hunt Yachts
Hunt Yachts is pleased to announce a new series of demo events designed to introduce prospective boat owners to the outstanding performance of Hunt Yachts. The Hunt Challenge is a private test drive with a Hunt Yachts team member who will demonstrate the high-performance characteristics that set Hunt Yachts apart from the competition. Smooth, level planning; tight, controlled turns; stability and tracking in following seas; and a dry, comfortable ride are just a few of the maneuvers that will impress participants in the Hunt Challenge.
The first four events will be held in New York, Connecticut, and Rhode Island (during the Newport International Boat Show); more events will be added in 2015. CLICK HERE for the schedule of 2014 Hunt Challenge events and to sign up for your own private test drive.
"We want as many people as possible to experience the performance of Hunt yachts," says Hunt Yachts President Peter VanLancker. "When you take the Hunt Challenge, you will see exactly what we mean by 'high performance' and will come away with information about why the boats perform the way they do. Then, if you decide to test-drive a competitor's boat, you can challenge them to match the performance of the Hunt yacht."
The Hunt Challenge features a 2014 Hunt Harrier 25 Sport equipped with a 380hp Volvo Penta I/O engine. The Hunt Harrier 25 Sport, with its vintage sports car-inspired design, is athletic and vivacious — the perfect platform for the Hunt Challenge.
The Hunt Harrier 25 Sport, like all Hunt yachts, features the authentic deep-V hull designed by Ray Hunt. The high-deadrise, or deep-V, hull is proven and accepted as the ultimate hull form for speed with comfort and safety in rough water. It is a measure of Ray's genius that today, after decades of attempts by others to conceive a better high-performance and racing hull, his original deadrise angle remains proven as the optimum. The design has been refined over the years by Ray's eponymous design firm, C. Raymond Hunt and Associates (the exclusive designers of Hunt yachts), but Ray's basic deep-V hull form continues to offer superior characteristics that give it the ability to navigate rough seas at higher speed with more safety and comfort than any other hull design.
The dates of the inaugural Hunt Challenge events are:
August 9
Pines Marina Fire Island
Fire Island Pines, New York
9 a.m. -5 p.m.
August 16
Sag Harbor Cove Yacht Club
Sag Harbor, New York
9 a.m. – 5 p.m.
August 23
Prestige Yacht Sales
East Norwalk, Connecticut
9 a.m. – 5 p.m.
Sept. 11-14
Newport International Boat Show
Hinckley/Hunt Pavilion, Dock B-10
Newport, Rhode Island
12 a.m.-5 p.m.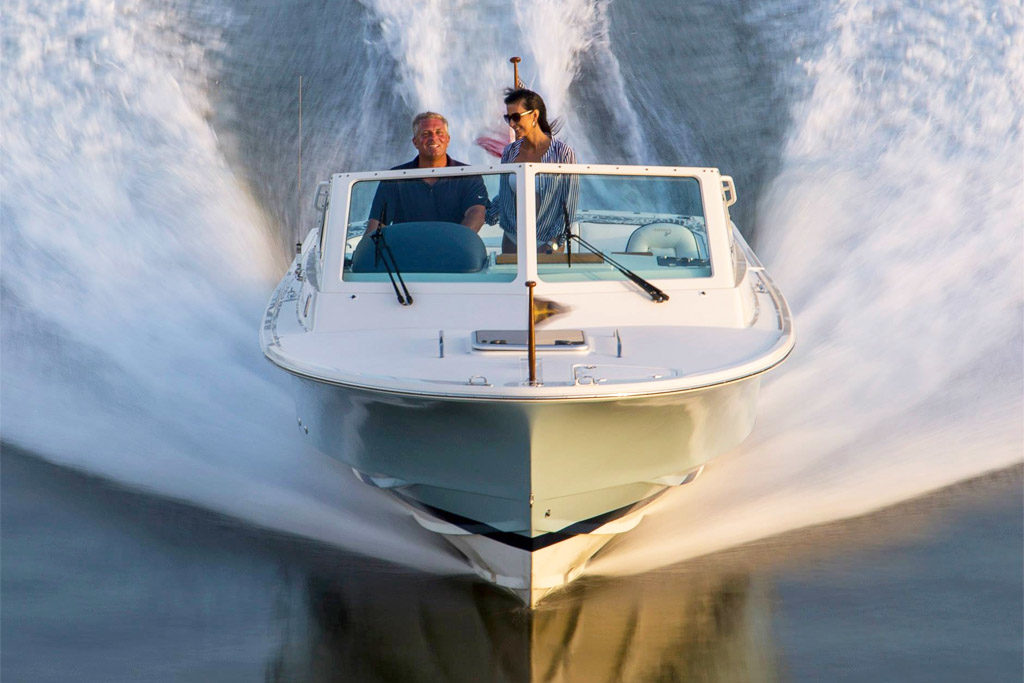 Photos of RI Boatbuilder Launches Hunt Challenge Event Series