Rockland Boat and Home Show Encourages Living Lightly
Posted by MBHH Show
Sailors have known for years how comfortable and efficient life can be aboard a small boat: all the amenities right at hand, every inch of space put to maximum use, water and power conservation of prime importance. With the growth of land-based movements toward lower-impact living in a small(er) footprint, many of these yachting concepts are being translated and adapted for life ashore. A special section of the Maine Boats, Homes & Harbors Show, "Smart, Small Homes," will be dedicated to that proposition. Here, attendees can find small houses to explore, right-sized furniture to test, and tents, houseboats, and other efficient products to fit into their plans for a smaller footprint.
Anchoring "Smart, Small Homes" will be the "Thoreau Multimedia Center" presented by AIA Maine, a chapter of the American Institute of Architects. Here, modern technology is juxtaposed with time-honored craftsmanship: digital images of what the concepts of "smart" and "small" mean to Maine architects today displayed in a timber-frame structure by Rockport Post & Beam. The building is based on the cabin that Henry David Thoreau built on Walden Pond more than 150 years ago, with sailcloth walls by Pope Sails.
In the "Small, Smart Homes" area, GO Logic will discuss one of the company's smaller projects: "House on a Knoll," a 1,000-square-foot, year-round passive residence. Black Dog Timberworks will have fine examples of their timber-frame joinery on display. In the ultimate "tread lightly " department, there will be an Op 200 tent designed by Bill Moss and a tiny house on a trailer built by Shed City. (Shed City will have other buildings on show grounds as well, including the Show Office and the Will-Call booth.)
The younger set (and their parents) can cheer on young volunteers coached by Midcoast Habitat for Humanity as they construct a house on-site from recycled wooden pallets that was designed by I-Beam Design. Midcoast School of Technology students will show off a petite shingled structure they built during class.
Come learn more about how you can live more lightly on the planet (when you are not living aboard, that is) at the 2014 Maine Boats, Homes & Harbors Show, August 8-10 on the waterfront in Rockland.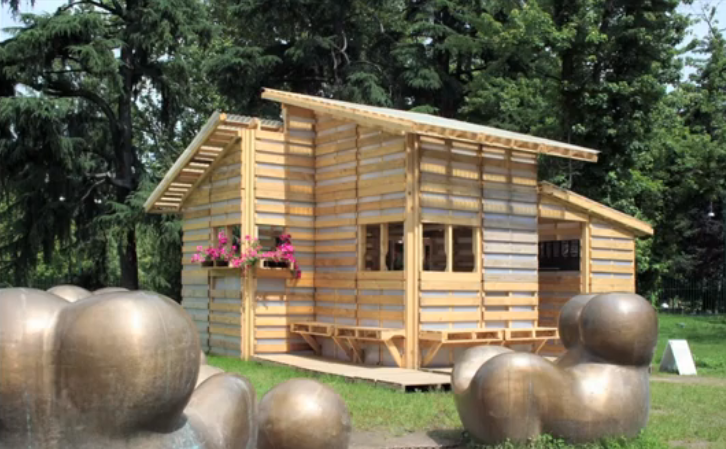 Photos of Rockland Boat and Home Show Encourages Living Lightly