Fall Regatta Season Remains in Full Swing on Casco Bay
Posted by Sail Maine
Last Updated
Pleasure boats are getting hauled along the Maine coast, but that doesn't mean that the sailing and racing season is entirely over. The weekend of October 18 and 19, for instance, was a busy one for high school sailing at SailMaine — and for SailMaine sailors!
On Saturday, SailMaine and Casco Bay were the site of not one, but two regattas! Portland High School hosted the Salty Dog Regatta and North Yarmouth Academy hosted the Inaugural SailMaine Keelboat Regatta. On Sunday, Cape Elizabeth hosted the Gail Winds Regatta.
Two SailMaine teams won the lottery draw for berths at the Lawrence A. White ISSA Invitational Regatta: Falmouth High and Portland High. Falmouth earned sixth place with a number of top-five finishes and a bullet in B fleet. Portland came away in sixteenth with one race in the top five. Reports are that the competition was fierce and the conditions were tricky.
The Salty Dog Regatta on Saturday saw shifty conditions with enough breeze to compensate for the strong current that was running. 20- to 30-degree shifts made racing tricky. The teams that played the shifts and stayed in phase made big gains on the race course. A mixup in the rotation made the scoring tricky as well, but in the end MDI won the day, followed by Southern Maine Team 1 and Duxbury Bay.
The Inaugural SailMaine Keelboat Regatta, hosted by North Yarmouth Academy, was a big success! Seven of eight SailMaine-sited teams competed in the SailMaine J22 fleet. Six races were completed. Cape Elizabeth High came out on top with a fantastic run of four bullets in the last four races. Falmouth High and Southern Maine earned second and third places respectively. Keelboat racers broke mid-day for chili-baked-potatoes.
Sunday's Gail Winds Regatta was a bit breezier and colder than Saturday. Gusts to 15 knots made conditions a challenge. Eleven teams were on the water and Duxbury Bay won the day followed by Cape Elizabeth High and regatta host Yarmouth High.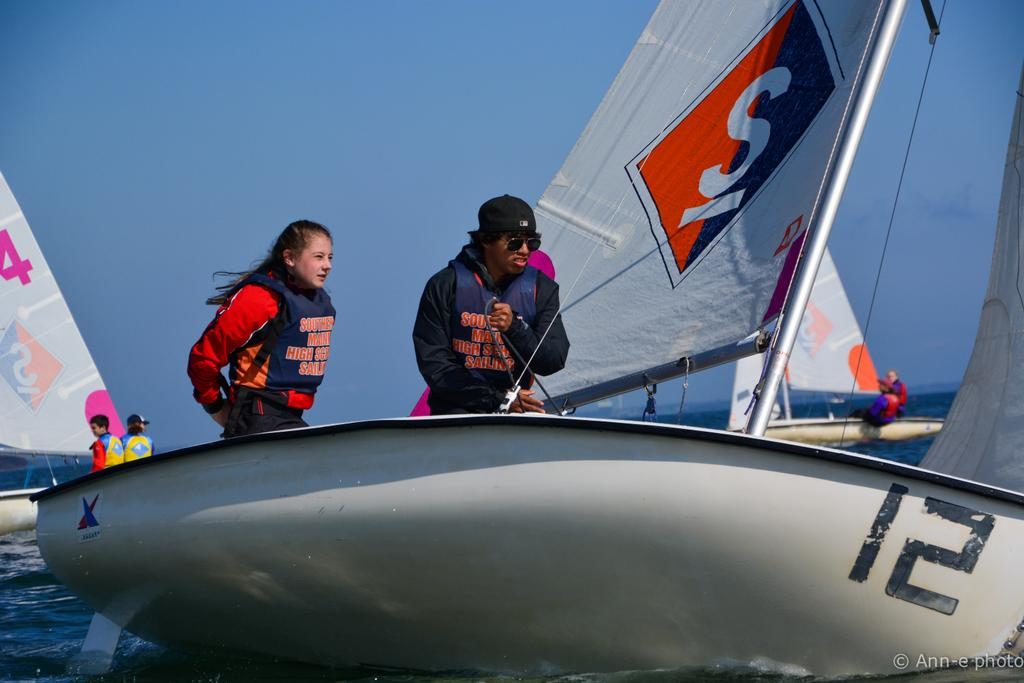 Photos of Fall Regatta Season Remains in Full Swing on Casco Bay