Never in Bob Fuller's wildest dreams would he have thought that three years ago, during the dead of winter, he would be contacted by a Swiss physician about the possibility of rebuilding and converting a 40-year-old wooden lobsterboat into a yacht that would one day be going to Europe. But that's precisely what happened, and over the next 36 months Fuller took the Hazel W III and, using a hull that was like new thanks to the owner's construction techniques, maintenance, and attention to detail, created a yacht that will have a new life overseas.
Twist, originally Hazel W III, was designed and built in 1973 by Rhode Island boatbuilder Donald Wilcox and his sons. Her strip-planked Philippine mahogany over white oak hull was still in excellent condition after 38 years of mussel dragging, research, and lobstering with the Wilcox family in Narragansett Bay. "The condition of the hull was like new, it was a testament to the Wilcoxes and their attention to detail and construction techniques," said Bob Fuller of South Shore Boatworks.
The Wilcoxes put the boat up for sale in 2011. Dr. Megevand, a sixth-generation Swiss surgeon, saw the boat online and fell in love with the lines. He asked Fuller to look it over and bought it sight unseen when Fuller reported the boat's excellent condition. Dr. Megevand named the boat Twist as a nod to the twist of destiny turning a hard-working New England fisheries dragger into a day-yacht cruising the Mediterranean and the canals of Europe.
Twist was gutted and beautifully rebuilt, highlighted by gorgeous custom teak deck, foredeck, and interior. The hull was sheathed in West system fiberglass and Awlgripped for a svelte and shiny finish. Modifications were made to meet CE standards under the direction of naval architect Bob Turcotte of Bob Turcotte Yacht Design. The European regulations required quite a bit of complex paperwork and it took six months to acquire the boat's Swiss registration. Lines drawings and stability testing were documented, and other requirements included a fixed fire extinguisher system, lifeboat with hydrostatic release, EPIRB, and a second dinghy (inflatable). Marine electrician John Crobar of Kingman Yacht Center wired the boat with a European 230 V 50 hz system and installed the Raytheon electronics. Nate Tynan of Windward Power Systems repowered the boat with a 500-hp Caterpillar C-9 engine modified to CE standards. Talented builders on the project team include John Karbott, Michael Bryant, and Richard Wilmore.
Other special features include a full-width hydraulic tailgate transom/swim platform; a desalination unit that produces 40 gph of freshwater; original 1973 compass, rebuilt & rechromed; and a large graywater tank since discharge is not allowed in the Mediteranean. Jeff Kent of Composite Solutions, Inc., provided custom carbon-fiber components, including a folding mast which accommodates bridges in Europe's canal system and allows the mast electronics to be serviced from the cockpit. Accommodations include a V-berth, double berth down to port, dining table that converts to berth, 2 day beds on deck with overhead bimini, galley up with a Techempex Italian-made electric galley stove and 13-cubic-ft. capacity icebox, and head with shower. All materials and equipment are incorporated to be easily serviceable in Europe.
When Twist was completed, Al and Ernie Wilcox piloted her from Massachusetts back to Wickford Harbor, Rhode Island, where she had fished for so many years. She attracted a lot of attention, especially when she started flying the Swiss flag after receiving her registration. She was freighted out of Newport, Rhode Island, to Geneo, Italy. Fuller and Tynan traveled to Italy to commission the boat and cruised with Dr. Megevand part of the way to his family's vacation home in Croatia.
Twist Specifications:
LOA: 45'
Beam: 14'-7"
Draft: 4'-6"
Displacement: 27,000 lb
Hail port: Basilea, Switzerland
Hull: mahogany edge nailed over oak frames. Sheathed with West System and Awlgrip
Trunk cabin/pilot house/ top: Composite construction and Awlgrip
Engine: Caterpillar C-9 500 hp
Gear: Twin Disk 506
Reduction : 2.05/ 1
Shaft: Aquamet 22 1 ¾" dia
Prop: Michigan 26×26 4 blade
Cruise speed: 10. 5 kts
Top speed: 15.5 kts
Fuel consumption: 9.3 gph
Fuel tanks: Aluminum, 236 gal capacity in 2 tanks
Generator: Northern Lights 5 kw. 230v 50 cycle
Steering: Hydroslave hydraulic with custom teak steering wheel
Rudder: Manganese Bronze
Bow Thruster: Side power 24 volt
Windlass: Lofrans 24 volt
Windows: Bomon Aluminum framed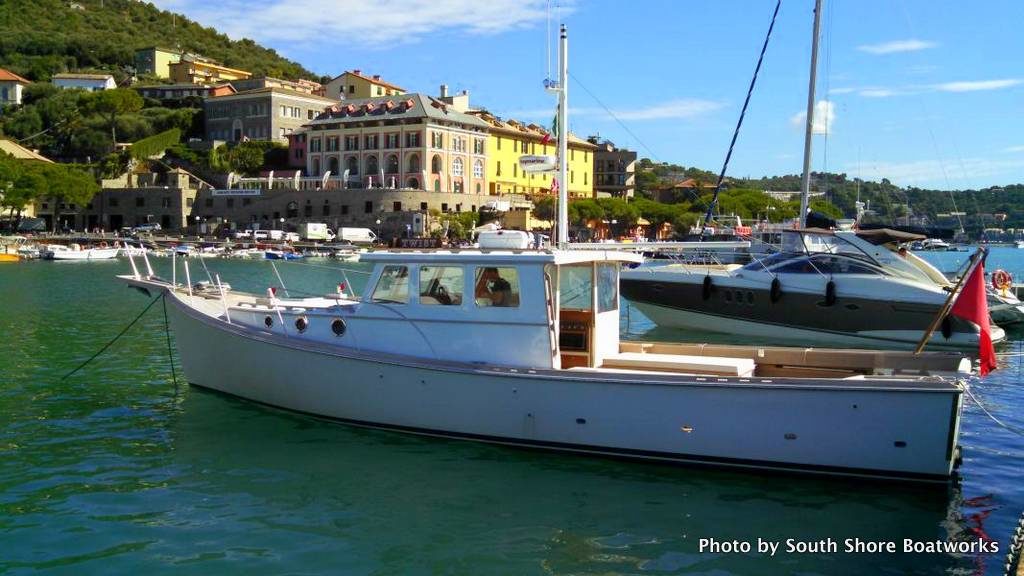 Photos of New England Dragger, Mediterranean Yacht: Meet TWIST