Key Tackle for Your Spring Striper Season Surf Bag
Posted by David Pickering
Last Updated
You know we are getting close to the start of a new striper season when I start packing my surf bag. Sometime within the next two weeks you will hear about migrating stripers being caught along the south shore or even in Narragansett Bay. While everything is late this year due to the brutal winter we had, I am guessing stripers will be arriving between April 20-25, maybe even a bit later if the weather is cool and earlier if we get a big warm-up.
So, what's in the surf bag for April fishing? My bag reflects a heavy emphasis on jigs. Early fish are all schoolies and they tend to grub along the bottom. Jigs are the hottest lures in April, though I do carry a few plugs with me. I might get a schoolie to come up and hit a popper in the early going in a warm water spot in the Bay. When I say jigs, I mean bucktail jigs or plastic bodies (Cocahoes and Zoom flukes threaded onto jigheads.
Here's what's in my bag for April fishing:
•Small plugs- a few poppers in the 3-4-inch range and some small swimmers.
•Plastic box loaded with jigheads (1/4-1 oz.) and an assortment of bucktail jigs in the same sizes.
•Bags of plastic – 3- and 4-inch white grub tails, bags of Zoom flukes in light color for Gansett Bay, bags of 3- and 4-inch Cochahoe minnows for oceanfront.
•Leader wallet to hold leaders and teaser rigs (shrimp flies used as teasers)
•Wooden egg floats to use with jig and float rigs.
•Tools – Scissors to cut braid, plus pliers.
•Extra swivels and snaps in a small container.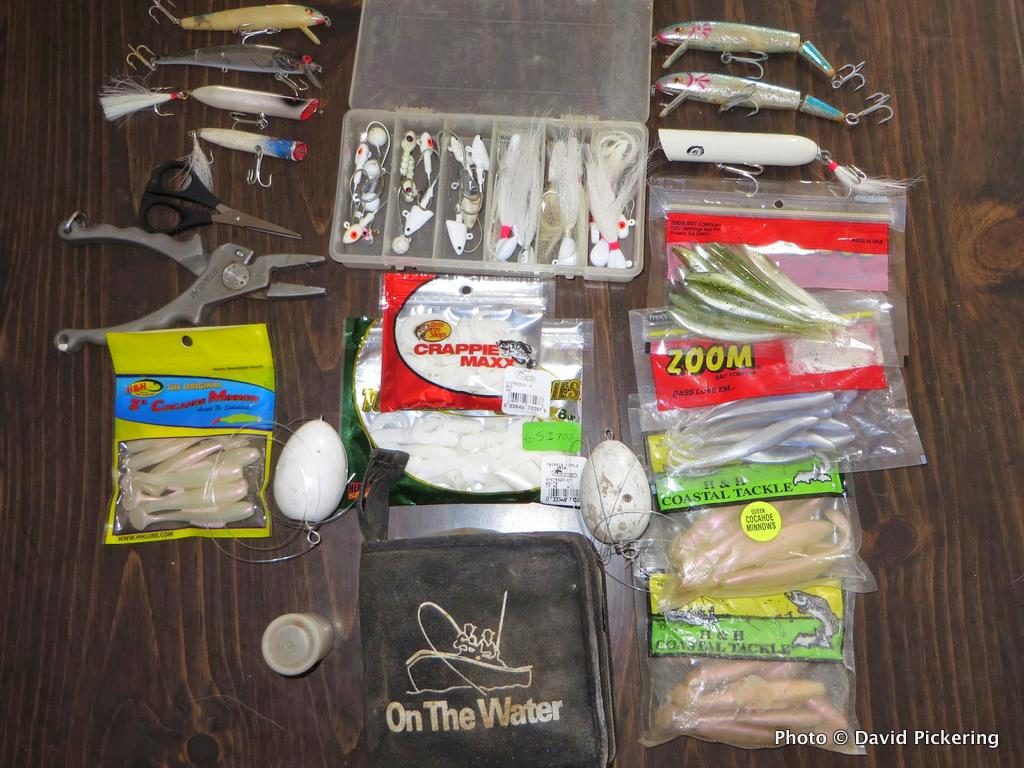 Photos of Key Tackle for Your Spring Striper Season Surf Bag