Newport Ready to Show the Volvo Ocean Race to the World
Posted by US Harbors
On Tuesday, May 5, dignitaries, guests and fans of sailing gathered at Fort Adams State Park in Newport to open the Race Village for the Volvo Ocean Race Newport Stopover, the only North American stopover in the nine-month race.
The Race Village is open daily, May 5-17 and is free admission to all ages. The twelve-day public celebration features racing off the shore of Fort Adams (May 14-17), entertainment, a marine Exploration Zone, sponsor pavilions, family games, a "Life at the Extreme" theater, team compounds, try sailing, kids activities, concerts and a working boatyard. The race boats will be docked at Fort Adams for public viewing.
Taking place over four oceans, five continents, 11 countries and featuring seven teams, the Volvo Ocean Race is the longest sporting event in the world. It pits the toughest sailors against nature and some of the harshest elements in a glorious demonstration of human endurance. The race began last October in Spain and Newport is the seventh port of 11 that it visits.
The Newport Race Village opened to the public on Tuesday at 3 p.m. One hour later, at 4 p.m., an opening ceremony included the Navy Band Northeast and dignitaries including R.I. Governor Gina Raimondo, Dept. of Environmental Director Janet Coit, R.I. Senate President Teresa Paiva Weed, Newport Mayor Jeanne-Marie Napolitano, Volvo Ocean Race CEO Knut Frostad, and Sail Newport Executive Director Brad Read, among others. High school sailors were also included, carrying flags of the countries represented by sailors in the race.
The race crews, currently in the midst of Leg 6 from Brazil to Newport, could start arriving on Thursday, May 7 (depending on weather conditions). Already there have been 19 lead changes with more than 85 percent of the 5,000-nautical mile leg completed.
"We're calling on all sailors and sports fans to come and support the crews when they finish, and learn about sailing during the stopover," says Read. "Having the Volvo Ocean Race visit Newport puts our city and state in the global eye and offers great international exposure. The stopover will be a tremendous celebration."
The race features seven sailors with strong ties to Newport and two more from the U.S. for a total of nine American sailors. Team Alvimedica skipper Charlie Enright, from Bristol, Rhode Island, is the youngest skipper in the race at 30 years of age. Other Newporters include Nick Dana and Amory Ross (the boat captain and onboard reporter, respectively, for Team Alvimedica), Sam Greenfield (onboard reporter for Dongfeng Race Team), Corinna Halloran (onboard reporter for Team SCA). Also, Hawaiian Mark Towill (co-founder and watch captain of Team Alvimedica) and South Dakotan Sarah Hastreiter (crew Team SCA) both call Newport their adopted home.
Other Americans in the race include Sally Barkow (Waukesha, Wisconsin), a helmsperson for Team SCA, and Matt Knighton (Chicago, Illinois), the onboard reporter for overall race leader Abu Dhabi Ocean Racing.
In total there are 18 nationalities represented in the seven crews and the race has a dedicated following in the U.S. Residents of every New England state and from as far away as Alaska, California, Florida, Hawaii, and Minnesota have purchased tickets to the Ocean Race Club to view the racing. Inshore racing the weekend of May 14-17 will be easily viewed from the lawns at Fort Adams State Park.
More than 100 containers have arrived at Fort Adams and approximately 175 people were involved in the build of the Race Village.
The Volvo Ocean Race Newport stopover is hosted with the support from the State of Rhode Island, DEM, the City of Newport, and Discover Newport.
Port sponsors include Sweden-based SCA, a leading global hygiene and forest-products company, and 11th Hour Racing, which seeks to create systemic change for the improved health of our oceans. Other sponsors include Heineken, Cox, Sunsail, Metlife, Mt. Gay Rum, Bell Helicopter, Castle Hill Inn, National Biodeisel Board, Moet & Chandon, M32 North America, Marriott Newport, Hotel Viking, The Newport Harbor Hotel and Marina and Hyatt Regency. Media sponsors include Channel 10/WJAR TV, The Newport Daily News, Coast 93.3/iHeart Radio and Sailing World. In addition, Viti, Newport Restaurant Group, Lila Delman Real Estate, Sea Corp., Rhode Island Bay Cruises, Gustave White, The Hinckley Company, Team Alvimedica, Focal and Dimeo Construction also join the sponsors of the Newport Stopover.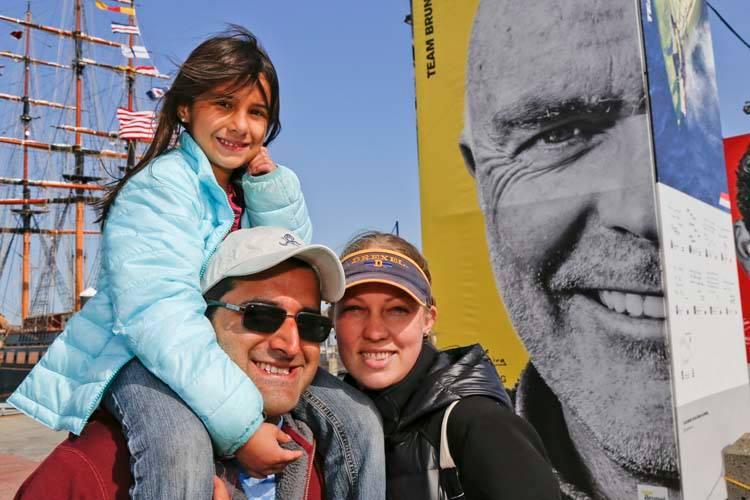 Photos of Newport Ready to Show the Volvo Ocean Race to the World