Visitors, Ocean Racers Converge on Newport
Posted by US Harbors
It took the Volvo Ocean Race teams seventeen days of hard work to sail from Brazil to Newport, but it took the folks at Sail Newport and the rest of Rhode Island more than two years to create a suitable welcome for them. And all that effort was worth it! Within hours of being open, the Volvo Ocean Race village at Fort Adams in Newport earned rave reviews from both the hard-core sailors and the people who think a coffee grinder is something you might find at Starbucks, not on an ocean-racing yacht.
"What a fantastic welcome. It really was a great arrival," says Ian Walker, skipper of Abu Dhabi Ocean Racing, which came in second in the leg from Itajai, Brazil, missing the top spot on the podium by only three minutes. The hometown heroes aboard Team Alvimedica, though they had to settle for fifth on this 5,000-mile leg, were equally ecstatic by the welcome they received in Narragansett Bay, even in the wee hours of the morning. "To come in at such an obscure hour, in not the most perfect of conditions and still see so many boats out on the water to meet us was amazing," remarks Charlie Enright, skipper of Alvimedica. "It took us about three hours to go from Castle Hill to Fort Adams, so we really got to savor the moment!"
People visiting Fort Adams by land, meanwhile, are also able to savor the experience of witnessing the Volvo Ocean Race 65 yachts up close, as well as to wander through the buildings and tents filled with interactive exhibits about the race, the technology involved, and of course the fine craftsmanship that goes into Volvo cars, engines, and trucks. A full-size half-model of a Volvo Ocean 65 allows people to literally lay down in the bunks that the sailors called home during the tumultuous Southern Ocean leg, while high-tech displays let them try their hand at steering one of the radical sailing yachts. For those with a more historical bent, the new Oliver Hazard Perry is tied up at its new berth at Fort Adams adjacent to the racing yachts and welcomed people aboard for tours.
Here are some photos from a few hours that the USHarbors crew spent touring the village. But to really comprehend what goes into competing in "the world's toughest ocean race" you need to visit yourself — so make your plans to head to Newport today (or at least before the race departs on May 17).
For more information about the Newport stopover of the Volvo Ocean Race, click here.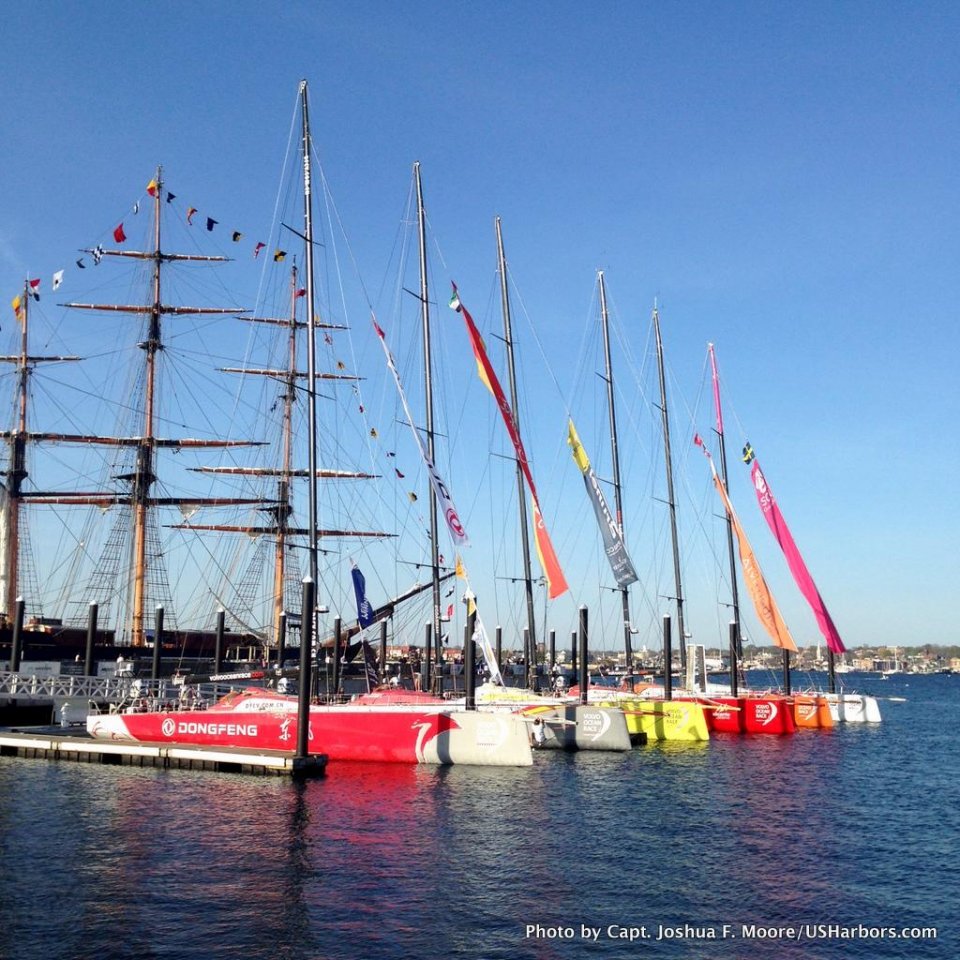 Photos of Visitors, Ocean Racers Converge on Newport