A WINTER'S STORAGE TALE 6 questions to ask when deciding where to store your yacht next winter
Posted by Boats Of The Year
By Laurie Schreiber
PICTURE THIS: The end of the season has come and
it's time to haul and store your boat. How do you
choose the best yard for your needs? Here's a
checklist of questions to ask boatyards about their storage
and maintenance protocols to make sure that your boat is
in tip-top shape come spring launching time.
■ Ask about inside versus outside storage options.
At Burr Brothers Boats in Marion, Massachusetts, Barbie
Burr says inside options might include climate control. For
outside storage, owners will want to know if their boats will
be stored with the mast in or out. Inside heated storage,
Burr says, will inhibit mold and mildew, allow technicians to
service boat systems, and even jump the season with an
early launch date. Outside storage is cheaper. Although
there might be additional savings by leaving sailboat masts
in, Burr's yard superintendent, Chris Bryant, doesn't recommend
it. "I don't feel comfortable watching a hull take that
load, especially at the chainplates," he says. He points out
that, at sea, the mast and boat move together. On the hard,
the mast moves, but the hull doesn't. Vibration is channeled
through the stays into the hull. He recommends inspection
and winterization of the mast.
■ Find the right yard "culture."
Bryant recommends the "beer taste challenge." If you're
anchored in good weather, how does the beer taste? If it's
sour because you saved money on your brightwork, or flat
because your topsides aren't shiny, or bitter because of your
mechanic's lack of communication—the problem might
not be the beer.
■ Ask about access and permissible activities.
"These days, all boatyards have rules about customer
activity," says Burr. Some have minimal rules; others are
tightly controlled. Some allow do-it-yourselfers; others
don't. Safety is paramount, particularly with regard to hazardous
material handling, waste disposal, pollution prevention,
and work involving power equipment. Although even
the most restrictive boatyards allow owners to visit their
boats, you still need to know basic safety information, such
as the location of the eye wash, fire extinguisher, and second
exit out of the building; and policies regarding ladders,
electric cords, power tools, and flammable materials.
■ Ask about basic resources, including parking, the
head, and fresh water.
If you're doing a project yourself, see if the yard has materials for your use such as vacuum-collection tools,
tarps, and extension cords. The yard might even provide
you with personal gear such as gloves, dust masks, and eye
protection.
■ Ask about environmental protection measures
to keep the air, ground, and water free of pollutants.
■ Ask about insurance.
"Most yards require that you carry insurance," says Burr,
who also cautions, "If you save money on insurance by
undervaluing your vessel, you may not be able to collect full
value, even if the yard is 100 percent at fault."
More Than Maintenance: Asking your boatyard for a survey
can save your yacht from disaster
If you're buying a used boat, hiring a surveyor to scope
out potential problems with its structure and systems
is a no-brainer. But shouldn't surveys be carried out
more often, even if you are not buying or selling? Mike
Whitten, owner of Coastal Marine Survey in Bucksport,
Maine, advises that many insurance companies
require yacht surveys every four or five years, while
others require a survey every eight to 10 years. Regardless
of the requirements, having a fresh set of eyes go
over your boat is always a good idea.
"From my experience, it's a good idea for boat
owners to have someone look at their boat every four
to five years—the systems, the lifesaving equipment,
the hull while it's out of the water," Whitten said. "Surveyors
focus on the big three—fire, flooding, and lifesaving.
Those three things are paramount. They can
also tell owners the current value of their boat."
Some marinas and storage yards perform indepth
examinations of the boats in their care, uncovering
problems not immediately obvious. But most,
he noted, perform routine maintenance and repairs
on problems as noted by the boat owner, and many
of those are cosmetic. Commissioning a surveyor or
an expert at your boatyard to examine all of your
boat's components, either in the spring prior to commissioning
or in the fall before the boat's systems have
been winterized, is always money well-spent. "Some
yards will do that as a normal part of business, but
some won't," he said.
He recalled the instance of a 15-year-old, high-end
yacht that was generally well maintained. But after a
recent survey, Whitten found the EPIRB was out-ofdate
and not registered, the fire extinguishers were
old, and there were some significant mechanical issues
no one had noticed. On another well-kept boat, he
tapped on the hull around the metal grounding plate
and heard a rattling. He rapped on the plate itself—
and it fell to the ground. The bolts had corroded on the
inside. That left two holes in the hull that could have
been catastrophic at sea.
"I find that people spend enormous amounts of
money on cosmetics and they tend not to spend a lot
of money on the actual systems until something
breaks," he said. "'My bilge pump isn't working.' 'I
noticed a leak here.' It's the things you don't see that
can catch up with you." — LS ■
Excerpted from Boats of the Year 2016. Click here to read more stories from the latest edition.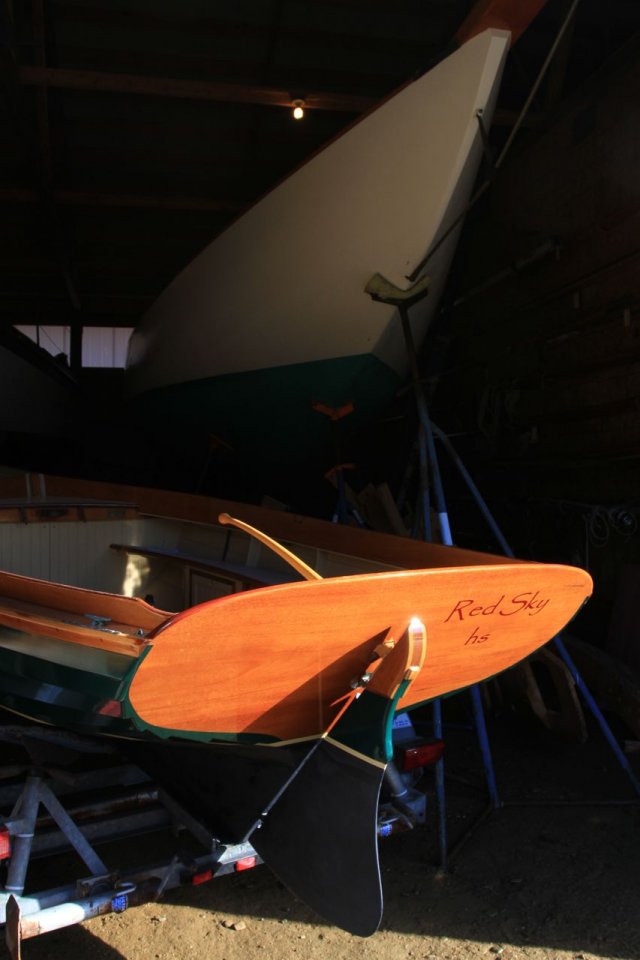 Photos of A WINTER'S STORAGE TALE 6 questions to ask when deciding where to store your yacht next winter