The nonprofit Friends of Seguin Island
approached North Atlantic Inflatables in search of an
inflatable craft that could withstand constant exposure to
the rocky shore and surging sea.
Tasked with maintaining the remote Maine island and
accommodating visitors, the group had been using heavy
wooden boats because inflatables were quickly torn up
landing and leaving from a rocky beach.
"They approached us with a very specific request," said
North Atlantic owner Rob O'Brian. "On a limited budget,
they needed a nine- to ten-foot boat that was light
enough to carry onto the island to store at night, robust
enough to carry people and freight ten to 20 yards from a
moored service boat to the shore, and rugged enough to
stand constant bashing."
The company, which prides itself on high-quality materials
and fabrication at substantially lower prices than other
inflatables, provided a 9-foot 8-inch aluminum/PVC North
Atlantic Inflatable RIB.
With one season under its belt, the nonprofit is thrilled
with its new boat. "We drag the boat up and down a rocky
shore five to ten times a day," they told O'Brian. "After a fresh
coat of bottom paint, the boat will be ready for next season."
North Atlantic offers all types of inflatable boats ranging
from 7-foot "soft keel" models to fiberglass and aluminum
RIBs up to 21 feet. Their boats can be ordered in customized
colors, and are available in either PVC or hypalon fabric. The
company works directly with factories in Asia and passes
the savings on to customers.
"We are proud of the quality we bring to inflatable
boats at an affordable price," said O'Brian.
NORTH ATLANTIC INFLATABLES
400 Commercial St., P.O. Box 492, Portland, ME 04112
207-844-1742
[email protected]
facebook.com/northatlanticinflatable
northatlanticinflatables.comExcerpted from Boats of the Year 2016. Click here to read more stories from the latest edition.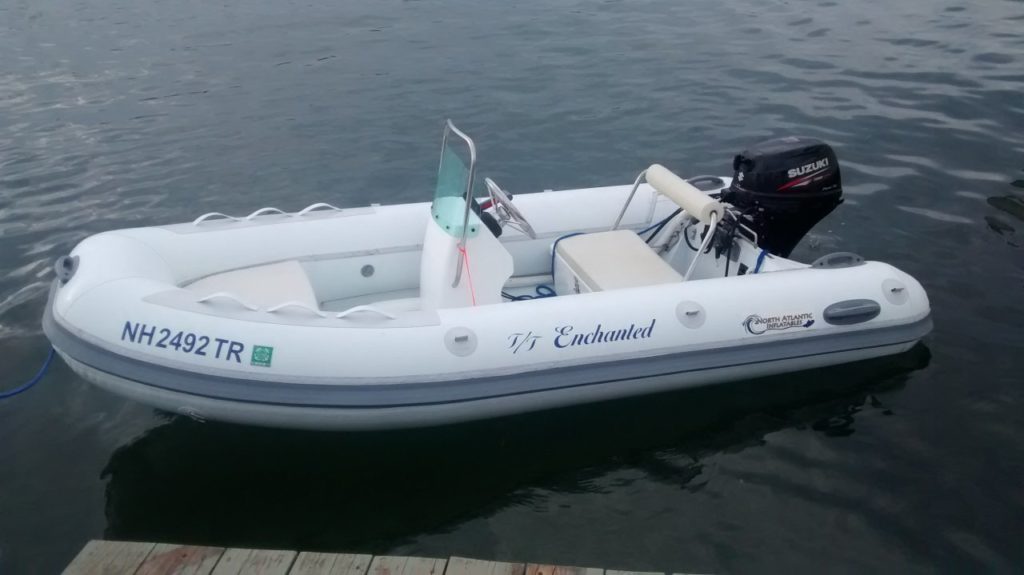 Photos of Inflatable Craft Wins Loyal Fan Base