Stability, Fuel Efficiency Create a Perfect Cruising Yacht
Posted by Boats Of The Year
WHEN THE NEW MJM 50z
was introduced at the 2014
Newport International Boat Show,
it became an immediate hit, with MJM Yachts turning out numerous orders.
"The ride and handling, ease of use, innovative layout,
and use of space make her a perfect liveaboard," said
MJM's Chris Hughes. "It combines the comfort and living
space of what people have become accustomed to on a
much larger yacht, yet can easily be handled by an older
couple without paid crew."
The 50z offers an advanced Doug Zurn design with a
low vertical center of gravity combined with a Seakeeper
gyro stabilizer, together resulting in unprecedented Certified
ISO Category A-Ocean Stability. It offers more usable
space than any other boat in its class, above and below
deck—50 percent of the boat is open flush deck. There are
plenty of hatches, and hull ports
ramp up light and ventilation.
Either sliding glass or rollup Strataglass
sides provide an open fly
bridge feel. It's the most fuel-efficient powerboat in any
class, burning half the fuel of other boats. The boats are
built in Charlestown, Massachusetts, in a new yard on
Boston Harbor.
"The MJM 50z has enjoyed a surge," said Hughes.
MJM YACHTS, INC.
203-253-2836
[email protected]
mjmyachts.com
Local dealer:
EAST COAST YACHT SALES
[email protected] • www.ecys.com
Excerpted from Boats of the Year 2016. Click here to read more stories from the latest edition.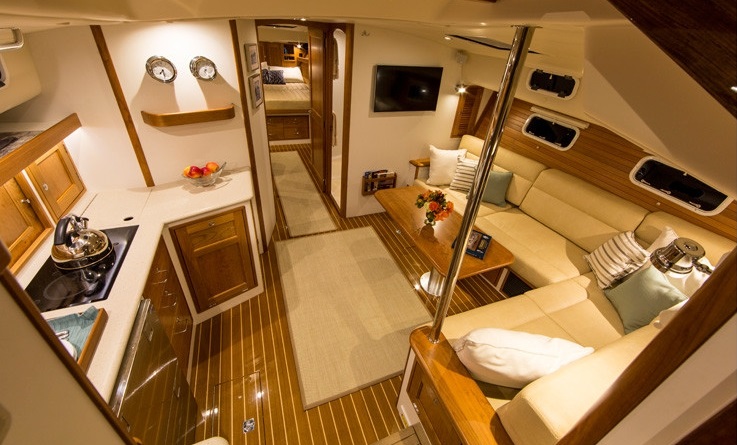 Photos of Stability, Fuel Efficiency Create a Perfect Cruising Yacht