Maine's Largest Whaler Gathering in Rockland
Posted by MBHH Show
Organizers of the 14th annual Maine Boats, Homes & Harbors Show are again hosting a Boston Whaler Rendezvous as part of their boat and home show on the waterfront in Rockland, Maine, August 12-14, 2016. A fleet of more than 40 Whalers and their owners participated in the 2015 rendezvous, and organizers expect even more boats this year. Port Harbor Marine and USHarbors are the lead sponsors for the event.
Whaler owners who exhibit their boats—new or vintage, spiffy or worked hard—at this premier annual event will receive four complimentary weekend passes to the show and a free one-year subscription to Maine Boats, Homes & Harbors magazine. The Boston Whaler Rendezvous will also include a social hour on Friday afternoon with fun Whaler awards and time for enthusiasts to swap stories and tips about their craft.
In addition to the privately-owned rendezvous boats, there will be brand-new and expertly restored Whalers on display at the show, along with experts who can answer questions about purchasing new models, making a restoration, or finding parts.
"Boston Whalers aren't just boats," said show producer (and owner of a classic 1972 Whaler) John Hanson. "They are the iconic New England boats. They represent Maine, and boating, and fun on the water. They are part of our families."
Participants will also have plenty of time to enjoy what has become New England's premier summer in-the-water boat and home show featuring artists, boatbuilders, boat dealers, marine gear, home design, jewelers, fine home furnishings, great food, kids' activities, and live music.
The Maine Boats, Homes & Harbors Show is produced by the award-winning Maine Boats, Homes & Harbors magazine, , which represents the best the Maine coast has to offer and is published six times per year out of offices in Rockland. Tickets to the show are $12 (kids under 12 get in free) and available online at maineboats.com/boatshow or at the gates August 12-14, 2016 in Rockland. Whalers should be registered ahead of time for the rendezvous online: click here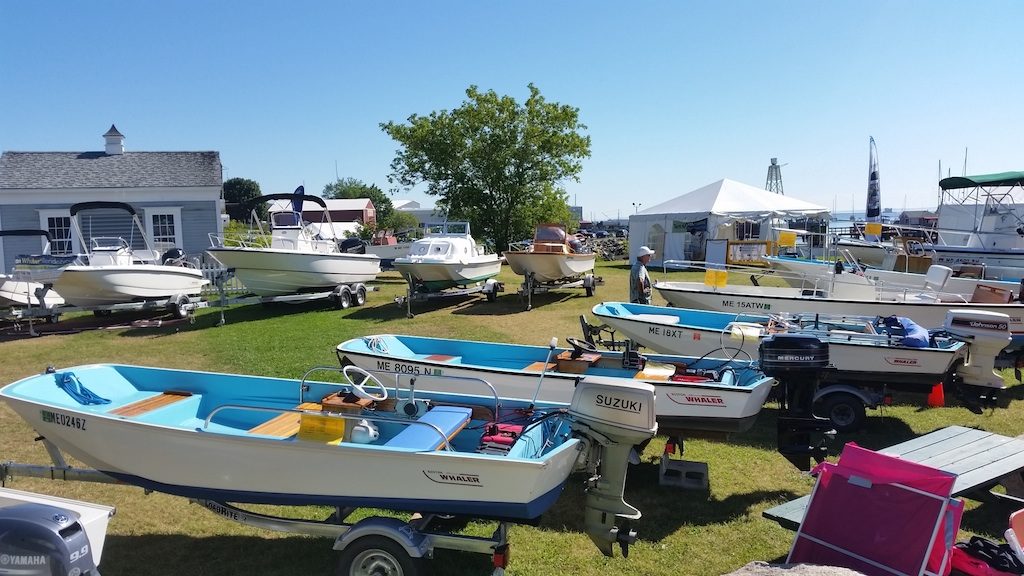 Photos of Maine's Largest Whaler Gathering in Rockland