Highlights from the 2019 New England Boat Show
Posted
Last Updated
by Dave Getchell
The annual New England Boat Show in Boston has remained a big focus of mariners' midwinter dreams for more than 30 years. How big of a focus, you ask? How about "acres of boats," or more precisely, 12 acres of boats.
There's almost every type of boat you could imagine–center-console fishing machines, rowing skiffs, sailboats small or large, pontoon boats, wakeboard boats, 1700-hp muscle boats, RIBs, kayaks, etc–and even a few you've maybe never heard of (inflatable paddle boards, anyone?).
Rather than try to shoehorn all that into one show report, here are 3 things that jumped out at this reporter–one sweet little boat, a big old whale, and a memorable stormy dinner.
One Sweet Little Boat: The new 21 Pilot from Eastern Boats. This one's a bit of a throwback to the classic lapstrake runabouts so many of us grew up with, except with up-to-date hull design, stout-but-affordable fiberglass construction, and well-focused detailing. Think of the Pilot as a "big small boat," that's relatively lightweight at 2300lbs dry, so it doesn't need a rack of 300-hp outboards on the stern to do its thing. Eastern specs the Pilot power as a single outboard, 90 to 150 horsepower. The family-friendly cockpit layout includes a snug cuddy with V-berths under bow deck for kiddos, lots of seating options, and a transom door to ease access to the stern platform for boarding or swimming. The Pilot is priced in a family-friendly way, too, and lists for about the equivalent of a deluxe full-size SUV. www.easternboats.com
A Big Old Whale: Over at the NOAA booth, the Stellwagen Bank National Marine Sanctuary displayed a life-size 50-foot inflatable humpback whale named Salt. It was fun to see how big these creatures really are: Salt the blow-up whale is named after the well-loved and much-studied matriarch of the Stellwagen whale community. Salt was first known and named back in 1976, and has returned to Stellwagen (a large shallow offshore area between the tip of Cape Cod northward to Cape Ann) every year since. Salt's family tree has produced 14 calves, 15 grandchildren (grand-calves?), and 2 great-grandchildren so far, a real boost to a population critically threatened by fishing-gear entanglement and ship strikes. The boat-show Salt was a big hit with the kids, since the NOAA booth staffers would ask anyone interested, "Wanna go inside a whale?" They'd unzip a door in her side so kids of all ages (including this one) could peer in and have some sense of what Jonah went through. http://stellwagen.noaa.gov
A Memorable Stormy Dinner: The US Harbors crew was at the show for 3 days, and there was so much to see and do in the convention center and its adjacent hotel that we only went outside once. That one trip was an adventure we'll long remember though, a hike out to dinner in the midst of a howling northeast winter storm. We bundled up and hiked down to the Seaport area, with sleet and freezing rain stinging our faces and bringing Boston traffic to a near standstill. We chowed on fresh crab salad and clam linguine at Legal Seafood Harborside, watching the storm churn Boston Harbor to a grey froth, just 15 feet from our table. The walk back was a bit less epic, since the sleet had turned to rain and the wind was at our backs. www.legalseafoods.com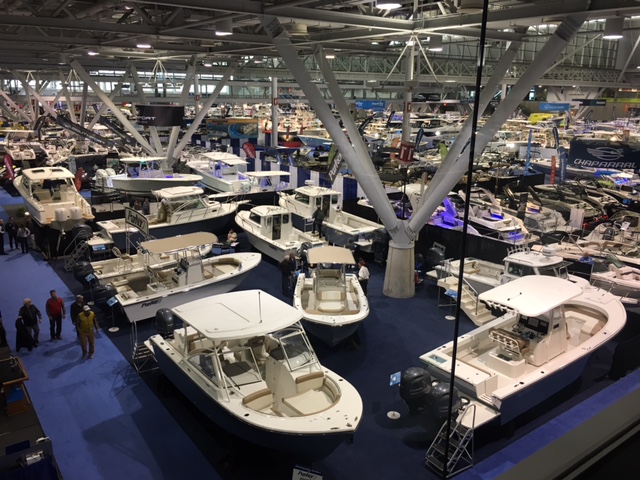 Photos of Highlights from the 2019 New England Boat Show