"Best Harbor in the U.S." 2019 Winners Announced
Posted
Last Updated
As many of you know, over the past few months US Harbors has been on a mission to find out which community our 4 million users deem the "Best Harbor of 2019". It's been a tight race and the time has finally come to announce the winners!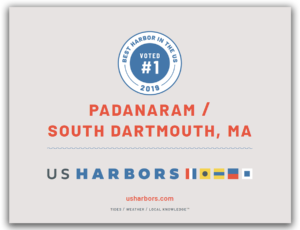 2019 Winner – Best Harbor in the U.S. — Padanaram / South Dartmouth, MA
Runners Up:
The Best Harbor contest kicked off in January with 1,278 harbors across 23 states. During the nomination phase readers of US Harbors narrowed down the list of eligible harbors leaving 90 across the US. Most of the nominated towns received a few dozen votes but only Padanaram/South Dartmouth received hundreds of votes, comments, pictures and suggestions. Community residents shared the contest via email, social media and word of mouth and ran a formidable grass roots campaign. The winner and top 3 runners up all receive plaques commemorating their wins!
For us the best part of the contest was getting to read personal stories and feedback about the people, places, businesses and events that make each of the US Harbors special. Our readers shared all of their local favorite things-to-do and we took note, updating our site with the suggestions provided.
Even though the contest has come to a close we hope that you will continue to let us know about your harbor and what makes it special! We love hearing about events in your community, promoting local businesses and helping spread the word on what makes your harbor the best harbor.