Introducing Our New Fishing Expert: Adam Young
Posted
Last Updated
A Note from Our President, Anastasia Fischer
I'd like to introduce Adam Young, as the new USHabors.com fishing expert and contributor!
Born and raised between the St. Johns River and Indian River Lagoon in Florida, Adam brings a wealth of both freshwater and saltwater fishing knowledge to share with our readers. Adam is a full time freelance writer, an avid angler, boat owner and loves to share his passion for fishing and the outdoors.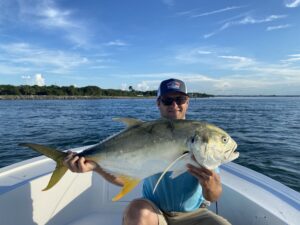 Over the past 20 years, Adam has traveled the globe in search of the next bite: From halibut fishing in Alaska, to marlin fishing in Costa Rica, or prowling the flats of the Bahamas in search of bonefish…fishing and boating is a passion that Adam loves to share with readers and viewers around the world.
Adam has a lot of experience. As he tells it, "I love traveling to new locations, and learning about the local fishing scene. Each place I visit, I discover a new tactic, and gain more appreciation for the people who support the recreational boating and fishing industry."
And while traveling is a favorite pastime of Adams, he still loves bustin' bass at his local lake, or chasing snook and tarpon during the annual mullet run.
Look for Adam to provide regional fishing guides, how-to articles and tips and tricks to make your time on the water more enjoyable. If you follow his tips, you may even bring home dinner!
We hope you enjoy his articles!
Best wishes,
Anastasia, President–US Harbors
Recent Articles by Adam: