Tidal Power's Fickle Future
Posted
Last Updated
By oceangrafixblog.wordpress.com
Aided by remote "drone" divers and advances in sonar, more ancient shipwrecks are being discovered. Sometimes salvage operations recover whole vessels and their entire bounty. But until recently, scientists knew little about the actual passengers and crew.
Now, a new method of DNA testing is making it possible to know amazing facts about the people aboard the old shipwrecks. We can know their physical characteristics (such as eye and hair color, weight and height) and, sometimes, link them to living relatives! All of this is due to better DNA sequencing protocols that enable scientists to work with scant or degraded DNA samples of bone found with the wreckage. This is especially relevant because saltwater accelerates the deterioration of DNA.
The insights began with a 400-year-old Swedish battleship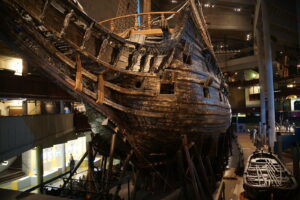 The new forensic DNA work was first tried with a piece of bone found in the shipwreck of the Vasa, a 1628 Swedish warship that sank on its maiden voyage. One hundred and fifty people were aboard and 30 died. Scientists used the new DNA technique to discover that what was thought to be the bone of a man was in fact a woman.
But they learned even more. Gertrude, as she became known, was the wife of one of the sailors and had possibly snuck onto the ship disguised as a man (her DNA showed she had the facial structure to pull off the subterfuge). DNA showed that Gertrude had freckles and an earwax buildup, of all things. Scientists are figuring out more about her, but these details alone are tantalizing.