Our Recap of the 2023 Fort Lauderdale Boat Show
Posted
Last Updated
By US Harbors.
We had a great time at the Fort Lauderdale Boat Show last month. The weather was spectacular: sunny with super strong, constant winds throughout the event. It was indeed the windiest show we've seen in the 5 years we've been covering the show, but since it kept things cool(er) we were happy to have it!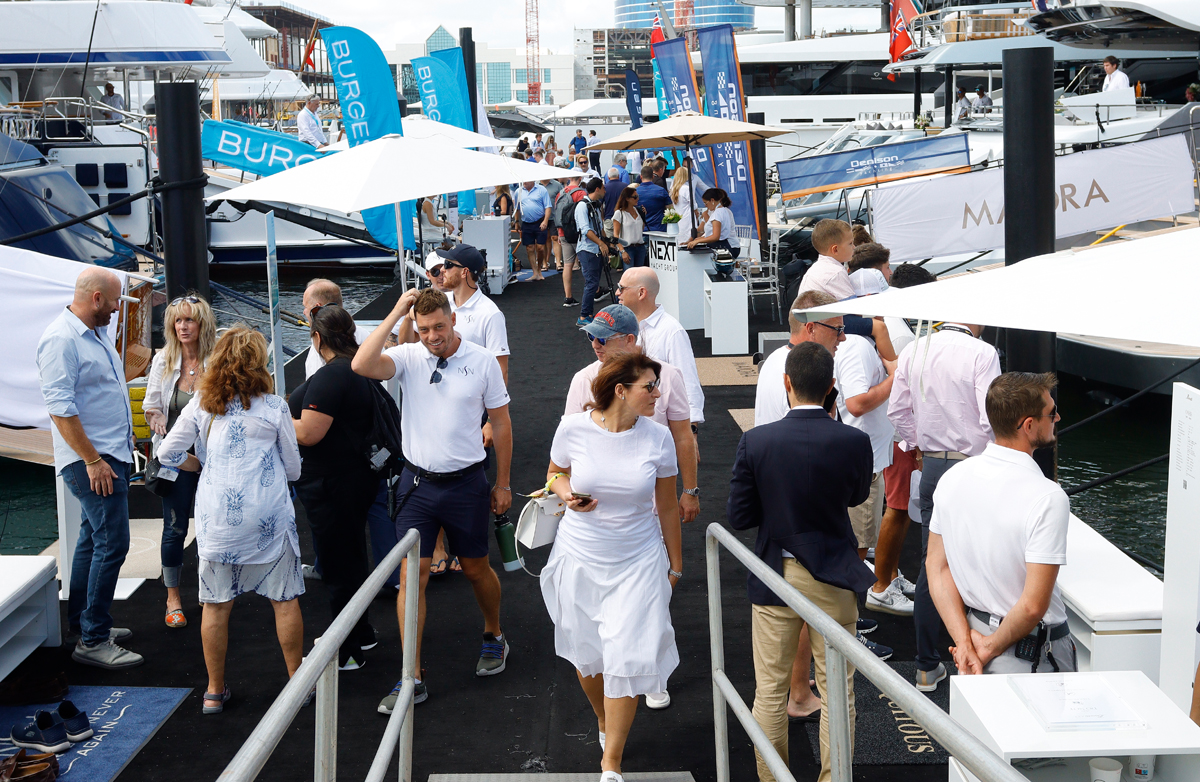 For those of you who've never been, we highly recommend getting this show on your calendar. Here's are a few things we love about it:
The sheer number of amazing powerboats. There's something for everyone: innovative recyclable dinghies, yachts of all sizes, the latest/greatest center-consoles, almost anything you can think of. The international coverage is excellent, so if you're interested in Italian design, Scandinavian engineering, American classics, or Asian technology, you'll find your boating object of desire. However sailors, and fans of non-motorized boats, will find options sparse at this show… that's where Annapolis shines.
The panoply of interesting product vendors, ranging from those focusing on the uber-affluent mega yacht market, to others that would interest boaters looking for quiet, pollution-free experiences… and everything in between. You can find everything from personal submarines and crazy water-sport toys to engines, props, and other boating necessities to suit whatever your interests and need.

Personal submarine at the 2023 Fort Lauderdale Boat Show. Image courtesy of MIASF.

The food! They have a tremendous array of delicious options. We look forward to the arepas, warm gooey corn and cheese patties, and the fresh coconut juice, followed by some delicious ribs. Any yes, like most boat shows, cocktails and beer are available every 20 steps.

The food at the 2023 Fort Lauderdale Boat Show. Image courtesy of MIASF.

Location, location, location. The show is spread out across seven different sites. While that seems like a lot, one of our favorite things is taking the water taxis between the sites and getting to see the amazing canals of Fort Lauderdale. The city is often referred to as the American Venice as it has so many canals. The houses along them are mostly over the top, and the water taxi crew provides a running dialog about who owns them and related real estate gossip. You can also take the water ferry downtown for dinner, or just to check out the place.

The water taxi at the 2023 Fort Lauderdale Boat Show. Image courtesy of MIASF.
Things We Loved at FLIBS 2023
The show owners, the Marine Trades Association of South Florida and their affiliated partner, the Marine Research Hub, hosted 2 events around the subject of innovation and sustainability in boating and the marine environment. Phil Purcell, CEO and President of MIASF had this to say: "This year, we take pride in placing sustainability and innovation at the forefront ofFLIBS  Our initiatives included the reduction of single-use plastics in favor of more eco-friendly options, on-site recycling programs, water refilling stations, and sustainability seminars. Our commitment to a sustainable future is an integral part of FLIBS' vision, and we are excited to continue collaborating with our partners to educate and inspire attendees in all the diverse ways we can lead sustainable practices that are vital for our industry." Good stuff!
Sunreef Yachts impressed us–and the Marine Research Hub—with their movement to incorporate solar power directly into their boats.
ePropulsion electric engines and systems have taken things to the next level with systems set up not only to provide much more power, but also to support hybrid applications.
We were pleased to meet Suzuki Marine USA's new leadership team, learn more about their CLEAN OCEAN PROECT (including a local beach clean-up they did during the show in Fort Lauderdale), and hear about their growing partnership with the Tampa Bay Buccaneers. They also told us about innovative ways they are expanding their dealer network.
Formula Boats surprised us with their announcement of a soon-to-be-unveiled (at the Miami Show in February) 457 Center Console in both Fish and Sport models. Formula is again pushing the boundaries of design, engineering, and construction in the offshore center console world, and is celebrating the finish and amenities of their renewed entry into the CC market.
We were happy to see our friends at SiriusXM Marine at the show—a super friendly and fun crew—who were showcasing their recently released mobile app companion to their very popular Fish Mapping product. The app supports off-the-water planning, helping people get the most out of their fishing trips.
SeaTow was celebrated their 40th anniversary and was honored at the Marine Marketers of America's Annual Networking Reception at The Bahia Mar High Tide Lounge during the show. It was great to see the Sea Tow founding family there including CEO Captain Joseph Frohnhoefer III, President Kristen Frohnhoefer and Chairman of the Board Georgia Frohnhoefer.
FLIBS 2023 definitely did not disappoint. Now we're looking forward to heading to the Miami Boat Show in mid-February 2024. See you there!